MultiThera 2 Plus Iron
Klaire Labs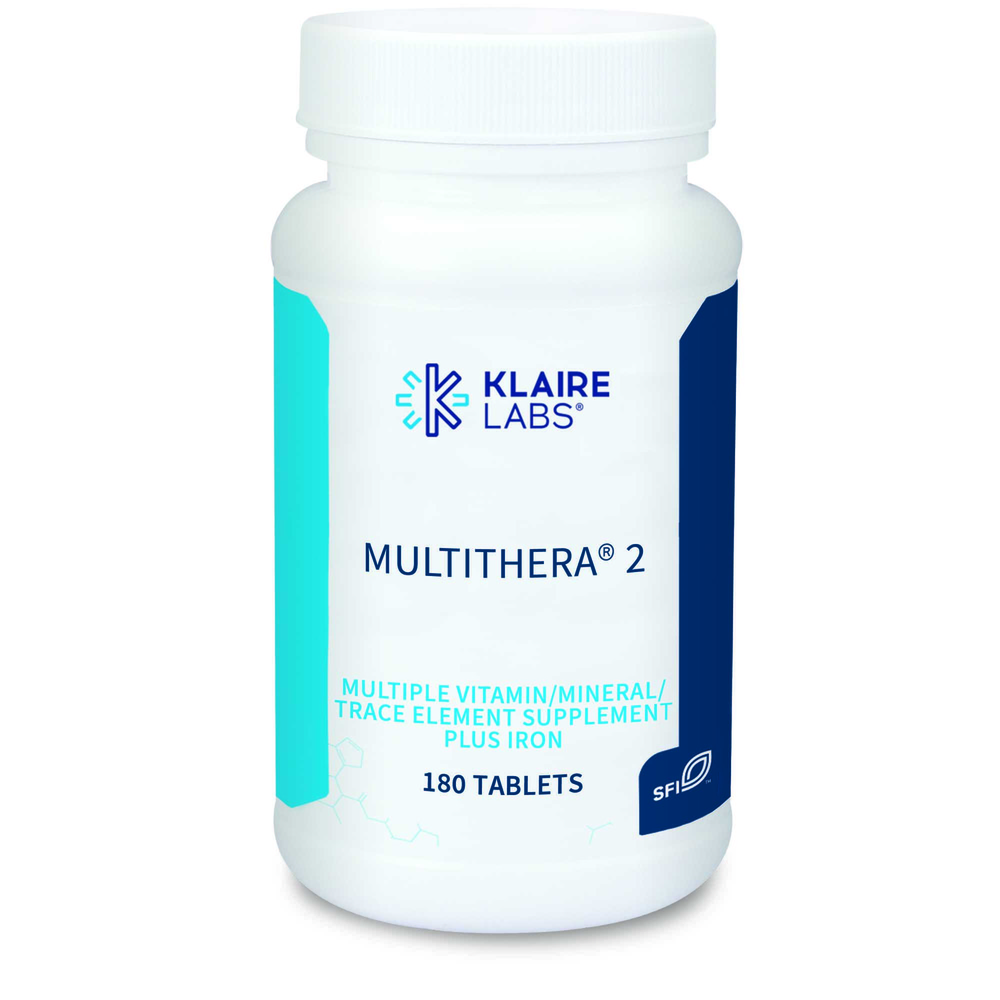 SKU: KLP-MT2
Iron-fortified formula
Adolescents, women with a heavy menstrual flow, and others with a documented need for supplemental iron are the best candidates for this iron-containing version of MultiThera®. We use Albion® iron amino acid chelate, a bisglycinate compound with exceptional GI tolerance and bioavailability. MultiThera® 2 is identical in all other respects to MultiThera® 1 tablet formula.
Suggested Use:
Adults:
6 tablets daily with food. Children 4 to 14: Take up to 3 tablets daily with food or as directed by healthcare professional. Children less than 4 years of age: As directed by healthcare professional.
Serving Size:
6 Tablets
Amount Per Serving
Vitamin A
... 5,250 mcg RAE
(86% (4,500 mcg RAE) as natural carotenes (beta-carotene, alpha-carotene and beta-cryptoxanthin) from D. salina and 14% (750 mcg RAE) as vitamin A palmitate)

Vitamin C
... 1,200 mg
(as L-ascorbic acid)

Vitamin D3
... 25 mcg
(as cholecalciferol)

Vitamin E
... 221 mg
(87% as RRR-alpha-tocopheryl acid succinate, 13% as RRR-alpha-tocopherol)

Vitamin K
... 60 mcg
(67% as vitamin K1 (phytonadione) and 33% as vitamin K2 (menaquinone-7))

Thiamin
... 100 mg
(as thiamin HCI)

Riboflavin
... 50 mg
Niacin
... 200 mg NE
(75% as niacinamide, 25% as niacin)

Vitamin B6
... 50 mg
(as pyridoxine HCl)

Folate
... 1,360 mcg DFE
(as Metafolin®‡ calcium L-5-methyltetrahydrofolate)(800 mcg)

Vitamin B12
... 200 mcg
(as methylcobalamin)

Biotin
... 300 mcg
(D-biotin)

Pantothenic Acid
... 400 mg
(as calcium D-pantothenate)

Choline
... 150 mg
(as choline bitartrate)

Calcium
... 253 mg
(82% as calcium citrate-malate complex and 18% as calcium D-pantothenate)

Iron
... 20 mg
(as TRAACS® Ferrochel® ferrous bisglycinate chelate‡‡)

Iodine
... 150 mcg
(from kelp)

Magnesium
... 200 mg
(75% as dimagnesium malate and 25% as TRAACS® magnesium bisglycinate chelate‡‡)

Zinc
... 15 mg
(as TRAACS® zinc arginate chelate‡‡)

Selenium
... 200 mcg
(as L-selenomethionine)

Copper
... 2 mg
(as TRAACS® copper bisglycinate chelate‡‡)

Manganese
... 2 mg
(as TRAACS® manganese bisglycinate chelate‡‡)

Chromium
... 200 mcg
(as TRAACS® chromium nicotinate glycinate chelate‡‡)

Molybdenum
... 150 mcg
(as TRAACS® molybdenum glycinate chelate‡‡)
Boron
... 2 mg
(as boron aspartate-citrate complex)

Vanadium
... 100 mcg
(as bisglycinato oxovanadium)(BGOV)

Inositol
... 50 mg
para-Aminobenzoic Acid
... 50 mg
Citrus Bioflavonoid Complex
... 100 mg
(85 mg as citrus bioflavonoid extract (Citrus aurantium) (fruit/peel) (standardized to 50% hesperidin bioflavonoids) and 15 mg as hesperidin methyl chalcone (derived from Citrus aurantium extract) (fruit))

Natural Mixed Tocopherols
... 8 mg
(RRR-beta, RRR-delta, RRR-gamma)

Natural Mixed Carotenoids
... 100 mcg
(lutein and zeaxanthin from D. salina)

Other Ingredients:
Microcrystalline cellulose, silicified microcrystalline cellulose, croscarmellose sodium, stearic acid, silicon dioxide, magnesium stearate, sodium carboxymethyl cellulose, dextrin, dextrose, medium chain triglycerides, sodium citrate and natural citrus flavor.

Does not contain:
Milk/casein, eggs, fish, shellfish, tree nuts, peanuts, wheat, artificial colors, flavors, or preservatives.
‡Metafolin® is a registered trademark of Merck KGaA, Darmstadt, Germany.
‡‡Albion®, TRAACS®, and Ferrochel® are registered trademarks of Albion® Laboratories, Inc.
Warning
: If you are pregnant, nursing, have a medical condition, or taking prescription drugs, consult your physician before using this product.
Accidental overdose of iron-containing products is a leading cause of fatal poisoning in children under the age of 6.
KEEP OUT OF REACH OF CHILDREN.
In case of accidental overdose, call a doctor or poison control center immediately.