Multivitamin Energy
Advanced Nutrition by Zahler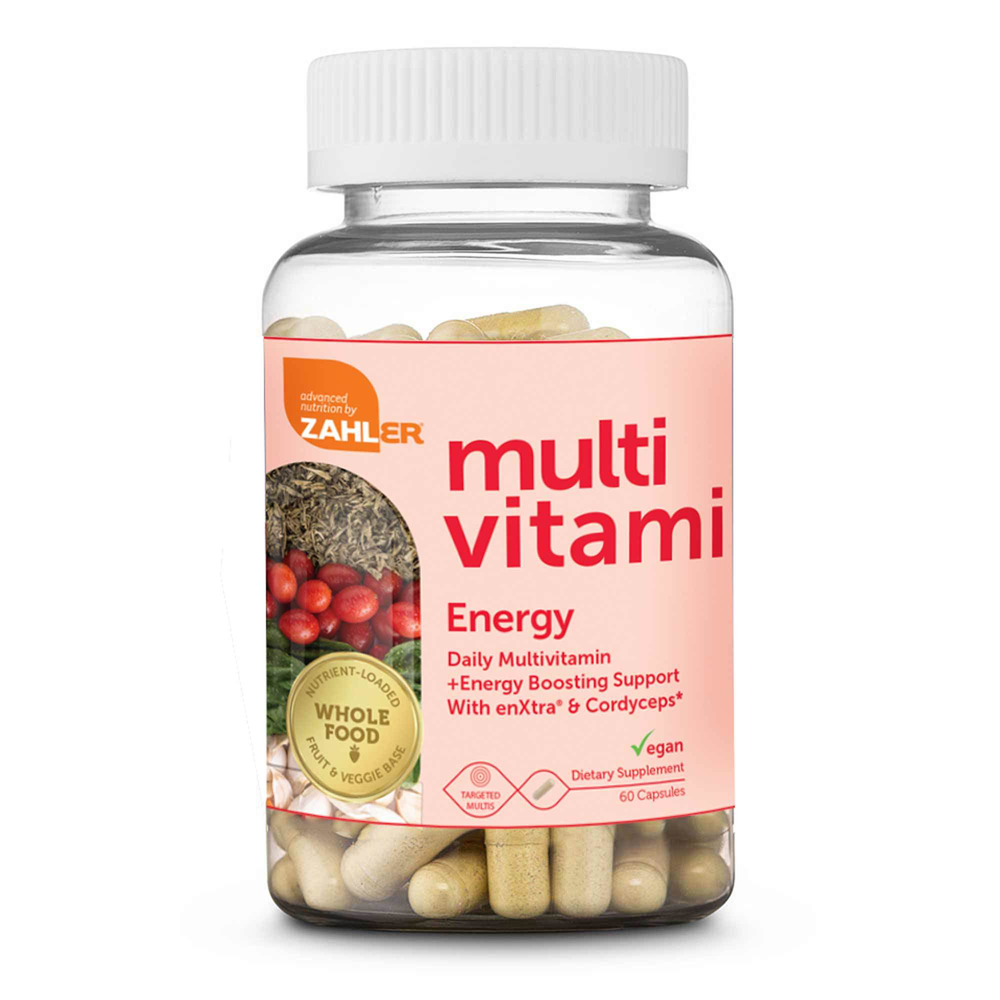 SKU: ANZ212-8230
Zahler Multivitamin Energy is an exclusive and innovative multivitamin formula based on cutting-edge research, sound scientific discoveries and the latest knowledge in the field of supplemental nutrition. This revolutionary formula is made with superior ingredients from superior sources for maximum absorption and benefit. In addition to having all of the qualities of a multivitamin, also included is a nutrient-loaded, clinically studied and published, whole-food fruit & veggie base plus additional targeted nutrients such as enXtra® and Cordyceps to support energy levels. Multivitamin Beauty contains: Superior ingredients from superior sources Formulated with body-ready (methylated, phosphorylated, chelated & coenzyme) forms of vitamins and minerals for maximum absorption Targeted nutrients specific for your individual health and wellbeing needs The added ingredients enXtra® and Cordyceps support high and safe energy levels Whole-food fruit & veggie base Spectra is a clinically studied nutrient-loaded blend which fills in the gaps of your daily nutrition


Suggested Use:
Take 1 capsule 2x daily with meals or as directed by a healthcare practitioner.

Serving Size: 2 Capsules

Amount Per Serving
Vitamin A ... 900mcg
(as Beta Carotene)
Vitamin C ... 180mg
(from PureWay-C™ Ascorbic Acid)
Vitamin D3 ... 20mcg
(As Cholecalciferol) (From Lichen) (Vegan)
Vitamin E ... 15mg
(as D-Alpha Tocopheryl Succinate)
Vitamin K2 ... 120mcg
(as Menaquinone-7)
Thiamin ... 1.2mg
(as Thiamine HCI)
Riboflavin ... 1.3 mg
(as Riboflavin-5-Phosphate Sodium)
Niacin ... 16 mg
(as Inositol Hexanicotinate)
Vitamin B6 ... 1.7mg
(as Pyridoxal-5-Phosphate)
Folate ... 400 mcg DFE
(as L-5-Methyltetrahydrofolate Calcium)
Vitamin B12 ... 24mcg
(as Methylcobalamin)
Choline ... 55 mg
(as Choline Bitartrate)
Iron ... 6 mg
(as Ferrous Bisglycinate Chelate) (Ferroche(™)
lodine ... 75mcg
(as Potassium Iodide)
Magnesium ... 105 mg
(from Simag™ Magnesium Oxide)
Zinc ... 11mg
(as Zinc Arginate Chelate) (TRAACS™)
Selenium ... 55mcg
(as Methylselenocysteine)
Copper ... 0.45mcg
(as Copper Bisglycinate Chelate) (TRAACS™)
Manganese ... 1.15mg
(as Manganese Bisglycinate Chelate) (TRAACS™)
Chromium ... 70mcg
(as Crominex® 3+ Chromium stabilized with Capros® Amla Fruit Extract and PrimaVie Shilajit Gum Resin Extract, Chromium Chloride Hexahydrate)
Molybdenum ... 22.5 mcg
(as Molybdenum Glycinate Chelate) (TRAACS™)
Multi Energy Herbal Blend ... 400 mg
Greater Galanga Root Extract (as enXtra®), Organic Cordyceps Mycelial Biomass Powder
Spectra™ Blend ... 100 mg
Coffee Fruit Extract, Green Tea Leaf Extract, Broccoli Sprout, Onion Bulb Extract, Apple Fruit Extract, Quercetin, Acerola Fruit Extract, Tomato Fruit, Broccoli Floret and Stems,
Cabbage Palm Fruit, Turmeric Root, Garlic Bulb, Basil Leaf, Oregano Leaf, Cassia Bark, Carrot Root, European Elder Fruit, Mangosteen Fruit, Camu Camu Fruit, Black Currant Fruit Extract, Blueberry Fruit Extract, Raspberry Fruit, Blackberry Fruit, Spinach Leaf, Aronia prunifolia Fruit, Collards Leaf, Sweet Cherry Fruit, Bilberry Fruit Extract, Brassica oleracea Var. gemmifera Sprout.
Pantethine ... 20 mg
*Daily Value (DV) not established.

Other Ingredients: Hypromellose (Capsule), Organic Rice Hull Concentrate.




Warning: If pregnant, nursing, or taking prescription drugs, consult your healthcare professional prior to use.

It looks like there are no similar
products available