MuSolve SR
Tesseract Medical Research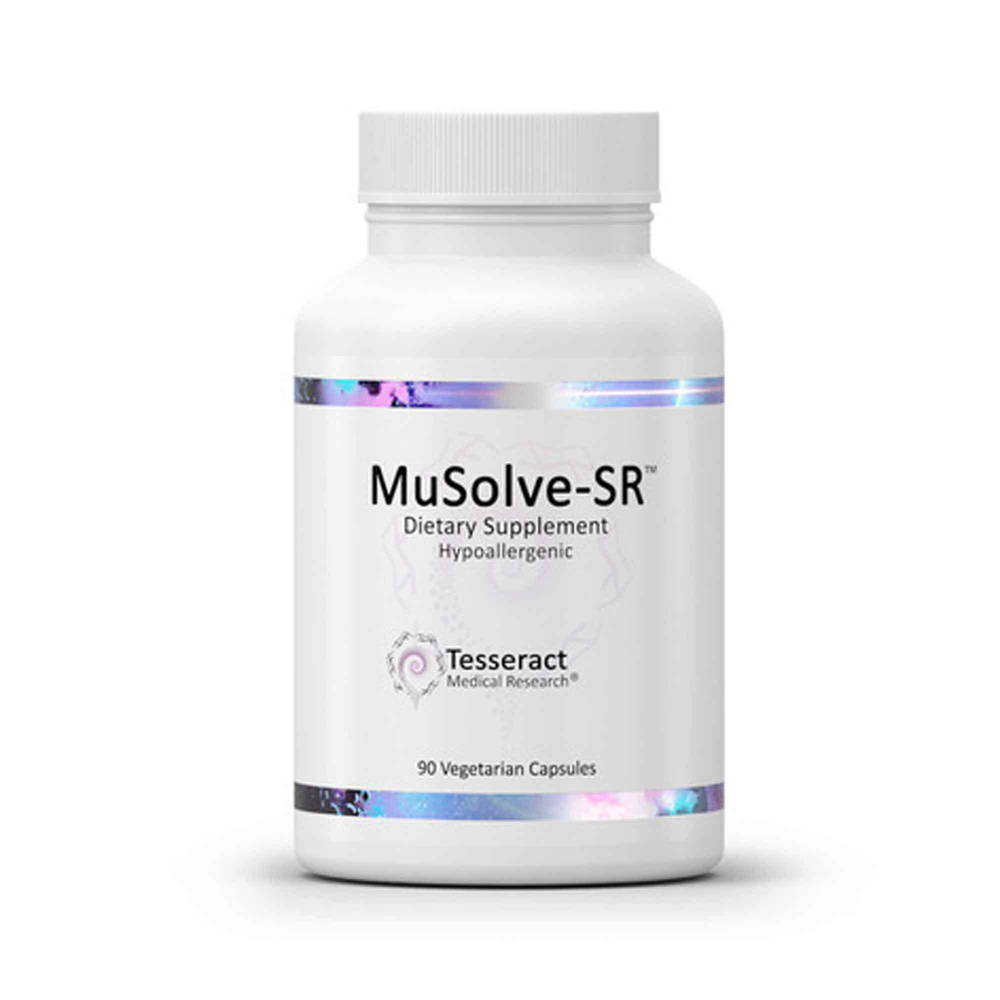 SKU: TES617-RE000
Tesseract's groundbreaking MuSolve™-SR formula provides six efficacious botanical isolates and extracts to promote normal mucosal clearance.
Mucus secretions are an essential feature of the immune system. These secretions function as a protective layer for the epithelial cells that line the surfaces of the respiratory tract—particularly those that are routinely exposed to environmental particulates and microbes, including potential pathogens. Unfortunately, many health conditions lead to problems that cause this mucus to become thick, trapped in the lungs, and full of bacteria.
Powered by The Tesseract Effect®, the ingredients in MuSolve™-SR aid the body in its normal function to achieve the dissolution of thickened and excess mucus, ultimately supporting and enhancing optimal pulmonary health.*
PROVEN MOLECULES, OPTIMAL DELIVERY: Tesseract is using scientifically advanced technology to support patients struggling to restore their health in the modern world of compromised diets and environments. Our supplements are uniquely bioavailable.
Take 1-2 capsules two times daily or as recommended by your health-care practitioner.
Serving Size:
1 Capsule
Amount Per ServingMuSolve™ Complex Proprietary Blend
... 300mg
MuSolve™ Complex: Isolate extract, terpenese or oils from : Eucalyptus (Myrtaceae), Syncarpia glomulifera, Pinus [Pinaster and/or Elliottii and/or Sylvestris] and Bulnesia sarmientoi, Peppermint (Mentha piperita) and Fenugreek (Trigonella foenum-graecum)
Other Ingredients:
CyLoc™ beta and gamma dextrin fiber matrix, high and low viscosity hydroxypropyl methylcellulose (sustained release), hypromellose (derived from cellulose) capsule, cellulose, calcium laurate and plant amylase.
**Solubility enhanced ingredients in a heptadextrin or octadextrin matrix molecular trap compounded with DexKey™ release agent (patent pending, Al Czap, Czap R&D, licensed by Tesseract Medical Research, LLC)
Tamper Evident: Use only if bottle is sealed. Store tightly sealed in a cool, dry place.
If pregnant, consult your health-care practitioner before using this product.