MVM-A Antioxidant Protocol
Allergy Research Group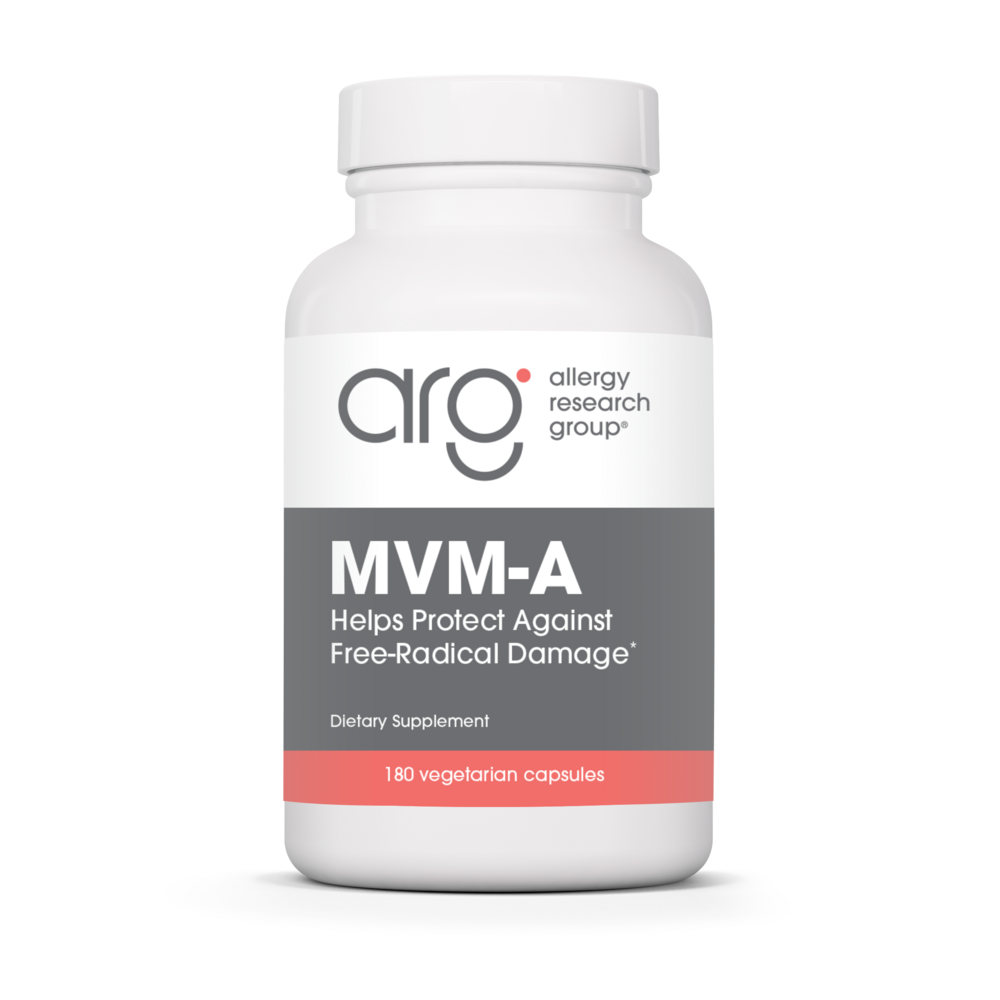 SKU: ARG-75940
MVM-A Antioxidant Protocol 180c is available by Allergy Research Group.
Multiple vitamin and mineral formula with additional nutrients featuring acetyl-L-carnitine for antioxidant support. Developed by Martin Pall, Ph.D. and Allergy Research Group

Suggested Use:
As a dietary supplement, 2 capsules two times daily, or as directed by a healthcare practitioner.
Serving Size: 2 Capsules
Amount Per Serving
Vitamin C ...67mg
(as Ascorbic Acid)
Vitamin D3 ...267 IU
(as Cholecalciferol)
Vitamin K1 ...25mcg
(as Phytonadione)
Thiamine ...8mg
(as Thiamine HCI, TTFD)
Riboflavin ...10mg
(as Riboflavin, Riboflavin-5-Phosphate)
Niacin ...18mg
(as Niacinamide & Niacin)
Vitamin B6 ...8mg
(as Pyridoxine HCI, Pyridoxine-5-Phosphate)
Folic Acid ...400mcg
Vitamin B12 ...30mcg
(as Hydroxycobalamin)
Biotin ...100mcg
Pantothenic Acid ...20mg
(as Calcium Pantothenate)
Calcium ...83mg
(as Calcium Carbonate, Sulfate, Citrate)
Iodine (as Potassium Iodide) ...50mcg
Magnesium ...40mg
(as Magnesium Sulfate, Malate, Glycerin)
Zinc (as Zinc Citrate) ...7mg
Selenium ...67mcg
(as Selenomethionine)
Copper (as Copper Sulfate) ...0.4mg
Manganese ...1.5mg
(as Manganese Sulfate)
Chromium ...50mcg
(as Chromium Trichloride)
Molybdenum ...30mcg
(as Sodium Molybdate)
Glycine ...8mg*
(as Magnesium Glycinate)
Taurine ...83mg*
Boron (as Boron Citrate) ... 1 mg
Acetyl-L-Carnitine ...100mg*
Lipoic Acid ...40mg*
* Daily Value not established
Other Ingredients: Hydroxypropyl Methylcellulose, Cellulose, L-leucine, Silicon Dioxide.

Keep in a cool, dry place, tightly capped.