Myco-Zyme™
Apex Energetics, Inc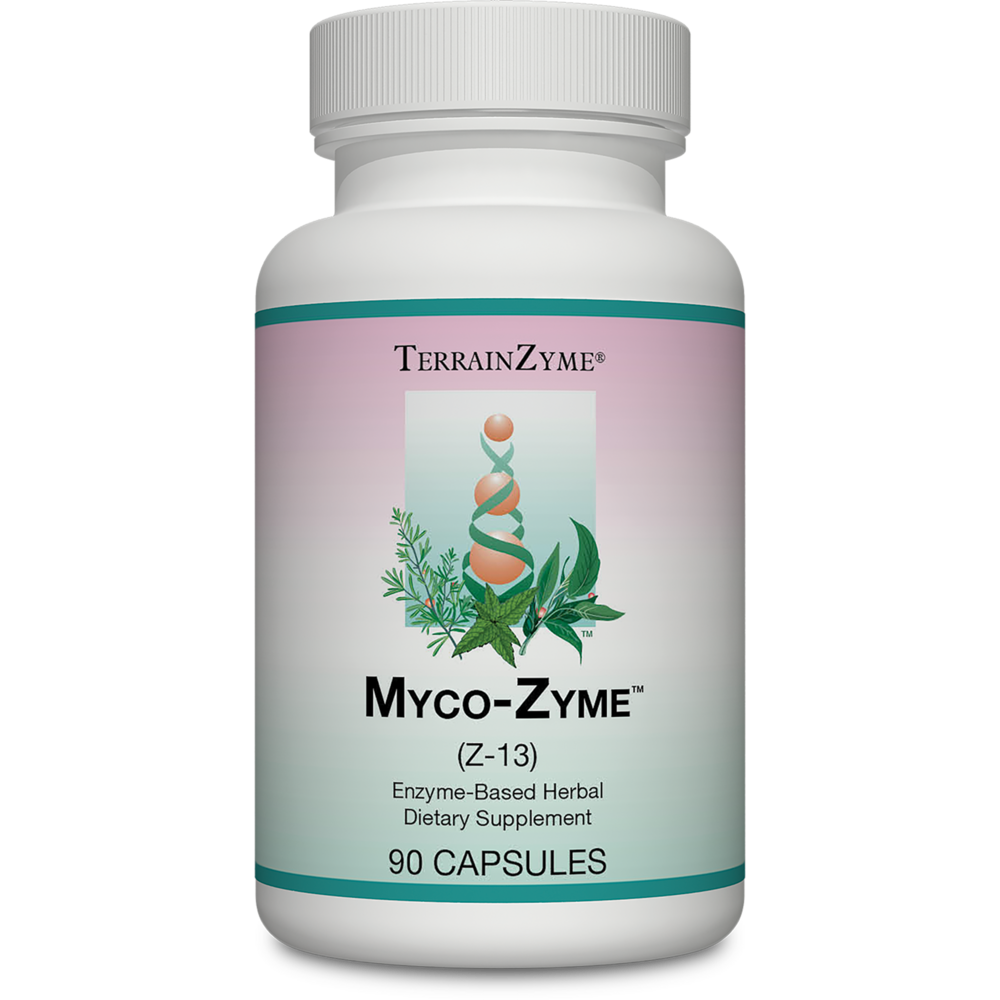 SKU: APE949-Z13
Myco-Zyme™ is designed to support the intestinal terrain and gut flora balance with a powerful herbal formula.* Extracts of pau d'arco, garlic, and long pepper fruit have been added to support the immune system.* This product is formulated in a proprietary enzyme blend to increase the availability of the nutrients.*
Take 1 capsule once a day, 15 minutes before a meal, or as directed by your healthcare professional.
Serving Size:
1 vegetarian capsule
Amount Per Serving
Caprylic Acid ... 70mg
(as magnesium caprylate)
Black Walnut Extract ... 70mg
(Juglans nigra) (hull)
Garlic Extract ... 70mg
(Allium sativum) (bulb)
Oregano Extract ... 70mg
(Origanum vulgare) (leaf)
Slippery Elm ... 70mg
(Ulmus rubra) (bark)
Goldenseal Extract ... 55mg
(Hydrastis canadensis) (root)
Uva Ursi Extract ... 45mg
(Arctostaphylos uva-ursi) (leaf)
Grapefruit Extract ... 35mg
(Citrus paradisi) (seed)
Pau D'Arco Extract ... 35mg
(Tabebuia impetiginosa) (bark)
Cat's Claw ... 35mg
(Uncaria tomentosa) (bark)
Guggul Extract ... 30mg
(Commiphora mukul) (gum)
Long Pepper Extract ... 15mg
(Piper longum) (fruit)
Proprietary Blend ... 110mg
(Gentian (Gentiana lutea) (root), Betaine HCl, Cayenne Pepper (Capsicum annuum) (fruit), Protease I, Protease II, Bromelain, Amylase, Cellulase, Peptidase, Lipase, Lactase, Maltase, Sucrase)

Other Ingredients: Vegetarian capsule (HPMC), cellulose. Contains Walnut (black walnut hull extract).
Consult your healthcare professional before use if pregnant, nursing, taking medications, or for any use by minors. Do not use if safety seal is broken or missing. KEEP OUT OF REACH OF CHILDREN.