MycoBotanicals® Stress Decompress®
Host Defense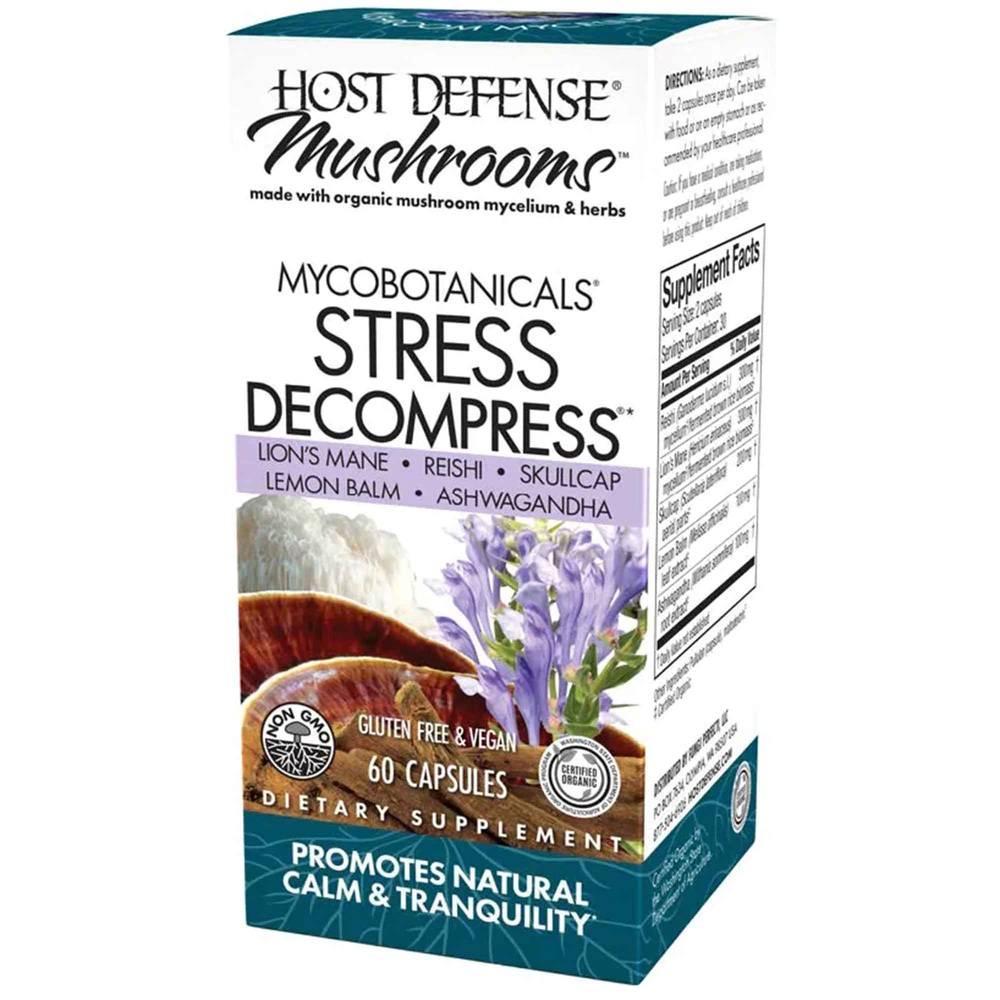 SKU: HOS-NCSF60
Stress is our body's natural way of responding to any kind of demand or perceived threat. When we feel threatened, our bodies respond by releasing hormones which rouse the body for emergency action. A stressful event can trigger the "fight or flight" response, causing hormones such as adrenaline and cortisol to surge through the body. Supporting a balanced response to daily stressors is important for maintaining overall health of our bodies and minds.*

MycoBotanicals® Stress Decompress® formula provides a custom combination of mushrooms and herbs to promote natural calm and tranquility.*
Host Defense® MycoBotanicals® Stress Decompress® is a blend of mushrooms and herbs. We use activated, dried, Certified Organic mushroom mycelium, with a full spectrum of constituents which are essential for Supporting Natural Immunity.* By including certified organic herbs that have been carefully selected to complement the health benefits of mushrooms, this marriage provides the best of both worlds. Like the dance of the sun and the moon, two kingdoms are paired together to provide the best possible Functional Food formula for Promoting Natural Calm and Tranquility*

MycoBotanicals® Stress Decompress®
Promotes natural calm and tranquility*
Reishi & Ashwagandha support calm, sustained energy and adrenal adaptation*
Lemon Balm & Skullcap promote mental relaxation
Suggested Use:
As a dietary supplement, take 2 capsules once per day. Can be taken with food or without, on an empty stomach or as recommended by your healthcare advisor.

Serving Size: 2 Capsules
Amount Per Serving
Reishi mycelium ... 300mg
(Ganoderma lucidum S.I.)
Lions Mane mycelium ... 300mg
(Hericium erinaceus)
Skullcap leaf ... 200mg
(Scutellaria lateriflora)
Lemon Balm leaf extract ... 100mg
(Melissa officinalis)
Ashwagandha root extract ... 100mg
(Withania somnifera)
Other Ingredients: Dried myceliated brown rice, Pullulan (an extra-cellular polysaccharide), maltodextrin.
Warning: If you have a medical condition, are taking medications, or are pregnant or nursing, consult your healthcare professional before using this product.