Ten Mushroom Formula
EcoNugenics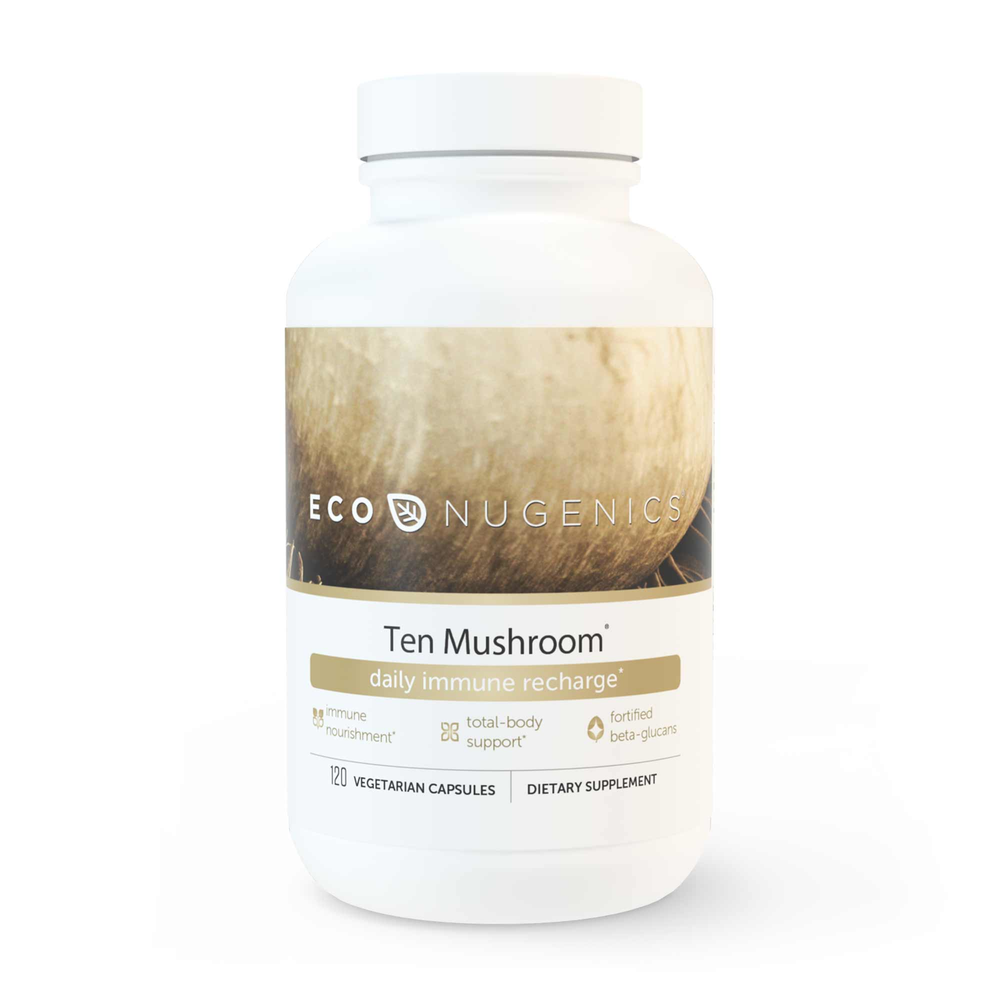 SKU: EC2-10MSH120
Ten Mushroom is a multi-targeted mushroom formula containing 10 organically grown mushroom varieties, plus additional beta glucans, to deliver comprehensive daily support and nourishment for optimal immunity and total-body health.*
Ten Mushroom functional mushroom blend contains ten prized medicinal mushroom species that are carefully cultivated in the US using organic growing methods to ensure the best and cleanest environment for medicinal mushroom purity and potency. These ten medicinal mushroom fungi help support your immunity by balancing, fine-tuning, and optimizing your immune and inflammation responses to support your long-term and total-body health.* Unlike many common culinary mushrooms like white button, functional mushrooms like turkey tail, cordyceps, and reishi , are rich sources of powerful therapeutic compounds and beneficial properties that promote immune health, support detoxification, and enhance total body wellness.
Protect Your Immune System With Functional Mushroom Benefits:
Organically-grown Ten Mushroom Formula is the perfect way to support your family's immune health during cold and flu season—and all year long. With ten physician-selected varieties of powerful functional mushrooms, organically grown in the US for optimal purity and potency, Ten Mushroom gives you the immune balancing and total-body support you need to stay healthy and feel your best every day.*


Better Immunity with Beta glucans:
Beta glucans are some of the most powerful immune-activating phytochemicals found in beneficial mushrooms and other natural sources. Ten Mushroom Immune Health Formula is fortified with additional beta-1,3-glucans to offer even greater support for immune and overall health to the mushroom species within it:
Reishi- Poria - Cordyceps - Coriolus - Maitake - Shiitake - Tremella - Umbellatus - Hericium - Wood Ear
With Ten Mushroom, you'll energize the immune system to respond appropriately to threats and invaders.  Functional mushrooms do not boost immunity, but balance and train your immune cells, preventing them from underreacting or overreacting or causing serious health conditions, setting your body up for long-term healthy immunity and defense.*

Ten Mushroom is perfect if you want:
Daily immune support*
To defend your immune system naturally*
Your immune system to work smarter, not harder*
To feel healthy, no matter the season*
With powerful functional mushroom support, your immune system will defend your body so you can feel your best, every day.
Suggested Use:
As a dietary supplement, for maximum support take 4 capsules, twice per day. For maintenance support, take 2 capsules, twice per day, or as recommended by your healthcare practitioner.


Serving Size: 4 capsules
Amount Per Serving
Organically-grown Ten Mushroom® Proprietary Blend ... 2.4 g
Mushroom source (Mycelial Biomass) for:
Reishi (Ganoderma lucidum)
Poria (Wolfiporia extensa)
Cordyceps (Cordyceps sinensis)
Coriolus (Trametes versicolor)
Maitake (Grifola frondosa)
Shiitake (Lentinula edodes)
Tremella (Tremella fuciformis)
Umbellatus (Polyporus umbellatus)
Hericium (Hericium erinaceus)
Wood Ear (Auricularia auricula)
Beta-1, 3-glucan ... 30 mg
(purified from Saccharomyces cerevisiae)
Other Ingredients: Myceliated Rice, Vegetable capsule (hypromellose, water), vegetable cellulose.