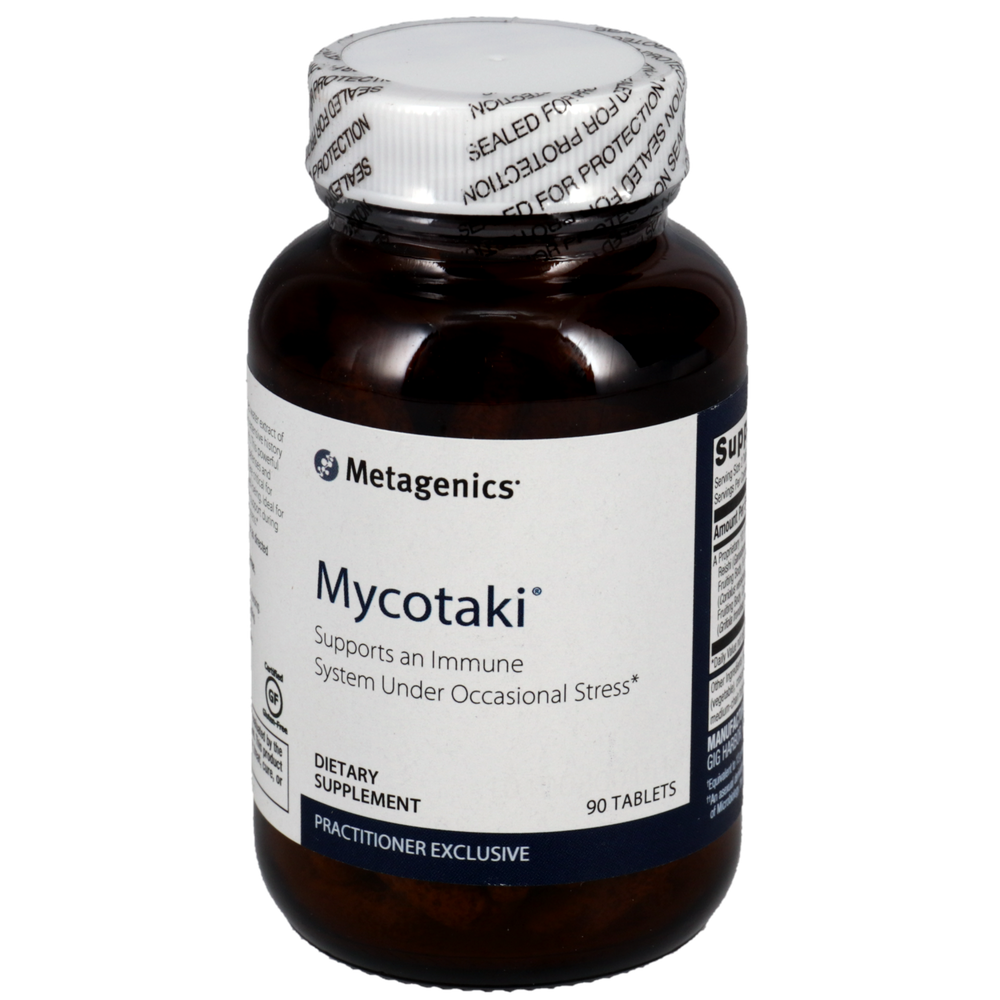 SKU: MET-MYTAKT
Mycotaki® features a concentrated water extract of 7 nourishing mushrooms with an extensive history of use in supporting human health. This powerful formula helps to support cellular defenses and a healthy immune system, which are critical for maintaining vitality and overall well-being. Ideal for those seeking additional immune support during occasional physical or emotional stress.*

Suggested Use:
Take two tablets daily or as directed by your healthcare practitioner.
Serving size: 2 Tablets
Amount Per Serving
A Proprietary 10:1† Water Extract … 1300 mg
Reishi (Ganoderma lucidum) Fruiting Body, Shiitake (Lentinus edodes) Fruiting Body, Fu-Ling (Poria cocos) Sclerotium, Turkey Tail Mushroom (Coriolus versicolor) Fruiting Body, Oyster Mushroom (Pleurotus ostreatus) Fruiting Body, Cordyceps (Paecilomyces hepiali ††) Mycelia, Maitake (Grifola frondosa) Fruiting Body
*Daily Value not established.


Other Ingredients: Microcrystalline cellulose, cellulose, stearic acid (vegetable), croscarmellose sodium, silica, and coating (hypromellose, medium-chain triglycerides, and hydroxypropylcellulose).



This product is non-GMO, gluten-free, and vegetarian.
†Equivalent to 13 g raw, dried, unprocessed mushrooms.
††An asexual derivation of Cordyceps sinensis reported by the Institute of Microbiology, the Chinese Academy Sciences, Beijing, PRC.

Caution: If taking medication, including anticoagulants or antihypertensive medications, consult your healthcare practitioner before use. Keep out of the reach of children.
Do not refrigerate.