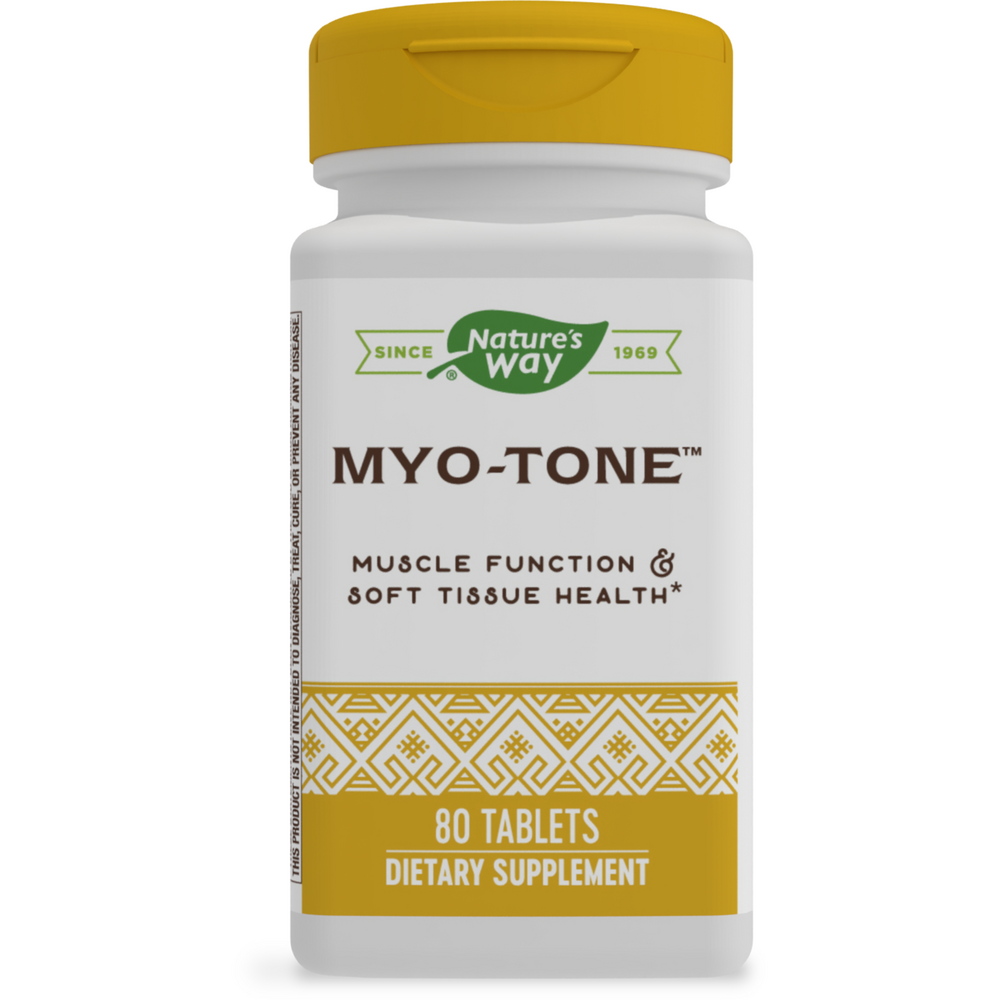 SKU: EN2-01558
Myo-Tone 80t is available by Enzymatic Therapy.
Maintains the integrity of ligaments, tendons, and muscles.
Enzymatic Therapy
What Better Feels Like
JOINT HEALTH
80 Tablets
Dietary Supplement
Supplemental Facts:
This product contains natural ingredients; color variations are normal.
All organs and glands derived from bovine sources
Two (2) tablets three (3) times daily.
Serving Size: 2 tablets
Vitamin C ...120mg
(ascorbic acid)
Vitamin D ...266 IU
(as cholecalciferol)
Vitamin E ...20 IU
(as d-alpha tocopheryl acid succinate)
Thiamin ...10mg
(as thiamin HCI) (vitamin B1)
Riboflavin ...10mg
(vitamin B2)
Niacin ...10mg
Vitamin B6 ...12mg
(as pyridoxine HCI)
Vitamin B12 ...20mcg
(as cyanocobalamin)
Calcium ...360mg
(from bone meal)
Magnesium ...60mg
(as magnesium chelate)
Manganese ...3mg
(as manganese chelate)
Sodium ...5mg
Potassium ...50mg
(as potassium chloride)
Inositol ...100mg
Choline Bitartrate ...100mg
Muscle Extract ...100mg
(heart)
Betaine HCI ...60mg
Ammonium Chloride ...60mg
Ribonucleic Acid ...6mg
(RNA)
Contains:
Cellulose, Modified Cellulose Gum, Stearic Acid, Maltodextrin, Magnesium Stearate, Modified Cellulose, Silicon Dioxide, Rose Hips, Wheat Germ, Soybean Oil
If pregnant, nursing, or taking prescription drugs, consult your healthcare practitioner prior to use.
It looks like there are no similar
products available