NanoEPA DHA w/D & E Lemon
BioPharma Scientific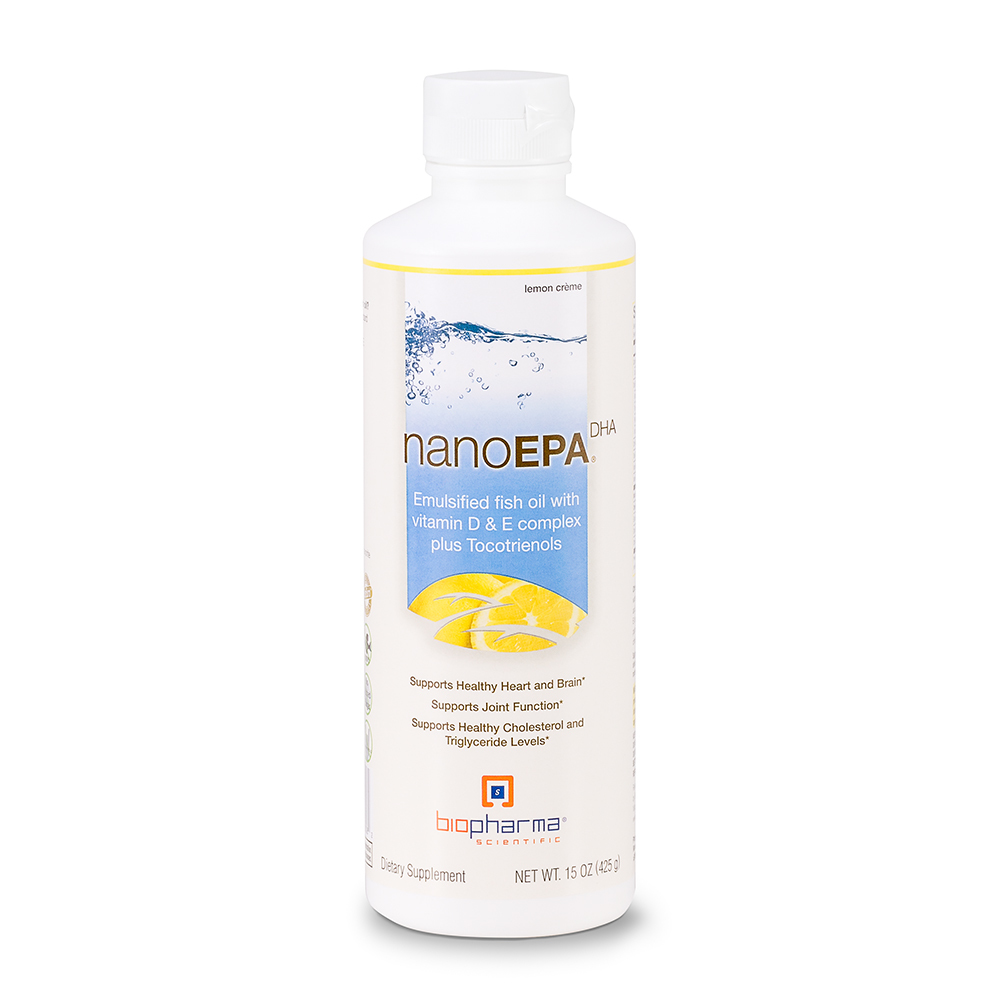 SKU: BPS-NONOEPA
Nano EPA DHA w/ D&E 15oz is available by BioPharma Scientific.
Super Absorption
HEALTH PROFESSIONAL
FORMULA
Lemon Meringue
SuperFood
SOLUTION™
LIFELONG WELLNESS MADE EASY™
NanoEPA DHA
Fish Oil with Vitamin D & E Complex
Better Taste ~ Better Science™
Incredibly
Delicious!
ENHANCED
SuperSorb
DELIVERY
* 360 mg EPA / DHA
* 500 IU Vitamin D
* Vitamin D plus Tocotrienols
DIETARY SUPPLEMENT
NET WT. 15 OZ / 425 g
NO GLUTEN
More Info:
Incredibly Delicious!
NanoEPA DHA™ provides EPA/DHA from fish oil, plus natural Vitamins D & E, with every great tasting, non-oily, highly absorbable spoonful.
* NanoEPA DHA™ supports a health heart, brain, mood, skin, hair, joints, hormones, and immune system.
* NanoEPA DHA™ tastes like lemon meringue pie!
* NanoEPA DHA™ utilizes MaxPure™, a purification process that guarantees NanoEPA DHA™ is free of Heavy Metals, Contaminants, and PCBs.
* SuperSorb® Enhanced Delivery: The size of the omega oil droplets have been greatly reduced via a proprietary emulsification process. Emulsification may increase absorption up to 300%!
* Vitamin D: If not eating fatty fish regularly and getting sufficient sun exposure, you likely need more Vitamin D to support optimal bone, cardiovascular and immune health.
* Full Spectrum E Complex (all 8 natural mixed tocopherols and tocotrienols): When taking fish oil it is important to consume lipid antioxidants, which also support cardiovascular health.
Suggested use: SHAKE WELL. Take 1 tsp. daily or as directed by your Health Care Professional. Great taken straight or mixed with the SuperFood Solution™ line. Refrigerate after opening.
Supplemental Facts:
Researched, Developed
& Distributed by:
BioPharma Scientific, LLC
San Diego, CA 92121
Manufactured at cGMP,
FDA approved facilities.
Manufactured in the U.S.A.
Please Recycle
Serving Size: 1 tsp. (5ml)
Amount Per Serving
Calories ...20
Calories from Fat ...15
Total Fat ...1.5g / 2% DV
Saturated Fat ...0.5g / 2% DV
Trans Fat ...0g / #
Polyunsaturated Fat ...0.5g / #
Monounsaturated Fat ...0.5g / #
Cholesterol ...5mg / 2% DV
Total Carbohydrate ...2g / <1% DV
Sugar ...0g / #
Vitamin A ...170 IU / 3% DV
Vitamin D3 ...500 IU / 125% DV
(as cholecalciferol)
Vitamin E ...10 IU / 33% DV
(as d-alpha-tocopheryl acetate)
Sodium ...0mg / 0% DV
Omega-3 Polyunsaturated Fat
Eicosapentaenoic Acid (EPA) ...180mg / #
Docosahexaenoic Acid (DHA) ...180mg / #
Other Omega-3 Fatty Acids ...140mg / #
Omega-6 Polyunsaturated Fat
Linoleic Acid (LA) ...50mg / #
Other Omega-6 Fatty Acids ...50mg / #
Omega-9 Monounsaturated Fat
Oleic Acid ...345mg #
Other Omega-9 Fatty Acids ...70mg #
Natural Mixed Tocotrienols & Tocopherols ...16mg / #
* Percent Daily Values are based on a 2, 000 calorie diet.
# Daily Value not established
Other Ingredients: Purified Fish Oil (Salmon Oil and/or Cod Liver Oil), water, xylitol, glycerine, gum arabic, natural flavors, citric acid, xanthan gum, guar gum, sorbic acid, turmeric (for color), Vitamin E (as d-alpha tocopherol) and ascorbyl palmitate to ensure freshness.
WARNING: Pregnant or nursing mothers, anyone taking prescription medications, or prior to any surgical procedures, inform their healthcare practitioner before taking this or any other dietary supplement.
KEEP OUT OF REACH OF CHILDREN.
STORE IN A COOL ENVIRONMENT.
DO NOT GIVE TO PETS.
It looks like there are no similar
products available