NanoMeal (all-in-one)
BioPharma Scientific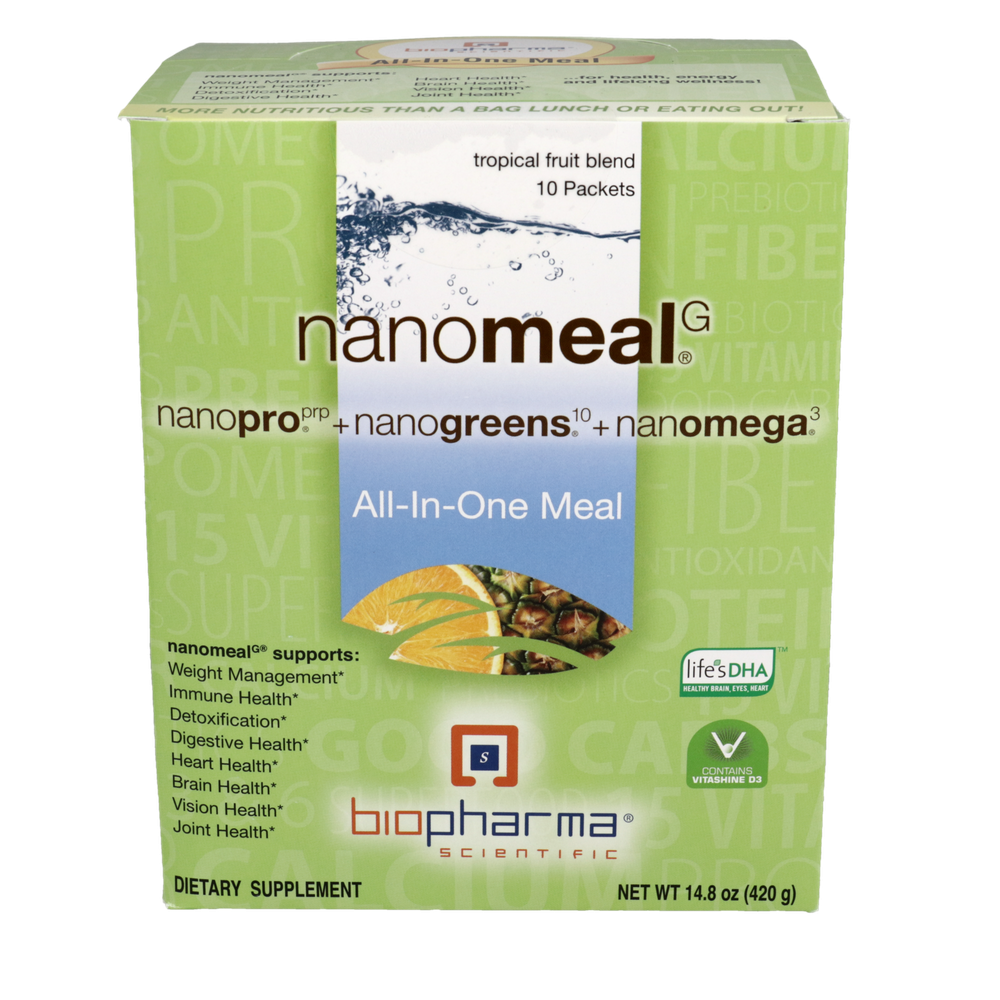 SKU: BPS-NANOMEAL
NanoMeal (all-in-one) is available by BioPharma Scientific.
HEALTH PROFESSIONAL FORMULA
TROPICAL FRUIT BLEND
NanoMeal® G
Daily All-In-One Meal
A Balanced Meal of:
~ Lean Protein
~ Excellent Source of Fiber
~ 15 Vitamins and Minerals
~ Vegan Omega-3s
~ Antioxidants of 10 Servings
of Fruits & Vegetables
ENHANCED
SuperSorb®
DELIVERY
Better Taste ~ Better Science™
DIETARY SUPPLEMENT
SuperFood
SOLUTION™
LIFELONG WELLNESS MADE EASY™
More Info:
More SuperFood + less fast food = double benefits
NanoMeal G is the heart of
The SuperFood Solution: Lifelong Wellness Made Easy™.
It is often difficult to eat the nutrient rich and balanced meals we know we should each day. Taking supplements can help, but replacing nutrient poor food choices with super-nutritious foods like NanoMeal G often produces twice the benefits.
The balanced nutrition in NanoMeal G is specially formulated to support optimal immune function, healthy digestion, and detoxification. The broad spectrum of antioxidant rich ingredients help quench "free radicals." They are thought to be the major cause of the "common diseases of aging" that affect the eyes, skin, heart, brain and joints.
Each serving of NanoMeal G provides lean protein, prebiotic fiber, 15 vitamins and minerals, omega-3 fats, good carbs and the natural antioxidants of 10 servings of fruits and vegetables.
NanoMeal G makes getting a nutrient rich balanced meal easy and delicious.
100% Satisfaction Guaranteed
Supplemental Facts:
NanoMeal G ingredients are sourced from the most nutrient rich natural foods in the world, so good for you they are known as "SuperFoods"! Ingredients like organic golden flax, hormone free whey protein, organic soluble rice bran, and fruits and vegetables of all the colors are combined to make a great tasting, nutrient dense meal your body needs for optimal health.
NanoMeal G ingredients are not indicated and genetically modified (non-GMO). Only premium ingredients are sourced and prepared using gentle extraction processes.
SuperSorb® is BioPharmas Scientifics registered name for its enhanced delivery systems wherein highly bio-available forms of micronutrients and microencapsulation in natural phospholipids are utilized to help maximize nutrient absorption.
In order to ensure correct usage of the high potency formulas, BioPharma products are available through licensed healthcare professionals only.
MORE NUTRITIOUS THAN A BAG OF LUNCH OR EATING OUT!
Suggested use: Mix one (1) packet with 10-12 ounces of cold water, juice, or milk. Shake briskly or blend briefly. Enjoy once a day unless otherwise directed by your health professional. Children under 12 take 1/2 serving. For a wealth of SuperFood Smoothie/Shake recipes, ask your health professional for a copy of The SuperFood Solution Users Guide.
ALLERGEN INFORMATION: Contains milk products as whey and soy as lecithin.
Manufactured in the U.S.A. at a certified cGMP and FDA approved processing facility. Independently tested in the U.S.A. for authenticity, potency, heavy metals, herbicides and pesticide residues, stability and bacteria, yeast and mold counts.
Please Recycle
Supplement Facts
Serving Size 42g (1 packet)

Amount Per Serving
Calories ...171
Calories from fat ...30
Total Fat ...3g / 2% DV
Total Carbohydrate ...21g / 7% DV
Dietary Fiber ...7g / 28% DV
Sugars ...5g
Protein ...14g
Vitamin A (as Beta Carotene) ...2500 IU / 50% DV
Vitamin C ...30mg / 50% DV
Vitamin D3 (Cholicalciferol) ...400 IU / 100% DV
Vitamin E ...30 IU / 100% DV
(d-alpha tocopherol succinate)
Vitamin K ...10mcg / 12% DV
Vitamin B2 (as Riboflavin) ...170mcg / 10% DV
Vitamin B6 ...1mg / 50% DV
(as pyridoxal-5phosphate)
Vitamin B9 (as folic acid) ...200 mcg / 50% DV
Vitamin B12 (as cyanocobalamin) ...85.5mcg / 1425% DV
Calcium ...120mg / 12% DV
Iron ...1mg / 6% DV
Iodine ..63mcg / 42% DV
Magnesium ...35mg / 9% DV
Zinc ...450mcg / 3% DV
Selenium ...40mcg / 57% DV
Manganese ...35mg / 9% DV
Sodium ...40mcg / 2% DV
Potassium ...250mg / 7% DV
Total Omega-3 ...1100mg #
Omega-3/DHA ...100mg #
(Docosahexaenoic Acid)
Other Omega-3 ...1000mg #
Omega-6 ...300mg #
Lignans ...50mg #
Immune Support Blend ...2206 mg #
(Proprietary)
Unprocessed Colostrum (reduced fat) fortified with Proline Rich Polypeptides (PRPs), Acerola Cherry Powder* (17.5% Ascorbic Acid), Aloe Vera Powder Extract* (100:1 freeze dried), Vitamin D3 (as Cholicalciferol)
Detoxification Blend ...1453mg #
(Proprietary)
Lecithin (non GMO), Milk Thistle (20% Silymarin, Silybin), Turmeric, Reduced L-glutathione, Artichoke Extract (5% Cynarin)
Carotenoid Vision Support Blend ...175mg #
(Proprietary)
Dunaliella Salina (Natural Carotenoids), Marigold Extract (5% Lutein with Zeaxanthin), Lycopene Extract-10% (from tomato)
Digestive Enzyme Blend ...55mg #
(Proprietary)
Plant-based Enzymes (Alpha Amylase, Bromelain, Cellulase, Galactosidase, Glucoamylase, Hemicellulase, Hemicellulase, Lipase, Papain, Protease), Lactase Enzyme
Prebiotic Fiber Blend ...16.1g #
(Proprietary)
Meadow Pure™ Omega-3 Ultra Golden Flax* (with Marteks DHA oil derived from marine algae), Rice Bran Soluble*, Vitafiber™ (isomalto-oligosaccharides from non-GMO corn and/or potato starch), Oat Beta Glucan*
Supe


Contents sold by weight not by volume. Product may settle during shipping. Keep out of reach of children.

WARNING: Pregnant or nursing mothers, anyone taking prescription medications, or prior to any surgical procedures, inform their healthcare practitioner before taking this or any other dietary supplement.