Naturally Clear Cleansing Foam
Metabolic Maintenance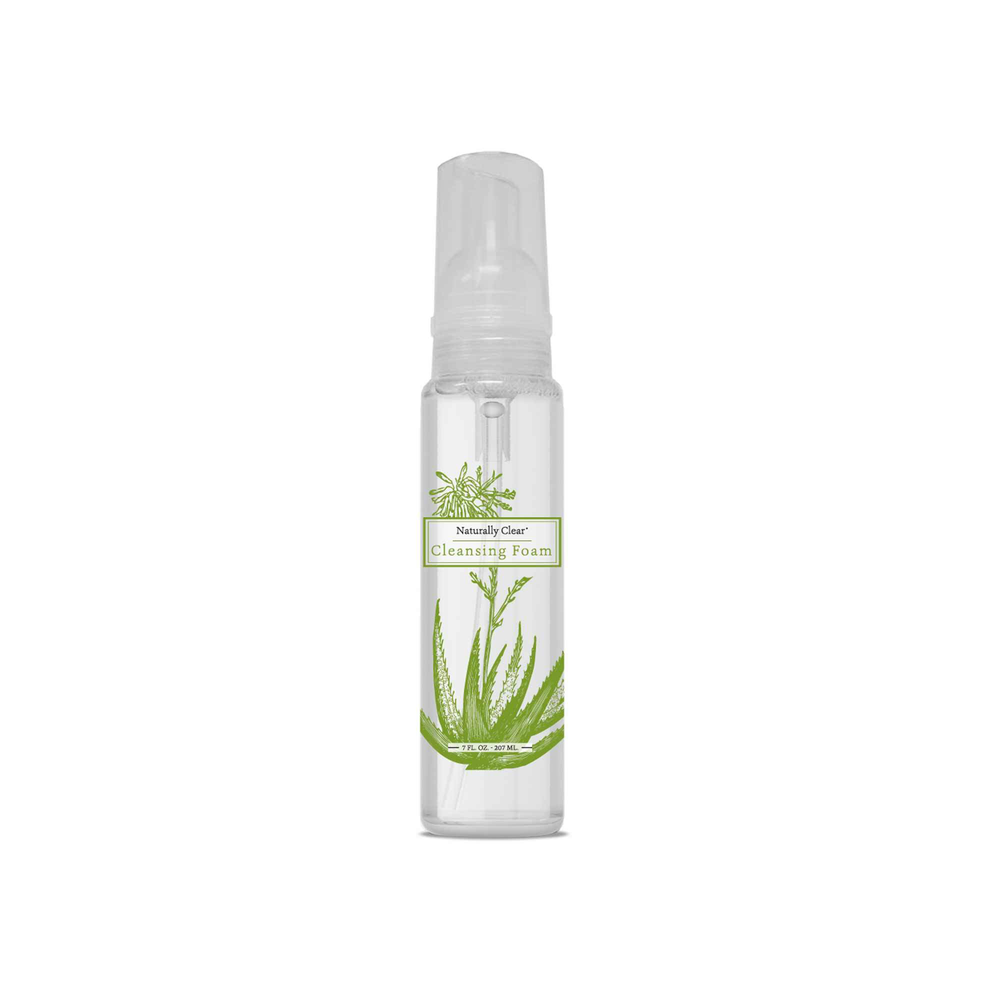 SKU: ME3-00010
Naturally Clear® Cleansing Foam is a product designed for individuals with sensitive skin or for those who simply prefer a cleanser free of exfoliants. This hypoallergenic cleansing foam is specifically designed to cleanse skin naturally, without harsh or drying chemicals. Niacinamide and aloe vera provide a refreshing gentle cleanser, and the amino acid moisturizer leaves skin soft and hydrated. It is oil-free, soap-free, alcohol free, and all natural.
Uses:
Niacinamide, also known as nicotinamide or 3-pyridinecarboxamide, is the physiologically active form of niacin or vitamin B3. There is clinical evidence that niacinamide is an anti-acne active as it reduces the production of sebum (the pore-clogging, oily substance secreted by the skin), making it effective in alleviating symptoms of mild to moderate acne [1]. It is also an up-regulator of epidermal sphingolipid synthesis, an up-regulator of markers of epidermal differentiation and dermal proliferation, as well as a moderator of photodamage repair [1]. Cosmetically, topical niacinamide has been shown to help reduce yellowing, wrinkling, redness, blotchiness, and hyperpigmentation in facial skin [2]. Topical niacinamide also provides potent anti-inflammatory activity. Skin cell studies suggest niacinamide may stimulate collagen production (a benefit associated with anti-aging effects) and facilitate wound healing [1].
The humectant Na-PCA, or sodium pyrrolidone carboxylic acid, is an amino acid moisturizer naturally occurring in the stratum corneum of human skin [3]. Younger skin contains more Na-PCA than aging skin [3]. Na-PCA is added to Naturally Clear® products to help the skin retain moisture, prevent dryness and flaking, and give skin a youthful glow.
Aloe vera is a popular ingredient in skin care products because of its well-known skin soothing, anti-fungal, and anti-inflammatory properties [4]. In fact, records from Greece, Egypt, India, Mexico, Japan and China show that medicinal plants of the aloe genus have been used for over 2000 years to soothe many symptoms of skin disease [4,5]. Studies have shown topical aloe vera to be effective in healing minor skin infections, making scarring less likely [5]. It contains six antiseptic agents: Lupeol, salicylic acid, urea nitrogen, cinnamonic acid, phenols and sulfur, all of which have an inhibitory effect on fungi, bacteria and viruses [5]. Aloe vera has been demonstrated to protect skin from reactions to and damage caused by radiation (due to UV/sun exposure as well as therapeutic radiation) [5,6]. Giberellin, a component of aloe vera, also acts as a growth hormone, stimulating the growth of new cells [7]. Aloe vera also improves skin's hydration and elasticity while providing a refreshing sensation.
Recommend Use:
Cleanse skin daily with Naturally Clear® Cleansing Foam, rinse well and pat dry. For best results, follow with Naturally Clear® Topical Spray or Naturally Clear® Restoring Serum.
Source Materials:
Sodium cocoyl glutamate: mild cleanser derived from glutamine and coconut oil.
Niacinamide: chemical synthesis.
Aloe vera: Aloe barbadensis inner leaf fillet juice.
Sodium PCA: derived from the amino acid proline.
This formula contains ingredients derived from coconut oil.
Free of: Wheat (gluten), eggs, milk, soybeans, shellfish, fish, peanuts. All ingredients are vegan. Never tested on animals.
Note: For external use only, avoid eyes and mouth. Discontinue use if irritation occurs.
Keep out of reach of children.