Neprinol AFD
Arthur Andrew Medical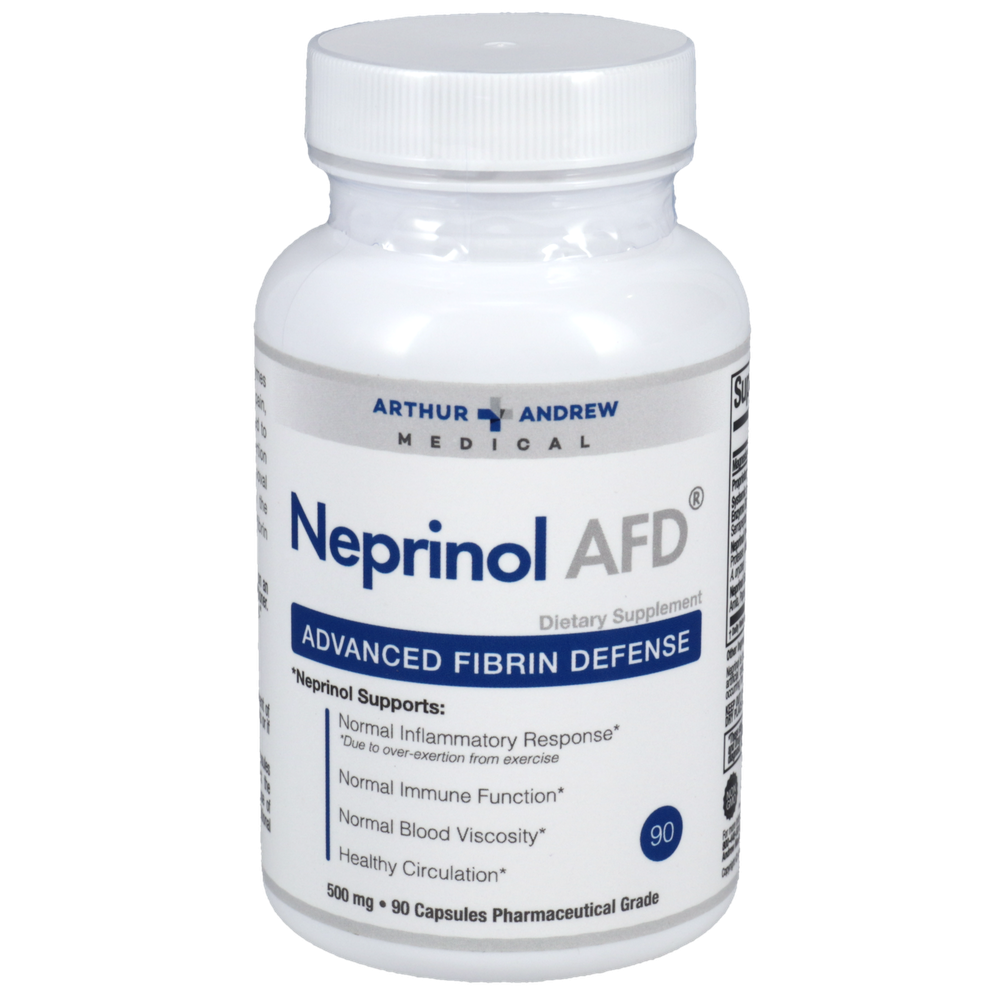 SKU: ART-NEP090
Arthur Andrew Medical introduces a revolutionary blend of systemic enzymes including serrapeptase, nattokinase, protease, lipase, bromelain, papain, rutin and amla, as well as cofactors like coenzyme Q10 (CoQ10) and magnesium. Neprinol has been specially formulated to support healthy circulatory and immune function.* Systemic enzymes are similar to digestive enzymes, but primarily target the bloodstream rather than the gastrointestinal tract. These enzymes support healthy levels of Endogenous Blood Particles or EBPs.* EBPs can be pro-inflammatory proteins that normally accumulate in the blood.* Systemic enzymes essentially purify the blood of these EBPs, supporting healthy cardiovascular and liver function, as well as maintaining a healthy inflammatory response.* Neprinolsvegetarian enzyme blend tested to be more than 500% stronger in fibrinolytic activity than the leading animal based enzyme formulation, based on 3rd party fibrinolytic assay testing.†*
Efficacy is of the utmost importance to doctor and patient alike, and Neprinol addressed this concern with a proven potency that can be utilized by healthcare professionals. Neprinol can be recommended for both clinical use and therapeutic applications.

Suggested Use: Take Neprinol with 8oz of water on an empty stomach. Larger amounts may be divided into 2 or 3 servings per day.
Maintenance: 2-3 capsules per day.
Increased Support: 6 capsules per day.
Therapeutic: 9 capsules per day.
Serving Size: 1 Capsule
Amount Per Serving
Magnesium ... 8mg
(Citrate)
Proprietary Blend Neprinol AFD ... 500mg
Systemic and Lipolytic Enzyme Blend: 15, 000FU
Serrapeptase, Nattokinase, Lipase
Neprinol Protease Blend:
Protease (drived from Serratia, B. subtilis and A. oryzae)
Neprinol Enzyme and Cofactor Blend:
Amla, Papain, Bromelain, Rutin, Coenzyme Q10
Other Ingredients: Cellulose (Acid Armor™ capsules)
Neprinol is free of dairy, gluten, and soy allergens.
Contains no artificial colors or preservatives.
Warning: Do not take Neprinol without the consent of your physician if you are taking anti-coagulants or if you are pregnant or nursing.
For best results, take the product at least one hour prior to eating and/or two hours after a meal.
Neprinol can be used safely with other dietary supplements.