Neuro Night Essentials
Neurobiologix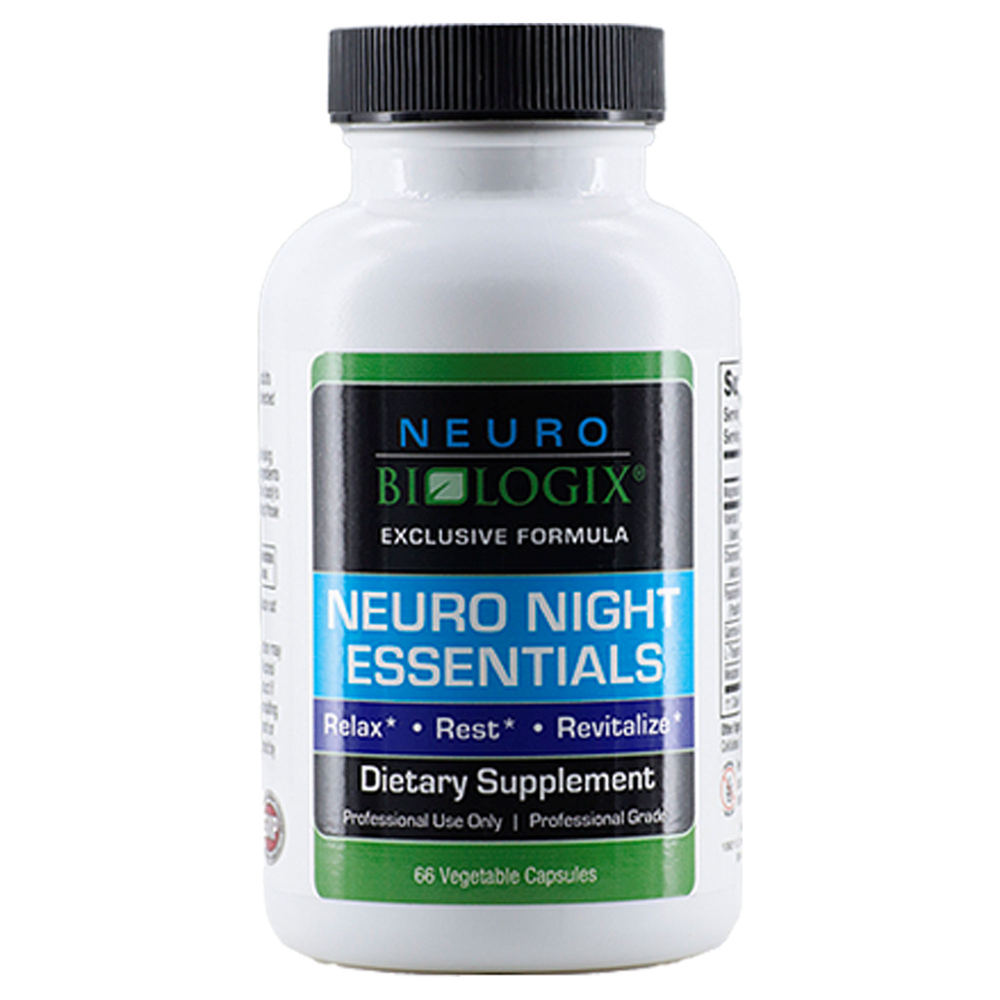 SKU: NEU866-653
Neuro Night Essentials, created by our advising physicians, is a proprietary blend of seven ingredients, specifically designed to promote healthy sleep, support the body's normal nocturnal rhythms during stress, and help those who may have occasional sleeplessness.*
Overview:
Sleep is the body's way of metabolically and psychologically resetting itself for the next day. The body's circadian rhythm is regulated by an internal biological clock. In order to maintain quality and restorative sleep, it is crucial that the brain has optimal levels of serotonin and gamma-amino butyric acid (GABA), the relaxing sleep regulating neurotransmitters, as well as the sleep regulating hormone melatonin. The combination of the ingredients in Neuro Night Essentials will help naturally boost levels of neurotransmitters that promote relaxation prior to bedtime and promote deep and complete stages of sleep.
GABA:
Many people possess a genetic mutation of GAD (Glutamic Acid Decarboxylase), the primary enzyme that creates GABA. A weakness in the GAD enzyme creates an increased amount of Glutamate, the primary excitatory neurotransmitter of the nervous system, and a relative deficiency of GABA. This imbalance creates an overly stimulated nervous system therefore can contribute to sleep issues.
Melatonin - a natural hormone produced by the body that helps regulate other hormones and maintains the body's circadian rhythm. It supports the body's own production of the tranquilizing neurotransmitter serotonin, which plays a key role in healthy sleep patterns and mood. Recommended by more and more doctors as a safe and natural sleep enhancer, melatonin has become the most popular sleep-support compound in the nutrition world.
L-Theanine - a calming amino acid found in green tea that can increase levels of GABA (gamma-aminobutyric acid). Studies suggest it may reduce feelings of mental and physical stress and may produce feelings of relaxation. It is also thought to enhance immune function and boost levels of glutathione. L-Theanine increases the brain's alpha wave activity, which is associated with deep relaxation.

Suggested Use:
As a dietary supplement, adults take 1-2 capsules 1 hour before bedtime or as directed by your healthcare professional.


Serving Size: 2 Vegetable Capsules

Amount Per Serving
Magnesium ... 40mg
(as Magnesium Ascorbate)
Valerian root extract ... 400mg
(Valeriana officinalis) (0.8% Valerenic Acid)
Passion Flower flower extract ... 250mg
(Passiflora incarnata) (3.5% Vitexin)
Chamomile flower extract ... 250mg
(Matricaria chamomilla) (1.2% Apigenin)
L-Theanine ... 100mg
Melatonin ... 3mg


Other Ingredients: Vegetable Cellulose (capsule), Microcrystalline Cellulose, Ascorbyl Palmitate and Silicon Dioxide.


Free of: Yeast, wheat, gluten, soy protein, milk/dairy, corn, sodium, sugar, starch, artificial coloring, preservatives and flavoring.
 
Caution:
CAUSES DROWSINESS. Consumption may impair ability to drive or operate machinery. Alcohol may intensify this effect. Do not take this product if you are taking a prescription drug without consulting your practitioner first. Do not use while pregnant or lactating. Not intended for children.