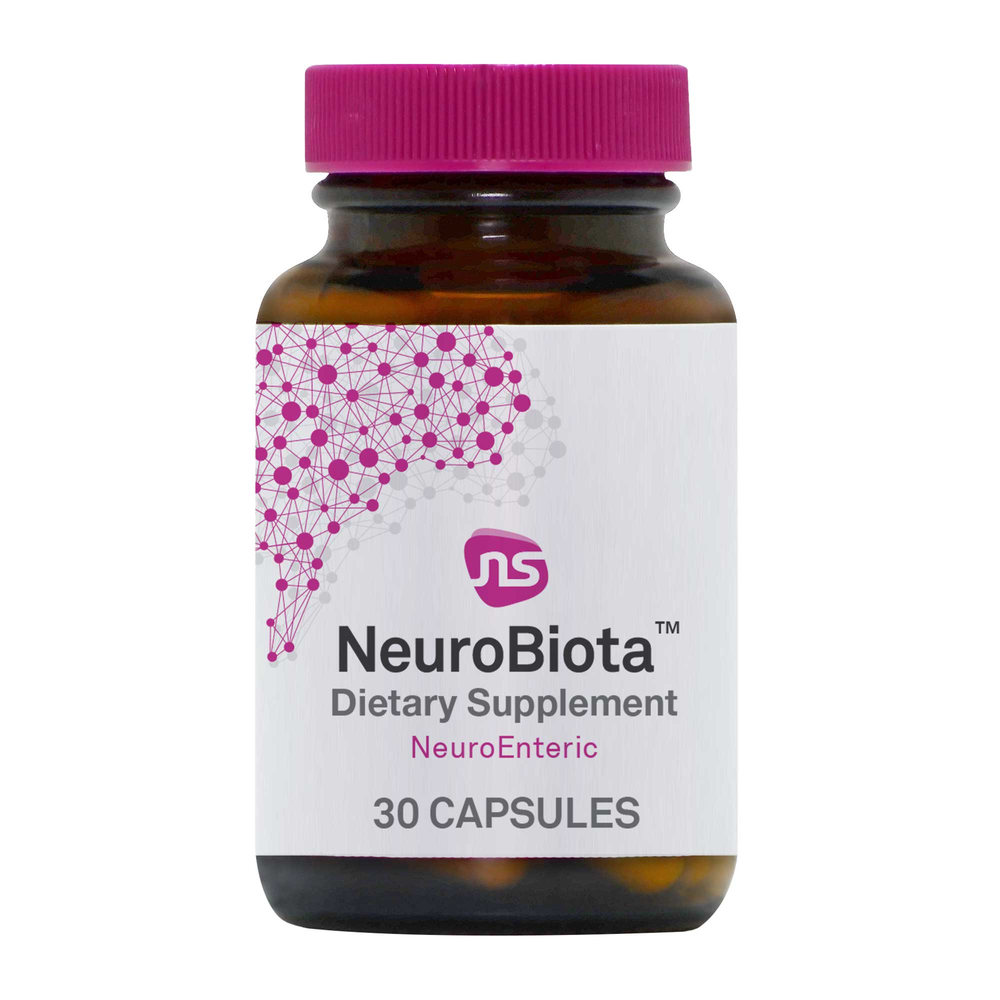 SKU: NEU-20049
As a neuro-focused brand that uniquely understands the science connecting the gut and the brain, NeuroScience designed NeuroBiota™, a two blend combination of room temperature stable probiotics important for the gut-brain axis, neurotransmitter synthesis, improvement of mood, and balancing the immune response.* NeuroBiota delivers its 9 diverse strains totaling 30 billion CFUs in a moisture-reducing amber glass bottle.

The NeuroBlend in NeuroBiota contains three unique probiotic strains not commonly found in probiotic supplements that are important for neurotransmitters and emotional well-being. Lactobacillus brevis produced significantly more GABA than 90 other common probiotic strains tested by researchers (1).* Lactobacillus helveticus and Bifidobacterium longum significantly improved mood and stress while also decreasing cortisol levels in a DBPC study (2).*

The ProBlend in NeuroBiota contains five diverse lactobacilli strains, which help improve the immune response and promote proper intestinal barrier function through supporting natural detoxification, balancing the metabolism, and regulating immune factors like TNF-alpha (3-6).*

NeuroScience is a two decade old, healthcare provider trusted brand whose supplements undergo product specific, independent testing to guarantee label amounts of each ingredients and the absence of heavy metals, pesticides, residual solvents, and microbes.

*These statements have not been evaluated by the Food and Drug Administration. This product is not intended to diagnose, treat, cure, or prevent any disease.

References:
1. Barrett E, et al. J Appl Microbiol. 2012;113(2):411-7.
2. Messaoudi M, et al. Br J Nutr. 2011;105(5):755-64.
3. Cai S, et al. J Clin Pathol. 2016;69(3):187-203.
4. Johnson-Henry K, et al. Infect Immun. 2008;76(4):1340-8.
5. Mao X, et al. PLoS one. 2016;11(1):e0146312.
6. Gao J, et al. Front Microbiol. 2019 Mar 14;10:477.
Take 1 capsule daily or as directed by your healthcare provider. Do not exceed suggested use.

Serving Size: 1 Capsule
Servings per Container: 30

Amount per Serving
Proprietary Blends … 81mg
ProBlend … 24 billion CFUs
Lactobacillus casei (Lc-11), Lactobacillus acidophilus (La-14), Lactobacillus paracasei (Lpc-37), Lactobacillus plantarum (Lp-115), Lactobacillus rhamnosus (GG), and Bifidobacterium lactis (BI-04).
NeuroBlend ... 6 billion CFUs
Bifidobacterium longum (Rosell®-175), Lactobacillus helveticus (Rosell®-52), and Lactobacillus brevis (Lbr-135).

Other Ingredients: Vegetable capsule (Hypromellose, water), Microcrystalline cellulose, and Magnesium stearate (vegetable source).

Does not contain: Dairy, Soy.
No refrigeration required.

If you are pregnant or nursing, consult your healthcare provider before use.