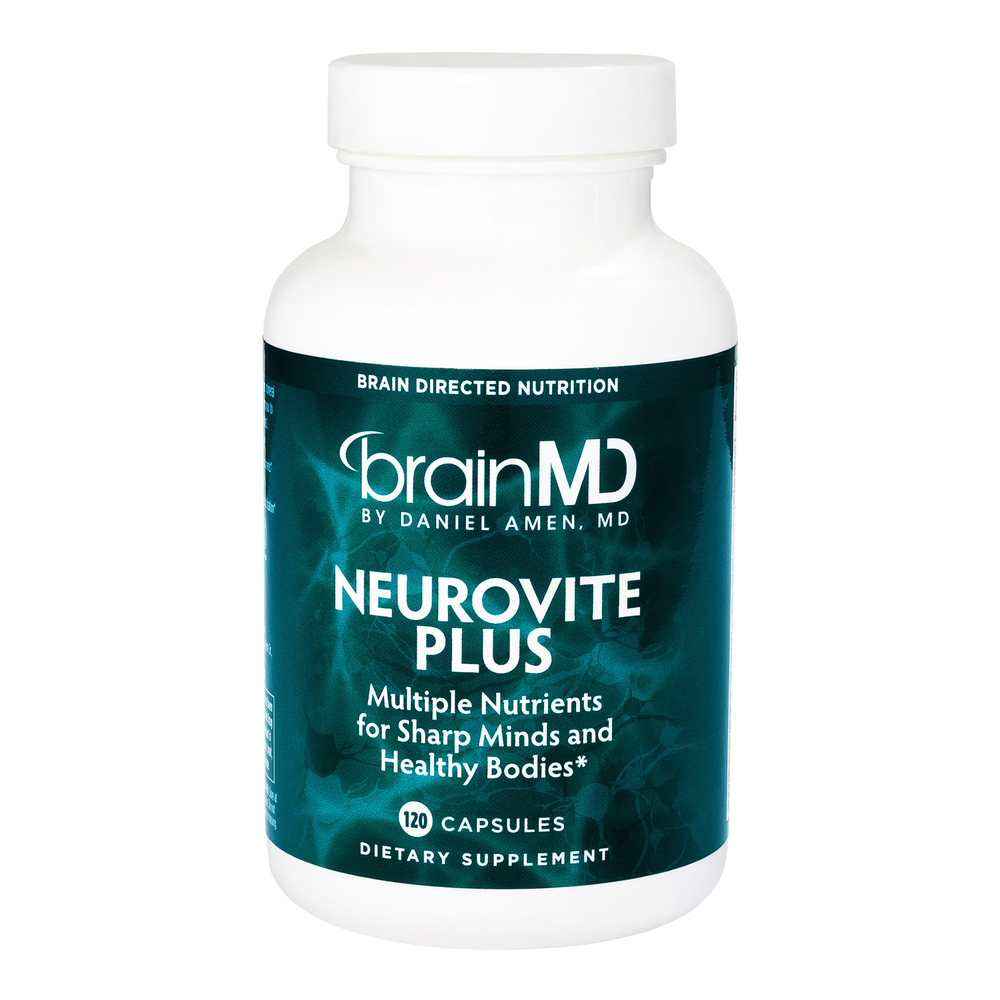 SKU: BRA626-945N
Multiple Nutrients for Sharp Minds and Healthy Bodies* NeuroVite Plus combines more than 50 vitamin, mineral and plant nutrients with digestive enyzmes, for you to look your best, feel your best, and think your best. Nourishes the brain and all systems of the body* Enhanced with clinically proven brain and eye nutrients* Powerful antioxidant and methylation support* Ingredients selected for optimal absorption and utilization*

Suggested Use: Adults take 4 capsules daily after meals (up to 8 capsules under the supervision of a nutritionally-informed physician). Children ages 9-18 take 1 capsule per 40 pounds of body weight, not to exceed 4 capsules daily. Not intended for children under 9 years.

Serving Size: 4 Capsules

Amount Per Serving
Vitamin A (as retinyl palmitate) ... 1515 mcg
Vitamin C (ascorbic acid) ... 200 mg
Vitamin D (as D3, cholecalciferol) ... 2000 IU
Vitamin E (as d-alpha-tocopheryl acetate) ... 20 IU
Vitamin K (as K2, menaquinone-7, MK-7) ... 45 mcg
Thiamin (Vitamin B1) (as thiamin HCI) ... 50 mg
Riboflavin (Vitamin B2) ... 50 mg
Niacinamide (Vitamin B3) ... 50 mg
Vitamin B5 (as d-calcium pantothenate) ... 50 mg
Vitamin B6 (as pyridoxine HCI and
pyridoxal-5-phosphate) ... 25 mg
Folate (as Quatrefolic® methylfolate,
5-methyltetrahydrofolate, glucosamine salt) ... 400 mcg
Vitamin B12 (as methylcobalamin) ... 500 mcg
Biotin (as d-biotin) ... 500 mcg
Pantothenic acid (as d-calcium pantothenate) ... 50 mg
Calcium (as pantothenate, citrate) ... 20 mg
Iodine (as potassium iodide) ... 75 mcg
Magnesium (as glycinate and malate) ... 50 mg
Zinc (as glycinate) ... 20 mg
Selenium (as high-selenium yeast) ... 200 mcg
Manganese (as glycinate) ... 5 mg
Chromium (as picolinate) ... 200 mcg
Molybdenum (as sodium molybdate) ... 50 mcg
High-gamma mixed tocopherols(Vitamin E) ... 30 mg
Choline (as bitartrate) ... 25 mg
Boron (as glycinate) ... 1.5 mg
Silicon (as horsetail extract) ... 3 mg
Lutein, carotenoid ... 3 mg
Zeaxanthin, carotenoid ... 300 mcg
Hesperidin flavonoid complex ... 20 mg
Resveratrol (as trans-resveratrol) ... 10 mg
Pterostilbene (as pTeroPure™ trans-pterostilbene) ... 20 mcg
Fruit & Vegetable Blend ... 140mg
(wild blueberries, broccoli sprouts, tomato, spinach, acai, carrot, strawberry, alfalfa sprouts)
Proprietary Brain Boosting Blend ... 575mg
(acetylcarnitine, alpha-lipoic acid,
phosphatidylserine/PS, coenzyme Q10/CoQ)
Digestive Enzyme Blend ... 30mg
(lipase, amylase, lactase, cellulose, protease)

Other Ingredients: Vegetable cellulose, magnesium stearate, spirulina extract, silicon dioxide, microcrystalline cellulose

Free from milk/dairy, gluten, wheat, eggs, corn, sugars, or artificial coloring or flavoring.
Not recommended during pregnancy or lactation. If currently taking antidepressant or monoamine oxidase inhibitor medications, use this product only under physician supervision.

KEEP OUT OF REACH OF CHILDREN. Store at room temperature in a dry place. Do not use if clear neck seal is broken or missing.