Nitric Balance™-SM
Apex Energetics, Inc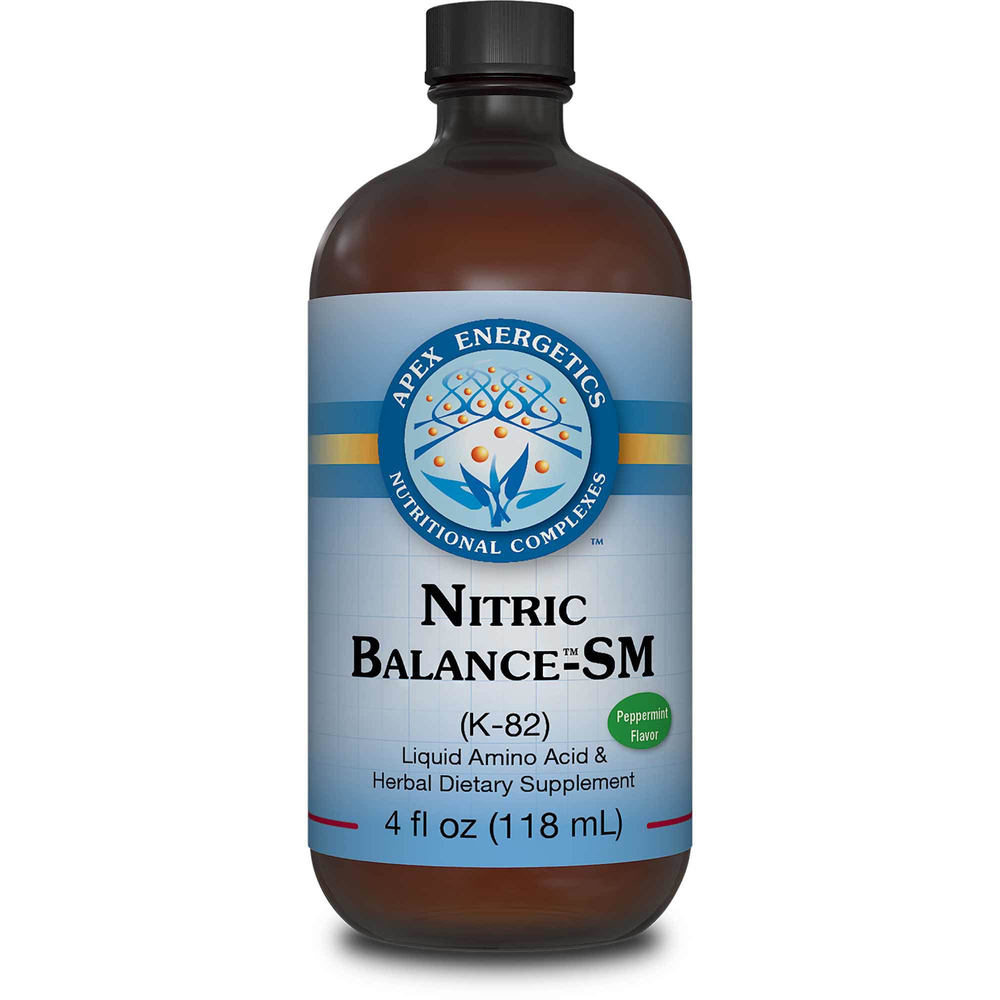 SKU: APE949-K82
Nitric Balance™ -SM (K82) is an advanced combination of carefully selected ingredients that work together to affect NOS (nitric oxide synthase) activity and intracellular energy production.* It also influences the related production of cell-signaling molecules and oxidants.* This formulation takes advantage of the compounding and complementary actions of its ingredients to deliver a truly effective formula backed by a decade of successful clinical use.* Nitric Balance™ is an excellent choice for individuals needing immune, brain, and exercise support.* Also available in a 8 oz size (K62) and in a Chocolate Strawberry flavor (K68).
Suggested Use:
Take 1 teaspoon once a day, or as directed by your healthcare professional. SHAKE WELL BEFORE USE.


Serving Size: 1 teaspoon (approx. 5 mL)

Amount Per Serving
Proprietary Blend ... 125mg
ATP (as adenosine 5-triphosphate disodium)
Xanthinol Nicotinate
N-Acetyl L-Cartinine (as N-acetyl L-carnitine hydrochloride)
Alpha-GPC (L-alpha glyverylphosphorycholine)
Vinpocetine
Huperzine A (from Toothed Clubmoss Extract [Huperzia serrata]) (whole plant)

Other Ingredients: Filtered water, vegetable glycerin, honey, evening primrose oil, xanthan gum, luo han guo fruit extract, sodium citrate, gluconic acid, cinnamon oil, natural flavor (peppermint), potassium sorbate (to maintain freshness), stevia extract, citric acid.

Does not contain: Gluten, soy, milk

Ideal for Vegans, Vegetarians
Consult your healthcare professional before use if pregnant, nursing, taking medications, or for any use by minors. Do not use if safety seal is broken or missing. KEEP OUT OF REACH OF CHILDREN.

Storage instructions: REFRIGERATE UPON RECEIPT TO MAINTAIN FRESHNESS. Keep this bottle tightly closed.