Nitricycle
D'Adamo Personalized Nutrition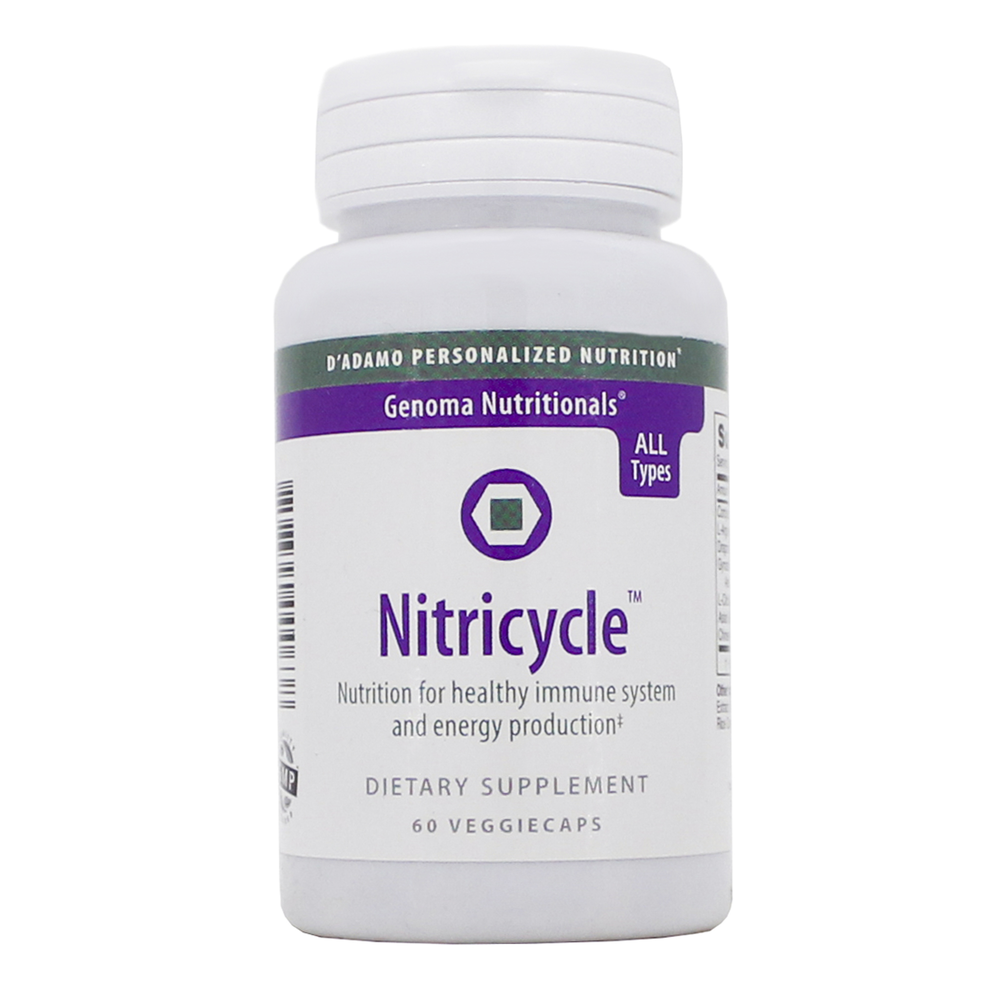 SKU: NITR3
Supplement to promote healthy vasodilation and blood pressure while enhancing cognitive function.
Recent Nobel Prize winning research has led to a deeper understanding of the important role played by the simple molecule nitric oxide, known to influence many of our most basic health processes, including the cognitive learning and healthy blood vessel tone. In our bodies nitric oxide functions as a signaling molecule which may:
Influence cognitive function,
Help maintain blood pressure levels that are already normal.
Promote healthy immune and nervous system response.
Dr. Peter D'Adamo, author of Eat Right 4 Your Type formulated Nitricycle by blending together botanicals with the amino acid L-Arginine which is an essential precursor of nitric oxide. This unique blend helps to maintain healthy blood vessel tone thus making it popular for athletes and exercise enthusiasts. There is some evidence blood types B and AB may benefit more from Nitricycle although it is good for all types.
Suggested Use:
Take 1 capsule twice daily

Serving Size: 1 Capsule
Amount Per Serving
Cordyceps sinensis ... 100mg
L-Arginine ... 100mg
Dragons Blood Croton Resin ... 50mg
(Croton lechlen)
Gynostemma Aerial Parts ... 50mg
(Gynostemma pentaphyllum)
L-Citrulline ... 50mg
Asian Ginseng Root ... 50mg
(Panax ginseng)
Chinese Salvia Root ... 50mg
(Salvia miltiorrhiza)
Other Ingredients: Vegetable Cellulose, Organic Rice Extract, Magnesium Citrate, Silicon Dioxide, and Organic Rice Concentrate.



This 100% vegetarian product contains no sugar, salt, gluten, wheat, yeast, corn, soy, eggs or dairy, no preservatives, color or flavors, and no artificial ingredients.
It looks like there are no similar
products available