NT Factors Advanced Physician Formula
Allergy Research Group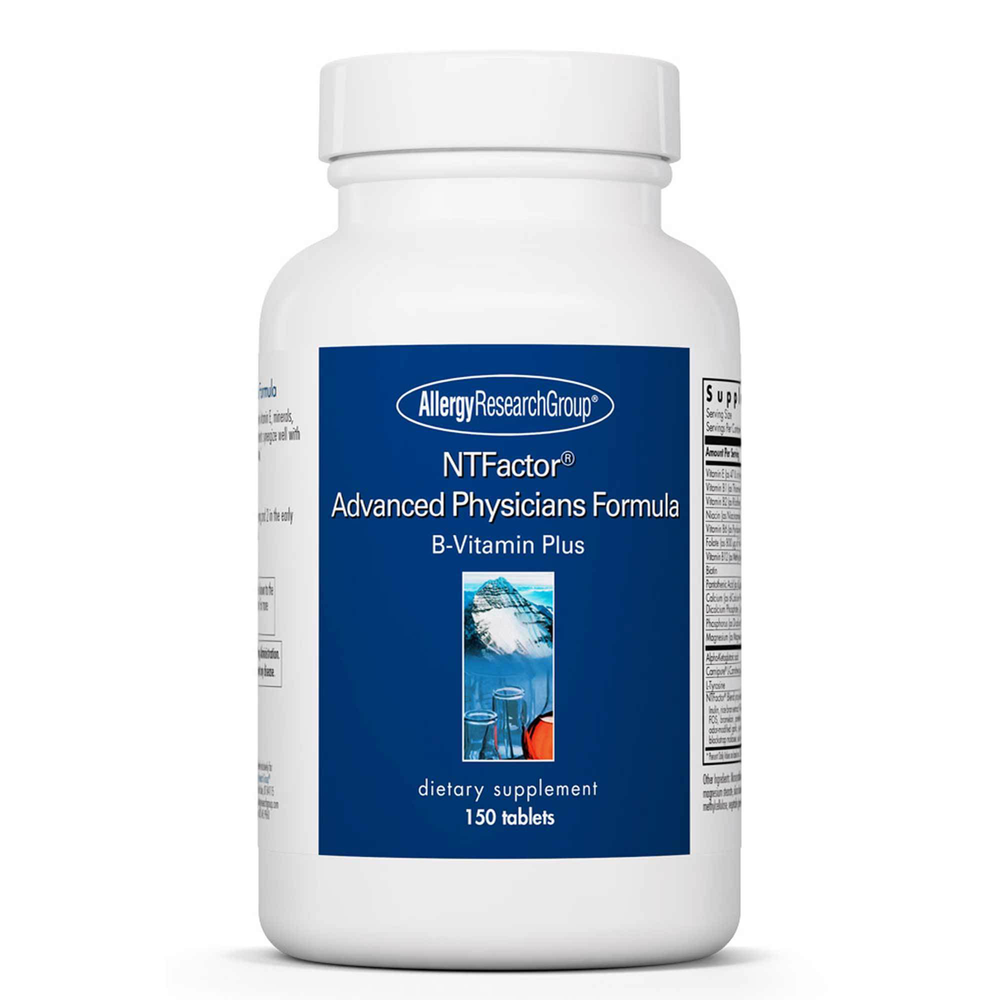 SKU: ARG-76680
Patent-pending NT Factor boosted with vitamin B complex and vitamin E, minerals, a-ketoglutarate, L-carnitine, and L-tyrosine.* These nutrients synergize well with NT Factor cellular and mitochondrial membrane nutrition.*
As a dietary supplement, 5 tablets daily (3 in the morning and 2 in the early afternoon), or as directed by a healthcare practitioner.
Serving Size: 5 tablets


Amount Per Serving:
Vitamin E ... 47IU
(d-Alpha Tocopheryl Succinate)
Vitamin B1 ... 3.7mg
(as Thiamine HCl)
Vitamin B2 ... 4mg
(as Riboflavin)
Niacin ... 99mg
(as Niacinamide)
Vitamin B6 ... 10mg
(as Pyridoxine HCl)
Folate ... 800µg
(as Folic Acid)
Vitamin B12 ... 1mg
(as Methylcobalamin)
Biotin ... 750µg
Pantothenic Acid ... 25mg
(as d-Calcium Pantothenate)
Calcium ... 398mg
(as d-Calcium Pantothenate, Calcium Carbonate,
Dicalcium Phosphate, Calcium Pyruvate)
Phosphorus ... 102mg
(as Dicalcium Phosphate)
Magnesium ... 123mg
(as Magnesium Oxide)
Alpha-Ketoglutaric acid ... 300mg
Carnipure® L-Carnitine ... 225mg
(as L-Carnitine L-tartrate)
L-Tyrosine ... 150mg
NT Factor® Blend proprietary formula ... 4g
containing:
Inulin, rice bran extract, NT Factor® EnergyLipids
(soy), OptiMSM® methylsulfonylmethane, FOS, bromelain,
PABA, pantethine, inositol, L-arginine, L-glycine,
taurine, alpha lipoic acid, odor-modified garlic,
spirulina, leeks stem powder, beet root fiber, B.
bifidum, L. acidophilus, blackstrap molasses, sodium borate.
Other ingredients: Microcrystalline cellulose, vegetable stearic acid, croscarmellose sodium, vegetable magnesium stearate, silicon dioxide, pharmaceutical glaze (purified water, hydroxypropyl methylcellulose, vegetable glycerin).
Variations in product color may occur. Keep in a cool, dry place, tightly capped.
*This statement has not been evaluated by the U.S. Food and Drug administration. The product is not intended to diagnose, treat, cure, or prevent any disease.