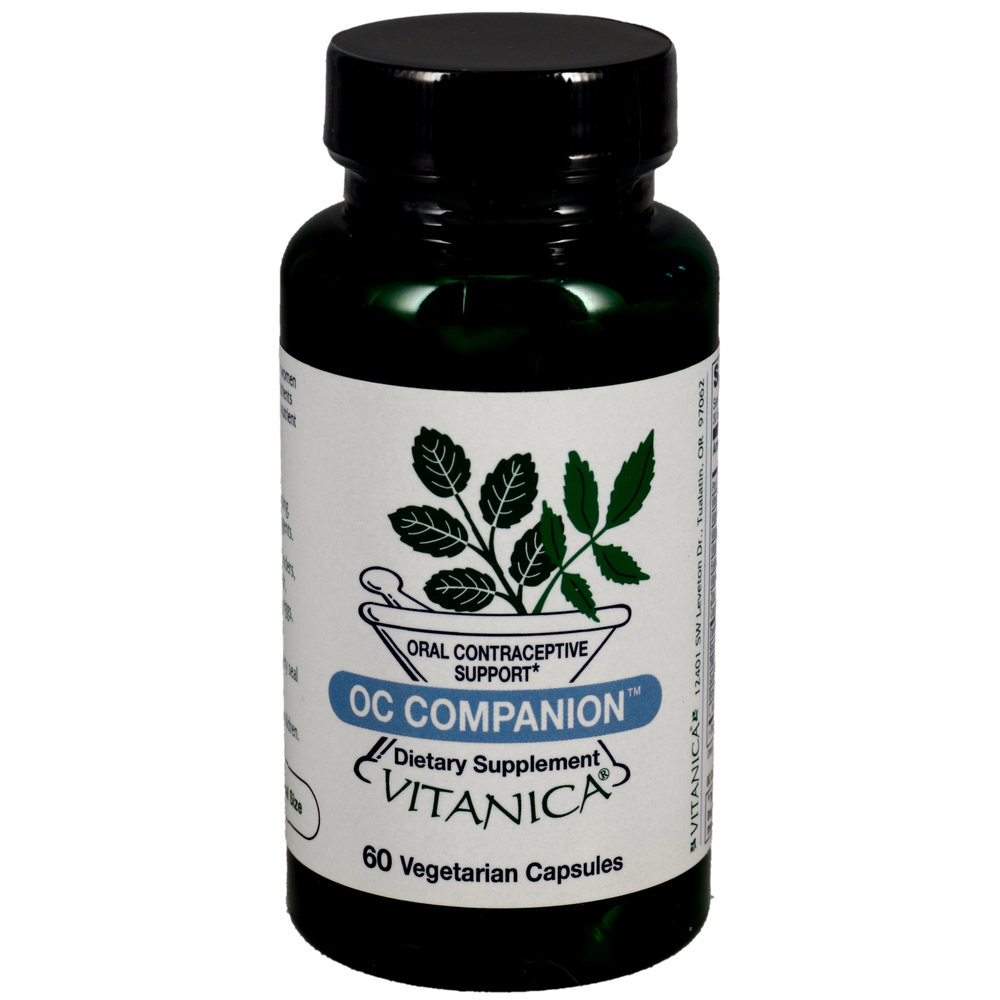 SKU: VTC-01298
OC Companion is available by Vitanica.

Oral Contraceptive Support
Suitable for Vegetarians
Two (2) capsules per day.
Serving Size: 2 Capsules
Vitamin A ...10, 000 IU
(as Betatene®, natural mixed carotenoids)
Vitamin C (as calcium ascorbate) ...500mg
Vitamin E (as d-alpha tocoperyl succinate) ...100 IU
Riboflavin (as vitamin B12) ...25mg
Vitamin B6 (as pyridoxal-5-phosphate) ...25mg
Folate (as folic acid) ...800mcg
Vitamin B12 (as methylcobalamin) ...250mcg
Zinc (as picolinate) ...10mg
Copper (as gluconate) ...1mg
DIM (Diindolymethane) ...50mg
Bromelain ...500 GDU
L. acidolphilus ...2 billion CFU
Dandelion root ...100mg
(Taraxacum officinale)
Borage oil powder (8% GLA) ...100mg
Garlic ...50mg
(10, 000 ppm allicin potential)
Contains - Vegetarian capsule (HPMC and water) cellulose, silicon dioxide, L-leucine, soy (Vit. E)
Does Not Contain - Preservatives, binders, artificial colorings or flavorings, sucrose, glucose, starch, lactose, salt, wheat, gluten, milk derivatives
Keep in a cool, dry place out of reach of children.
Borage seed oil, bromelain and garlic may potentiate anti-coagulant/anti-platelet agents.