OcuDyne
Allergy Research Group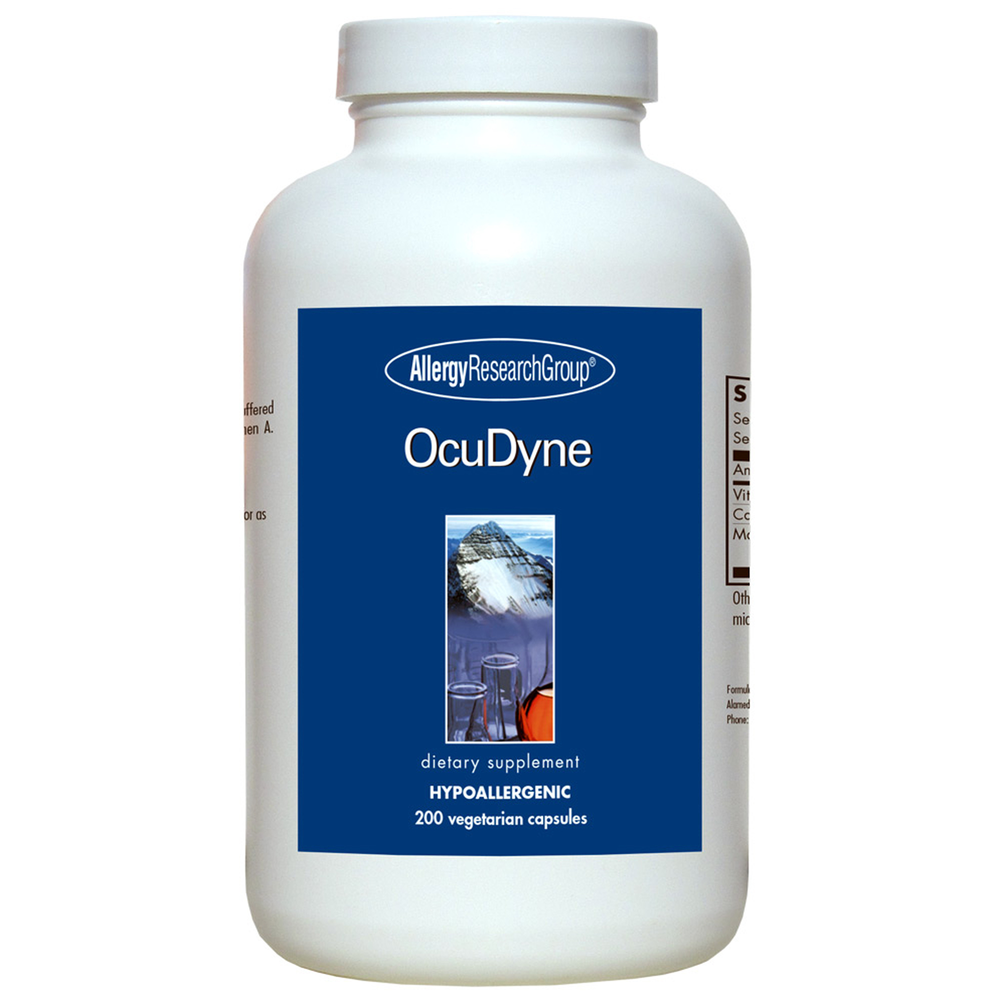 SKU: ARG-71070
OcuDyne is available by Allergy Research Group.
-OcuDyne is an advanced eye care formula developed by medical practitioners Jonathan Wright, M.D. and Alan Gaby, M.D. OcuDyne contains a potent blend of antioxidant vitamins and minerals, amino acids and herbs which support healthy eye tissue and function.
The OcuDyne formulas were formulated exclusively for Allergy Research Group® by Jonathan Wright, M.D. and Alan R. Gaby, M.D. The nutrients contained within each of the OcuDyne formulas support the structure and various functions of the eye. OcuDyne contains prime antioxidants, key amino acids, minerals, bioflavonoids, and extracts of Ginkgo biloba and Bilberry (Viccinium myrtillus).
Allergy Research Group®
Dietary Supplement
HYPOALLERGENIC

Supplemental Facts:
Formulated exclusively for
Allergy Research Group®
Alameda, CA 94502
These nutrients are the purest obtainable, are free of all common allergens (antigens) and do not contain preservatives, diluents, or artificial additives.
As a dietary supplement, 4 capsules one (1) or two (2) times daily with meals, or as directed by a healthcare practitioner.
Serving Size: 4 Capsules
Amount Per Serving
Vitamin A ...16250 IU
(75% as Beta-Carotene and 25% as Retinyl Palmitate)
Vitamin C (as Ascorbic Acid) ...250mg
Vitamin E ...200 IU
(as DL-alpha-Tocopheryl Acetate)
Thiamin ...10mg
(as Thiamin Hydrochloride)
Riboflavin ...12.5mg
Niacin ...30mg
(83% as Niacinamide)
Vitamin B6 ...15mg
(as Pyridoxine Hydrochloride)
Folic Acid ...400mcg
Vitamin B12 ...25mcg
Pantothenic Acid ...50mg
Calcium (as Calcium Citrate) ...50mg
Magnesium ...125mg
(as Magnesium Citrate)
Zinc (as Zinc Citrate) ...25mg
Selenium ...100mcg
(50% as Sodium Selenite and 50% as Selenomethionine)
Copper (as Copper Sebacate) ...1.5mg
N-Acetyl-L-Cysteine ...125mg*
Glycine ...25mg*
L-Methionine ...100mg*
Taurine ...250mg*
Glutamic Acid ...25mg*
Quercetin ...150mg*
Ginkgo (Leaves) Extract ...30mg*
(standardized to 24% Flavonglycosides and 6% Terpene Lactones)
Bilberry (Berries) Extract ...20mg*
* Daily Value not established
Contains:
Cellulose, Magnesium Stearate
Keep in a cool, dry place, tightly capped.
This item may contain a chemical known to the State of California to cause cancer, birth defects, or other reproductive harm. Under CA Prop 65, it is required to include an additional labeled warning for the CA public.
It looks like there are no similar
products available