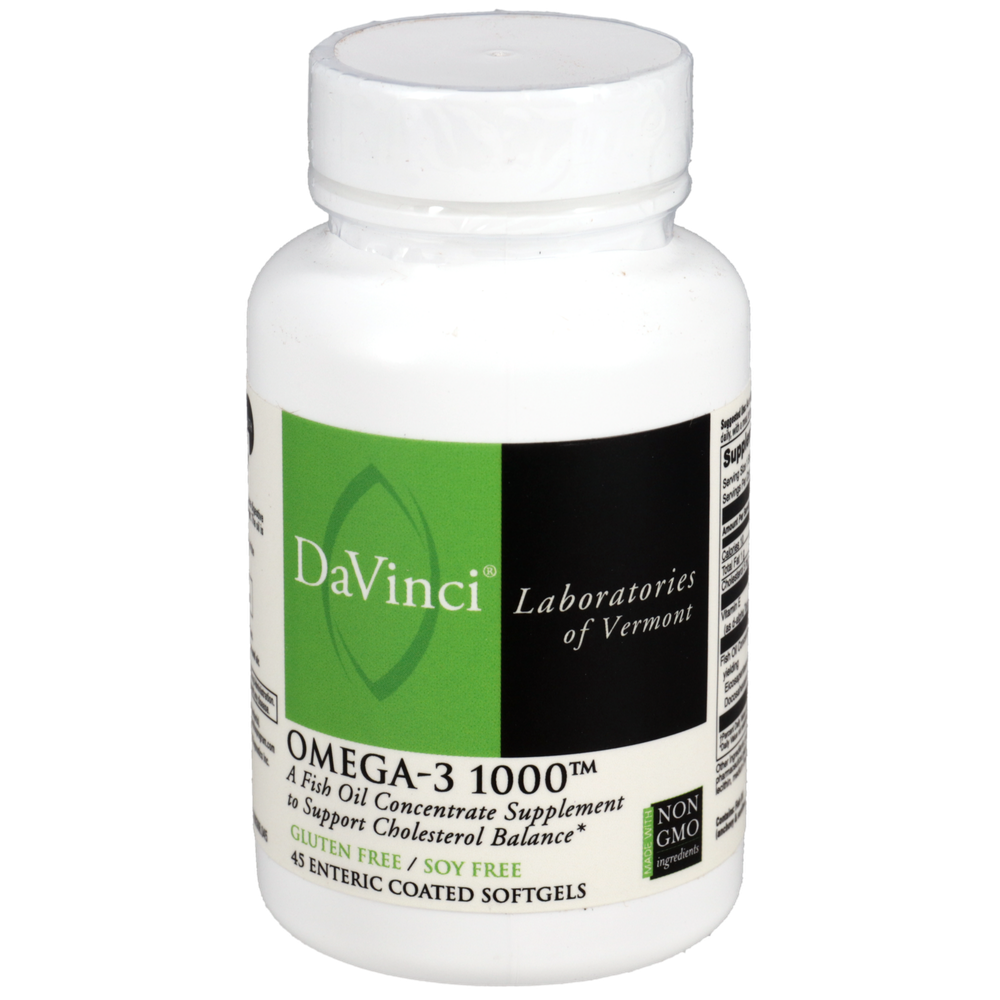 SKU: DAV-0200368045
Omega 3-1000
-is an Omega 3 fatty acid supplement to support cholesterol levels within
normal ranges*. The omega-3 fatty acids are important to health, especially
for the heart, brain and cell membranes of the body. Eicosapentaenoic Acid
(EPA) and Docosahexaenoic Acid (DHA) are precursors to the PGE3 series of
prostaglandins, which are substances important to proper body regulation.
Omega-3 1000 is from deep cold water fish that are caught wild. The oil is
cold-pressed, molecularly distilled and assayed for PCBs and heavy metals.
Enteric coated to reduce digestive upset and can be taken with or without
meals.*
As a dietary supplement, take 1 softgel, twice daily, with a meal, or as
directed by your healthcare practitioner.
Serving Size: 1 Softgel
Amount Per Serving
Calories ...15
Calories from Fat ...15
Total Fat ...1.5g
Cholesterol ...5mg
Vitamin E ...5 IU
(as d-alpha Tocopherol)
Fish Oil Concentrate ...1000mg
yielding
Eicosapentaenoic Acid (EPA) ...300mg
Docosahexaenoic Acid (DHA) ...200mg
Other ingredients: gelatin, glycerin, water, pharmaceutical glaze, sodium
alginate, sunflowerlecithin, medium chain triglycerides, stearic acid.
Contains: Fish Oil (anchovy & sardines).
If pregnant or nursing, consult your healthcare practitioner before taking this product.
Keep out of reach of children. Store in a cool, dry place.
Keep container closed tightly to protect from moisture and air.
Quality verified by IFOS (International Fish Oil Standards). To obtain more
information or test results visit www.ifosprogram.comIFOS is a Registered
Trademark of Nutrasource Diagnostics Inc.
*These statements have not been evaluated by the Food and Drug
Administration. This product is not intended to diagnose, treat, cure or
prevent any disease.
WARNING:This product contains PCBs, a chemical known to the State of
California to cause birth defects or other reproductive harm.