Omega-3 Molecularly Distilled
Protocol for Life Balance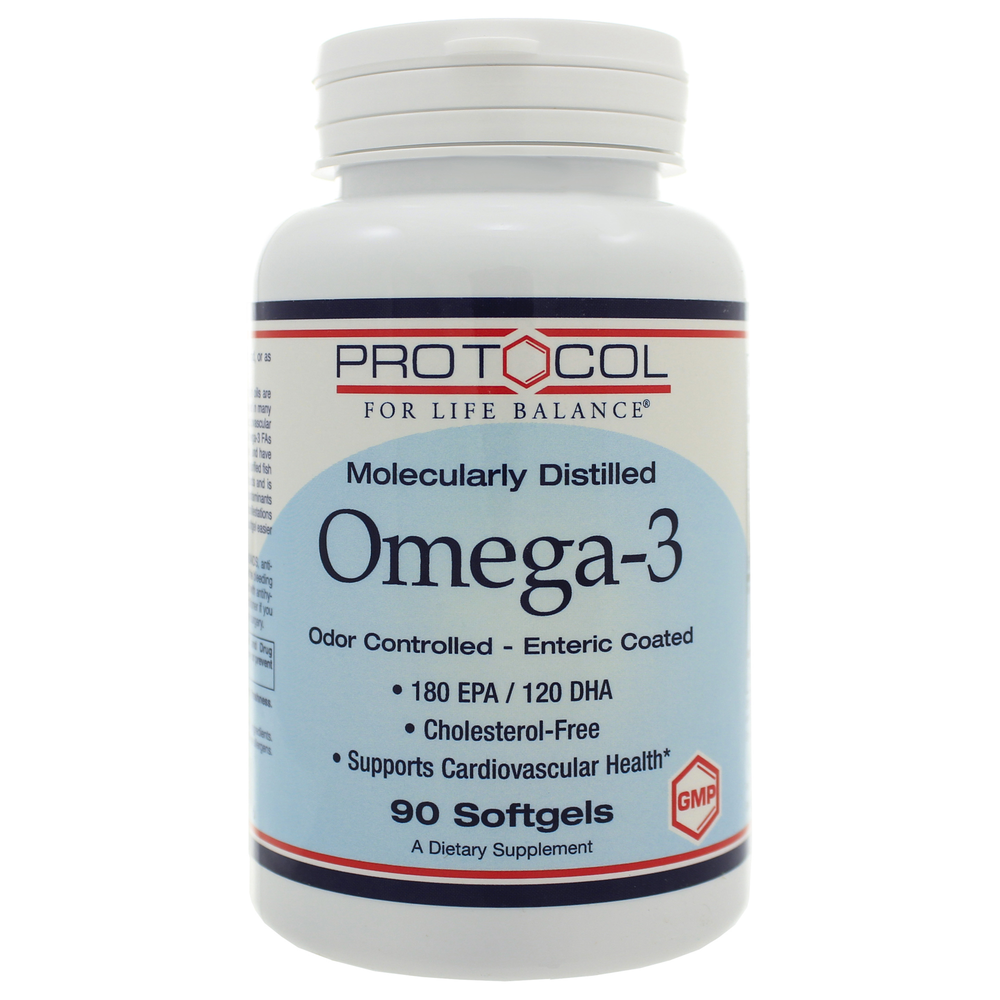 SKU: PROT-P1656
Numerous scientific studies have demonstrated that Omega-3 FAs are important for the modulation of prostaglandin and leukotriene synthesis. These two classes of signaling molecules are critical for the maintenance of cardiovascular health, immune system function, and joint comfort. In addition, Omega-3 FAs are essential for the health of neuronal tissues, including the brain, and have been shown to play a role in both mood and cognition. Emerging evidence also indicates that Omega-3 FAs may be important in the maintenance of healthy body composition through a number of mechanisms. This highly purified fish oil concentrate is produced under stringent quality control standards and is tested to be free of potentially harmful levels of environmental contaminants and heavy metals like mercury.

*Those who experience nausea or reflux from other fish oils should find this enteric coated, odor controlled softgel easier to digest.
As a dietary supplement, take 1 softgel 1 to 3 times daily with meals.
Serving Size: 1 Softgel

Amount Per Serving
Calories ... 10
Calories from Fat ... 10
Total Fat ... 1g
Saturated Fat ... <0.5g
Trans Fat ... 0g
Polyunsaturated Fat ... 0.5g
Vitamin E ... 10IU
(as d-alpha Tocopherol with Mixed Tocopherols)
Natural Fish Oil Concentrate ... 1.0 g (1, 000 mg)
Omega-3 Fatty Acids ... 400mg
Elcosapentaenoic Acid ... 180mg
(EPA)**
Docosahexaenoic Acid ... 120mg
(DHA)**
Other Omega-3 Fatty Acids ... 100mg
Other Ingredients: Softgel Capsule (gelatin, glycerin, water and enteric coating). Contains fish (sardines, anchovies, mackerel) and soy derivatives.
Contains no: sugar, salt, starch, yeast, wheat, gluten, corn, milk, egg, shellfish or preservatives.
Cautions and Interactions
Omega-3 FAs may interact with NSAIDS, anticoagulants and antiplatelet drugs and could theoretically increase the bleeding risk in some individuals. Theoretically, Omega-3 FAs could interact with antihypertensive agents and cyclosporine. Consult your healthcare practitioner if you are taking any of these or other medications or if you plan to have surgery
This product is intended for the following protocols: Arterial and Cholesterol Support, Brain Support, Cardiovascular Support, Digestive Support, Immunity Balance, Seasonal Immunity, Pain Management, Sleep/Mood Support, Women's Health.

*The statements herein have not been evaluated by the FDA. These products are not intended to diagnose, treat, cure or prevent any disease.