Omega 3D
Nutritional Frontiers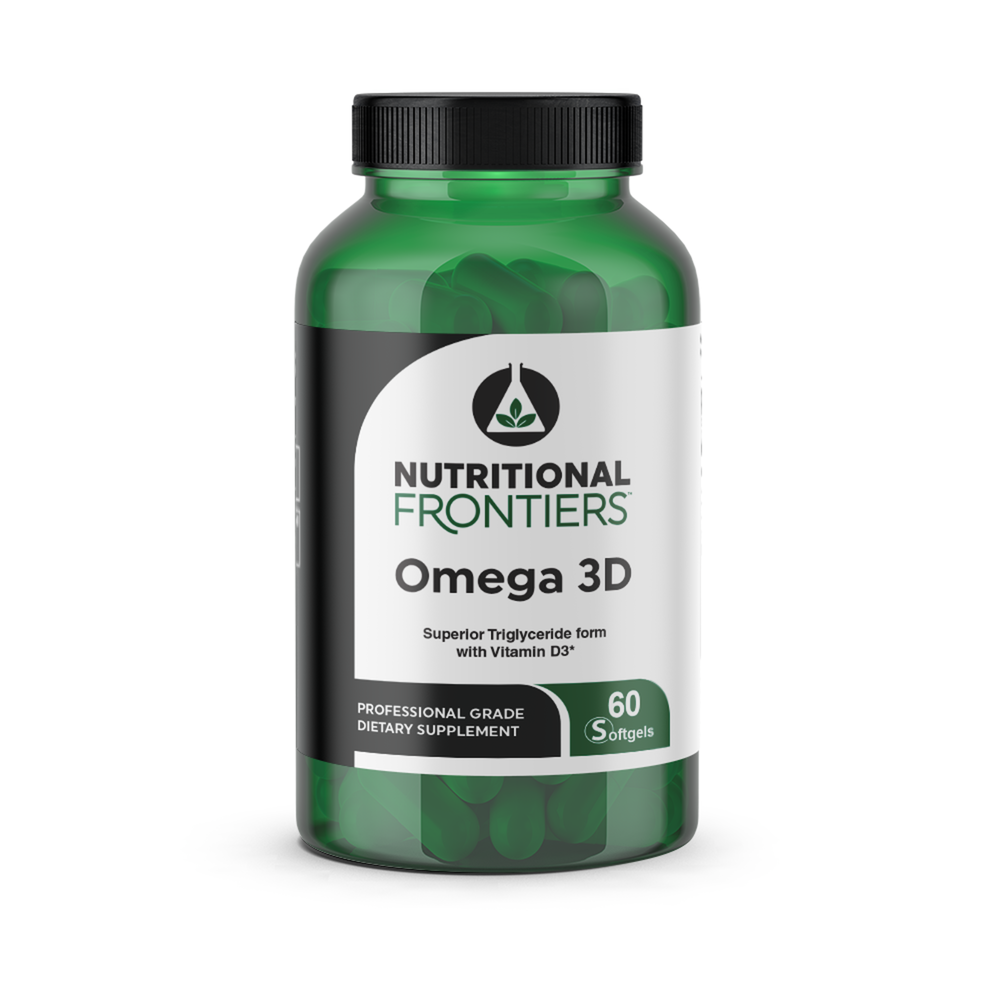 SKU: NUT412-07NF4TG060
Omega 3D is a blend of non- GMO natural oils from Fish that combines the health benefits of Omega 3 and Vitamin D3. It is a comprehensive "multi" fatty acid supplement that is rich in EPA, DHA and Vitamin D3.

• It provides a healthy balance of essential fatty acids that are critical to total body health. These fatty acids play a vital role in the structure of cell membranes, healthy hair and skin, and support cardiovascular, nerve, neurological and immune system functions.

• It also provides the desirable ratio of Omega 3 to Vitamin D3 for more efficient and beneficial production.

• Recommended for:
• Cardiovascular health
• Hair and skin health
• Support of blood pressure within normal ranges vascular integrity and cardiovascular health
• Healthy nervous system and organ function
• Joint and bone health and comfort
• Gastrointestinal, respiratory, and immune system health
• Support of hormone balance within normal ranges

Omega 3D is a rich source of Omega-3, including Eicosapentaenoic Acid (EPA) and Docosahexaenoic Acid (DHA), combined with D3.
As a dietary supplement, take 2 capsules 1-2 times per day, or as directed by your healthcare practitioner.


Serving Size: 2 Softgels

Amount Per Serving
Calories ... 30
Total Fat ... 3g
Cholesterol ... 15mg
Protein ... <1g
Vitamin D ... 25mcg
(as Cholecalciferol - 1000 IU)
Total Omega-3 Fatty Acids as TG ... 1800mg
EPA (Eicosapentaenoic Acid) as TG 960 mg †
DHA (Docosahexaenoic Acid) as TG 640 mg †
Additional Omega-3 Fatty Acids as TG 200 mg

Ingredients: Highly-Refined and Concentrated Omega-3 Marine Oil (one or more of anchovy, squid, sardine, and mackerel), Capsule Shell (gelatin, glycerin, purified water), Natural Lemon Flavor, Proprietary Antioxidant Blend (consisting of natural tocopherols, rosemary extract, and ascorbyl palmitate), Cholecalciferol
If pregnant or nursing, consult your healthcare practitioner before taking this product.