Seriously Delicious Strawberry Banana Smoothie
Barlean's Organic Oils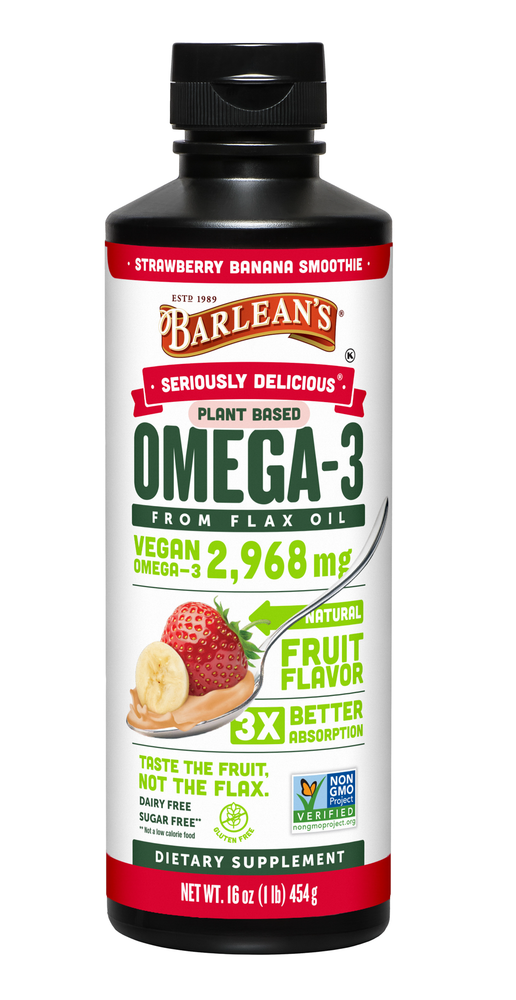 SKU: BAR-BE16SB
Get your essential fatty acids here! With over 2,950mg of plant-based ALA Omega-3 in every tablespoon, Seriously Delicious Omega 3® Flax Oil offers a tasty way to get the essential fatty acids your body needs, but can't make on its own. Seriously Delicious Strawberry Banana Omega-3® Flax Oil is made from flax oil that's been freshly cold-pressed and protected from light and heat from seed to bottle. And Seriously Delicious Omega-3® is emulsified, so you actually absorb 3X more of the nutrients than you do with regular liquid flax oil or flax softgels. Want more good news? This vegan formula is so tasty that kids and adults alike love it – right off the spoon, or added to yogurt, smoothies, oatmeal or even ice cream! And like all Barlean's products, Seriously Delicious Omega-3® is third-party tested for quality and purity.
Adults & children ages 4 and up: 1 Tbsp daily. Great straight or in yogurt, oatmeal or smoothies.


Serving Size: 1 Tbsp (15 ml)

Amount Per Serving
Calories ... 70
Total Fat ... 5 g
Saturated Fat ... 0 g
Polyunsaturated Fat ... 3.5 g
Monounsaturated Fat ... 1 g
Total Carbohydrate ... 6 g
Total Sugars ... 0 g
Added Sugars ... 0 g
Sugar Alcohol ... 5 g
Omega-3 Polyunsaturated Fat Alpha Linolenic Acid ... 2,968 mg (ALA)
Omega-6 Polyunsaturated Fat: Linoleic Acid ... 739 mg (LA)
Omega-9 Monounsaturated Fat: Oleic Acid ... 863 mg

Ingredients: Flaxseed oil, water, xylitol, glycerine, gum arabic, natural flavors, vegetable juice, citric acid, xanthan gum, guar gum, sorbic acid, ascorbyl palmitate
Keep out of reach of children and never give to pets. Refrigerate after opening.