OmegaGenics® EPA-DHA 300 Algae
Metagenics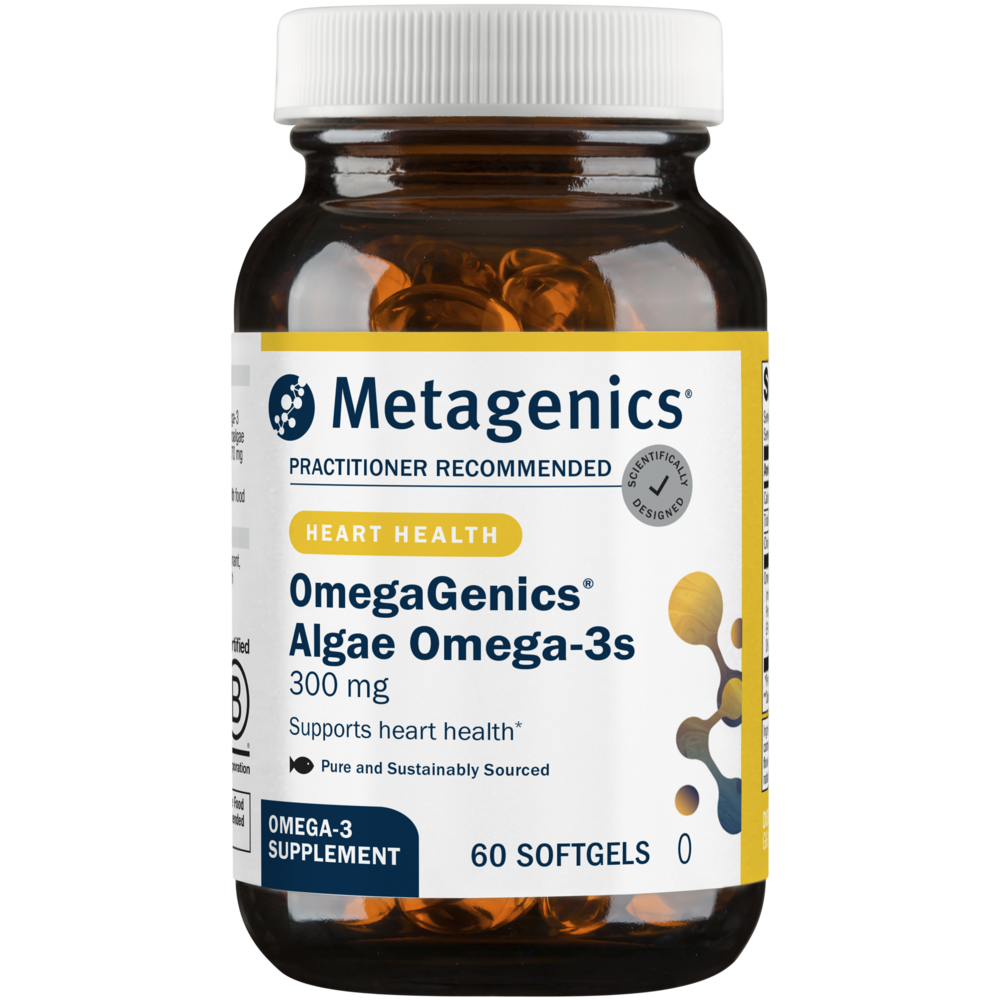 SKU: MET-EPA300AL
OmegaGenics® EPA-DHA 300 Algae features a concentrated, purified vegetarian source of omega-3 fatty acids in triglyceride form from the microalgae Schizochytrium sp. Each softgel provides a sum of 300 mg EPA and DHA.
The ingredients utilized within the aroma cans for sensory enhancement are generally recognized as safe (GRAS) and/or are approved for use in a regulation of the United States Food and Drug Administration (USFDA). The aroma cans are utilized to mask the smell of some supplements where known customer sensitivities exist. The aroma canisters serve no purpose related to product efficacy or stability and can be removed from the bottle once opened without any negative impact on the product.
Suggested Use:
Take 2 softgels up to two times daily with food or as directed by your healthcare practitioner.
Serving Size: 2 Softgels
Calories … 20
Total Fat … 2 g*
Cholesterol … 5 mg*
Omega-3 Fatty Acid Triglycerides
Providing a minimum of each … 600 mg **
EPA … 180 mg
(Eicosapentaenoic acid triglyceride)
DHA … 360 mg
(Docosahexaenoic acid triglyceride)
Other Ingredients: Algal oil, softgel shell [water, modified corn starch, glycerin, carrageenan, sorbitol, caramel (color), and beta-carotene (color)], sun- flower oil, contains 2 percent or less of mixed tocopherols (antioxidant), natural flavor, sunflower lecithin, and ascorbyl palmitate (antioxidant).
This product is non-GMO, vegetarian, and gluten-free.
Caution: Consult your healthcare practitioner if pregnant, nursing, or taking other nutritional supplements or medications. Keep out of the reach of children.
Tamper Evident: Do not use if safety seal is missing or broken.
Storage: Keep tightly closed in a cool, dry place.