OmegaGenics® EPA-DHA 750
Metagenics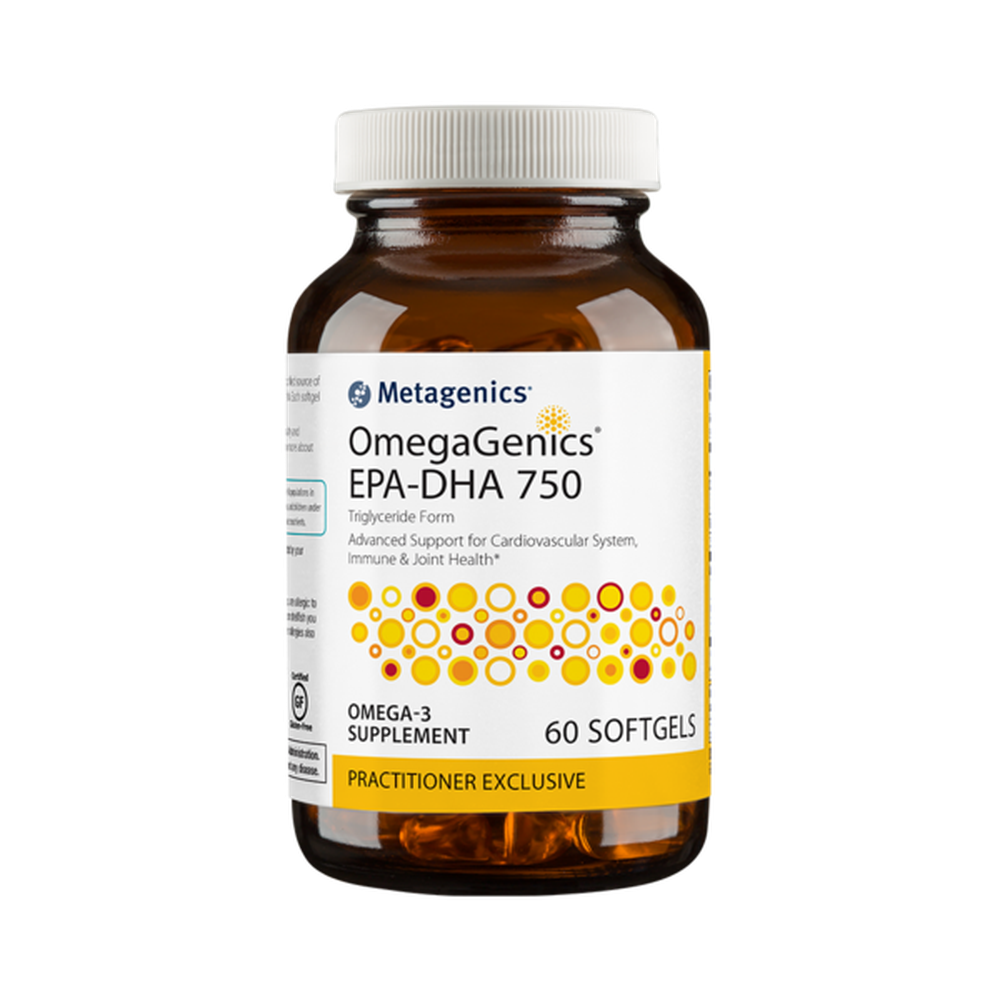 SKU: MET-EPA750
OmegaGenics® EPA-DHA 750
OmegaGenics® EPA-DHA 750 features a concentrated, purified source of omega-3 fatty acids from sustainably sourced, cold-water fish. Each softgel provides a total of 375 mg EPA and 375 mg DHA.
Supplement Facts
Serving Size: 2 Softgels
Amount Per Serving
| | |
| --- | --- |
| Calories | 30 |
| Calories from Fat | 30 |
| Total Fat | 3 g |
| Cholesterol | 5 mg |
| Marine Lipid Concentrate | 2.7 g |
| EPA (Eicosapentaenoic acid) | 750 mg |
| DHA (Docosahexaenoic acid) | 750 mg |
| Other Omega-3 Fatty Acids | 200 mg |
Other Ingredients
Marine lipid concentrate [fish (anchovy, sardine, and mackerel) oil and calamari oil], softgel shell (gelatin, glycerin, purified water), contains 2 percent or less of natural citrus flavor, mixed tocopherols (antioxidant), rosemary extract, and ascorbyl palmitate (antioxidant).
Contains: Fish (anchovy, sardine, and mackerel).
This product is non-GMO and gluten-free.Suggested Use
Take two softgels one to three times daily or as directed by your healthcare practitioner.
Storage
Keep tightly closed in a cool, dry place.
Cautions and Warnings
Consult your healthcare practitioner if pregnant, nursing or taking other nutritional supplements or medications. Keep out of the reach of children.
This product contains calamari, a mollusk shellfish. If you are allergic to mollusks, do not use this product. If you have allergies to crustacean shellfish you may react to this product as a subset of individuals with crustacean allergies also react to mollusks.
*These statements have not been evaluated by the Food & Drug Administration. These products are not intended to diagnose, treat, cure or prevent any disease.