OmegAvail TG1000
Designs for Health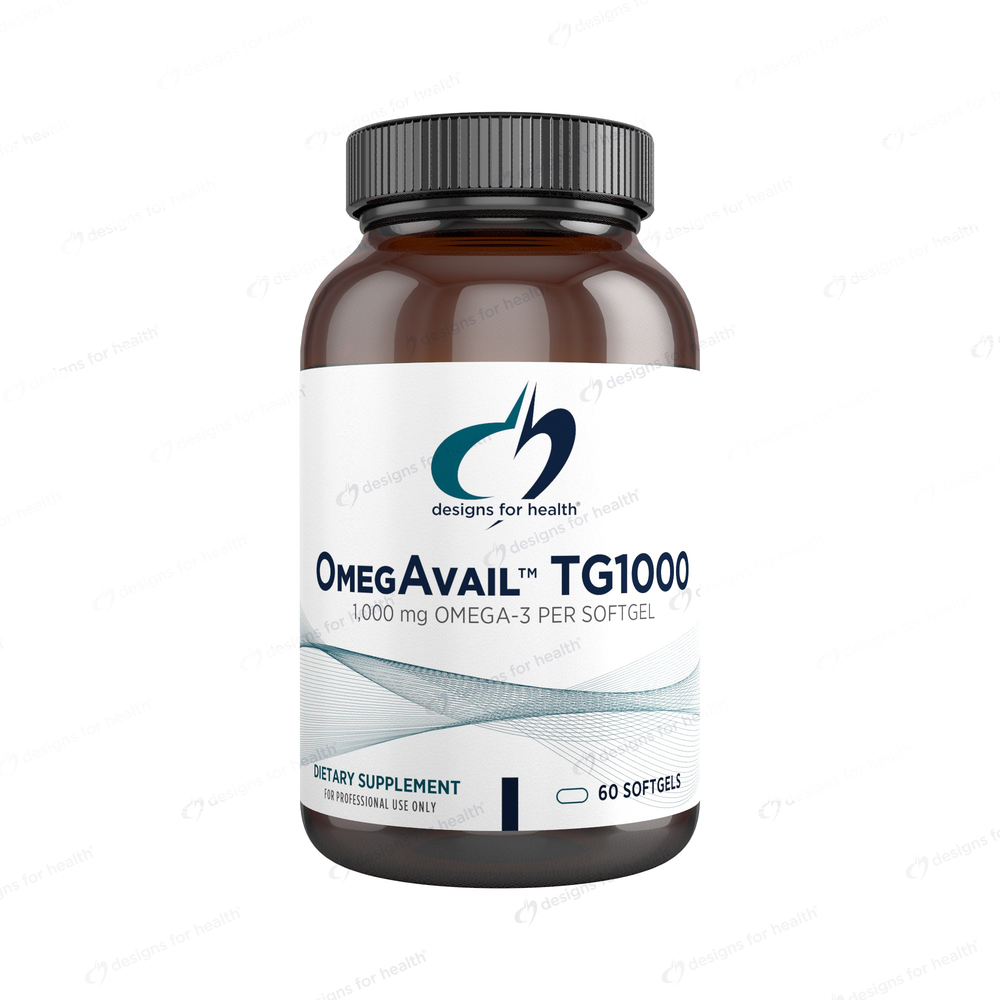 SKU: DFH-OV1000
OmegAvail™ TG1000 is a highly potent, non-GMO fish oil, containing an impressive 1, 000 mg omega-3 oils per softgel, making it an ideal choice for therapeutic dosing. Each softgel contains 662mg EPA and 250mg DHA, along with other omega-3 fatty acids. As with all Designs for Health fish oil products, OmegAvail™ TG1000 contains the triglyceride (TG) form for superior absorption and bioavailability.
Made with non-GMO ingredients.
As a dietary supplement, take one softgel per day, or as directed by your health care practitioner.
Serving Size: One Softgel
Amount Per Serving
Calories ... 10
Calories from Fat ... 10
Total Fat ... 1g
Fish Oil Concentrate ... 1.25g
(TG)
Omega-3 Fatty Acids ... 1g
EPA ... 662mg
(Eicosapentaenoic Acid)
DHA ... 250mg
(Docosahexaenoic Acid)
Other Ingredients: Natural lemon flavor, mixed tocopherols, lipase; bovine gelatin, water, glycerine, annatto (natural color)(softgel ingredients).
Contains fish (Alaska pollock).
This product does not contain gluten.
WARNING
Consult a health care practitioner before use if you are taking blood thinning medication or are planning to have surgery.
NOTICE
Color, size or shape may appear different between lots.
Refrigerate after opening.
OmegAvail™ TG1000 contains fish oil in its natural TG (triglyceride) form. All DFH TruTG™ fish oil products are a minimum 90% natural TG bound omega-3 oils. OmegAvail™ TG1000 is molecularly distilled and filtered to ensure purity and to maximize the removal of metals, pesticides, PCBs, and other contaminants. Lipase is added to enhance the digestibility and mixed tocopherols (antioxidants) are added to enhance stability of the product.