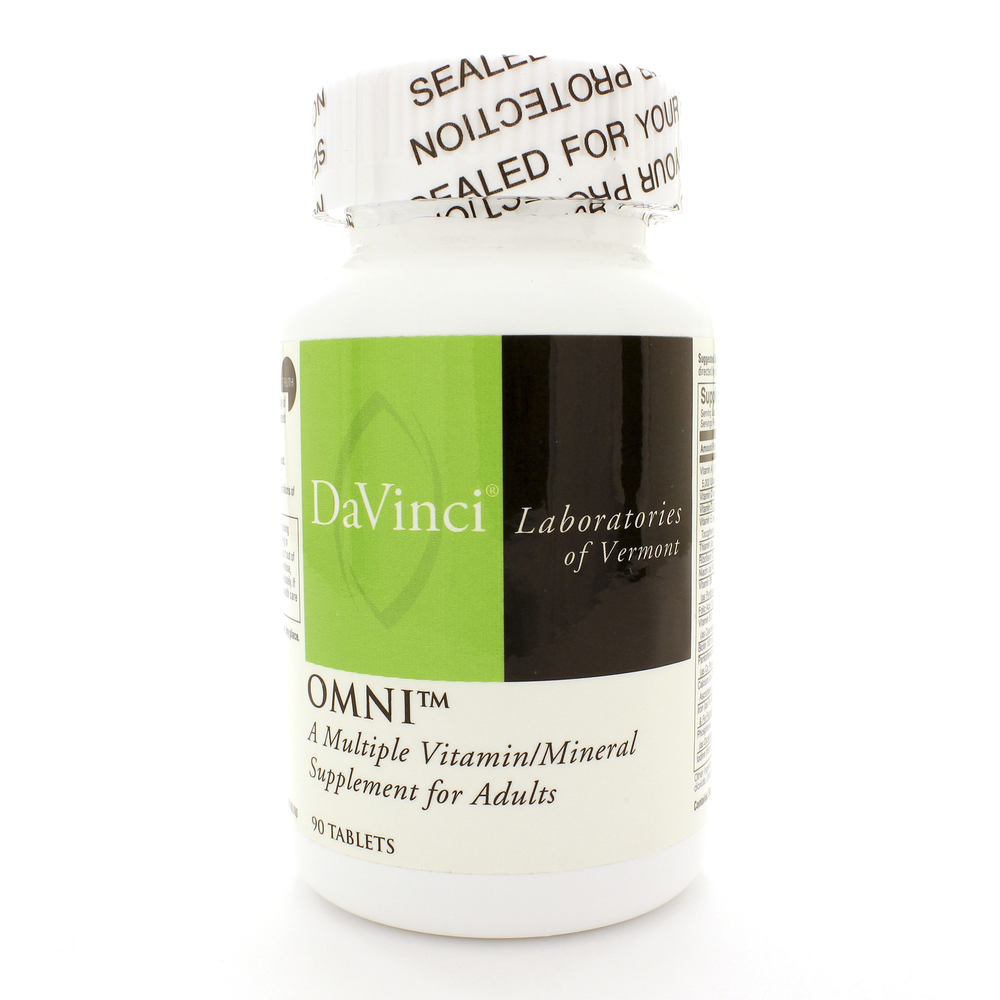 SKU: DAV-0200180090
Omni
-A high quality, broad spectrum, multiple vitamin/mineral supplement for
adults that pays serious attention to the form and potency of each nutrient
as well as the balance of those nutrients in relation to each other for
optimal utilization. Three Omni tablets daily contain 33 essential nutrients
including 1, 000 mg of buffered ascorbate Vitamin C, 400 IU of natural
Vitamin E, a complete stress B complex in addition to lipotropic factors.
Three tablet formula.
As a dietary supplement, take 1 tablet daily with each meal, or as directed
by your healthcare practitioner.
Serving Size: 1 Tablet
Amount Per Serving
Vitamin A ...6000 IU
(1, 000 IU as Vitamin A acetate, 5, 000 IU as beta carotene)
Vitamin C ...333mg
(as Ca Ascorbate)
Vitamin D3 ...133 IU
(as Cholecalciferol)
Vitamin E ...133 IU
(as d-alpha Tocopheryl Succinate)
Thiamin ...20mg
(as Thiamin HCl)
Riboflavin ...20mg
Niacin ...20mg
(as Niacinamide)
Vitamin B6 ...20mg
(as Pyridoxine HC1)
Folic Acid ...133mcg
Vitamin B12 ...20mcg
(as Cyanocobalamin)
Biotin ...100mcg
Pantothenic Acid ...20mg
(as Ca Pantothenate)
Calcium ...83.33
(as Dicalcium Phosphate, Ca Ascorbate and Ca Pantothenate)
Iron ...3.3mg
(as Fe Asparate, Fe Glycinate & Fe Furmarate)
Phosphorus ...33.33
(as Dicalcium Phosphate)
Iodine ...25mcg
(from Kelp)
Magnesium ...33mg
(as Mg Oxide)
Zinc ...5mg
(as Zn Gluconate)
Selenium ...10mcg
(as Se Amino Acid Chelate)
Copper ...0.017mg
(as Cu Gluconate)
Manganese ...1.7mg
(as Mn Gluconate)
Chromium ...10mcg
(as Cr Polynicotinate)†
Molybdenum ...10mcg
(as Mo Amino Acid Chelate)
Potassium ...17mg
(as K Proteinate)
Boron ...0.33mg
(as B Amino Acid Chelate)
RNA ... 20mg
(Ribonucleic Acid)
Soy Lecithin...66.66
Choline ... 20mg
(as Choline Bitartrate)
Inositol ... 20mg
PABA ...20mg
(Para-aminobenzoic Acid)
Citrus Bioflavonoids ...100mg
Hesperidin ...40mg *
Pectin ...16.66mg
Other ingredients: cellulose, stearic acid, croscarmellose sodium, vegetable
stearate, silicon dioxide, pharmaceutical glaze.
Contains: Soy.
†ChromeMate brand niacin-bound chromium.
Color of this product may vary due to color variations of the natural
ingredients.
WARNING:Accidental overdose of iron-containing products is a leading cause
of fatal poisoning in children under the age of 6. Keep this product out of
reach of children. In case of accidental overdose, call a doctor or poison
control center immediately. If pregnant or nursing, consult your healthcare
practitioner before taking this product.
Keep out of reach of children. Store in a cool, dry place.

*This statement has not been evaluated by the Food and Drug Administration.
This product is not intended to diagnose, treat, cure or prevent any
disease.
WARNING: Consuming this product can expose you to chemicals including lead and arsenic, which are known to the State of California to cause birth defects or other reproductive harm. For more information go to www.P65Warnings.ca.gov/food
It looks like there are no similar
products available