Optimal Fish Oil
Seeking Health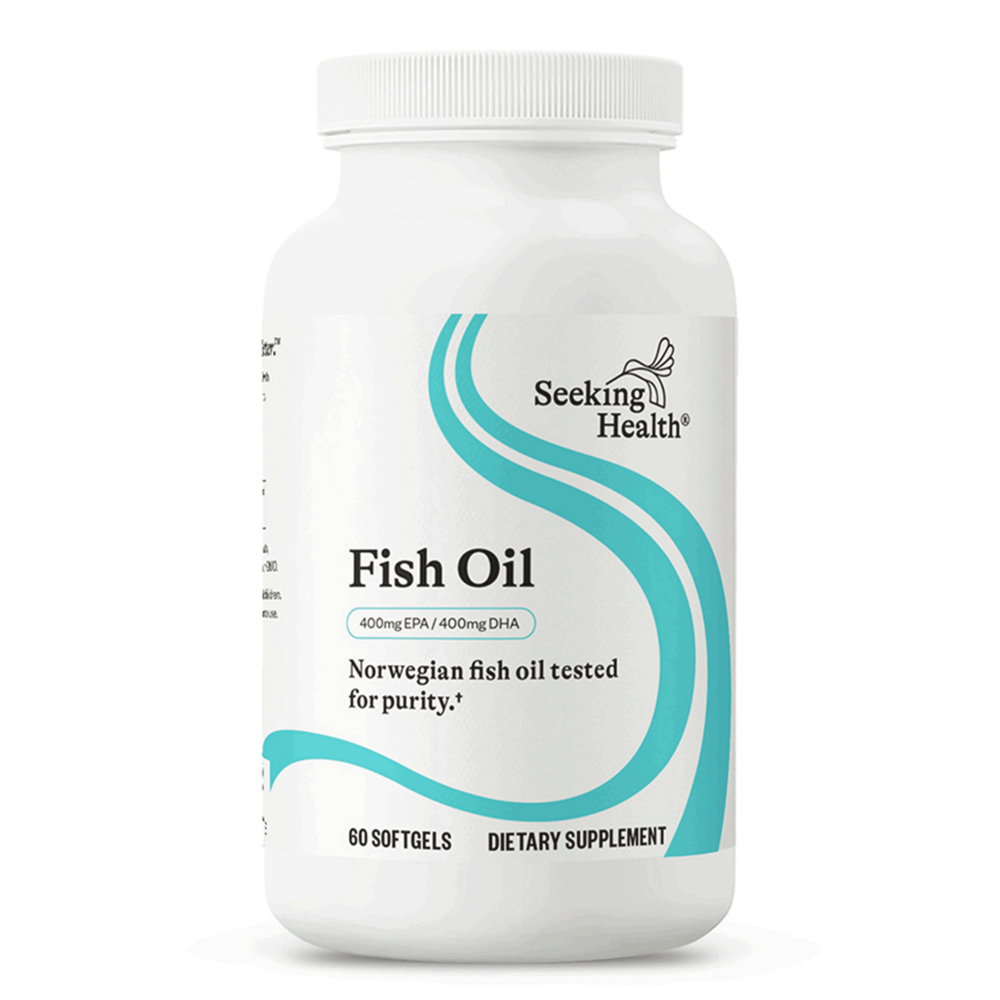 SKU: SKH-FISH120SG
Optimal Fish Oil softgels provide nearly a gram of combined EPA and DHA per softgel, with more than 70% of the omega-3s in the natural triglyceride-bound form to facilitate optimal bioavailability and benefit. This is much higher than the industry standard for TG (triglyceride) fish oil supplements on the market. To assure maximum purity and freshness, we stabilize our fish oil supplements with vitamin E (as d-alpha tocopherol).*
At Seeking Health, we take the utmost care in selecting raw materials for our products:*
Optimal Fish Oil contains concentrated Alaskan fish oil providing 900 mg of combined EPA and DHA omega-3 fatty acids mostly in the triglyceride form
Molecular distillation and special filtration methods are used to ensure purity and to remove heavy metals, pesticides, PCBs and other contaminants
Our fish oils are distilled and processed according to cGMP procedures and comply with GOED (Global Organization for EPA and DHA Omega-3s) standards
DHA and EPA are beneficial fatty acids that work together to support:*
Cellular communication, helping to support healthy memory function and cognitive health
Cells in the brain and retina where DHA is abundant in healthy nerves and membranes
EPA is important for normal inflammatory responses and cardiovascular health
Brain health, healthy fetal development and many other vital body processes and functions
Supportive but not conclusive studies show that supplementation of EPA and DHA omega-3 fatty acids may reduce the risk of coronary heart disease.*
Suggested Use:
Take one softgel daily, or use as directed by your healthcare practitioner.


Serving Size: 1 Softgel

Amount Per Serving
Calories ... 10
Total Fat ... 1 g
Fish Oil Concentrate ... 1.286 g
Total Omega-3 Fatty Acids ... 964 mg
EPA (eicosapentaenoic acid) ... 643 mg
DHA (docosahexaenoic acid) ... 257 mg

Other Ingredients: Softgel (tilapia fish gelatin, vegetable glycerin, and purified water), and mixed natural tocopherols.

Contains: Fish (Alaska pollock [source of fish oil], tilapia [source of fish gelatin] from certified sustainable sources.


Free of: Milk, Egg, Shellfish, Tree Nuts, Peanuts, Wheat, Soy, Gluten, Corn, Yeast, GMO, Artificial Colors, Artificial Preservatives, Artificial Sweeteners.

Not suitable for Vegans and Vegetarians.
Warning
: Children and pregnant or lactating women should consult their healthcare practitioner prior to use. Consult with your healthcare practitioner before use if you are taking blood thinning medication or are planning to have surgery.