Optimal GI Plus
Seeking Health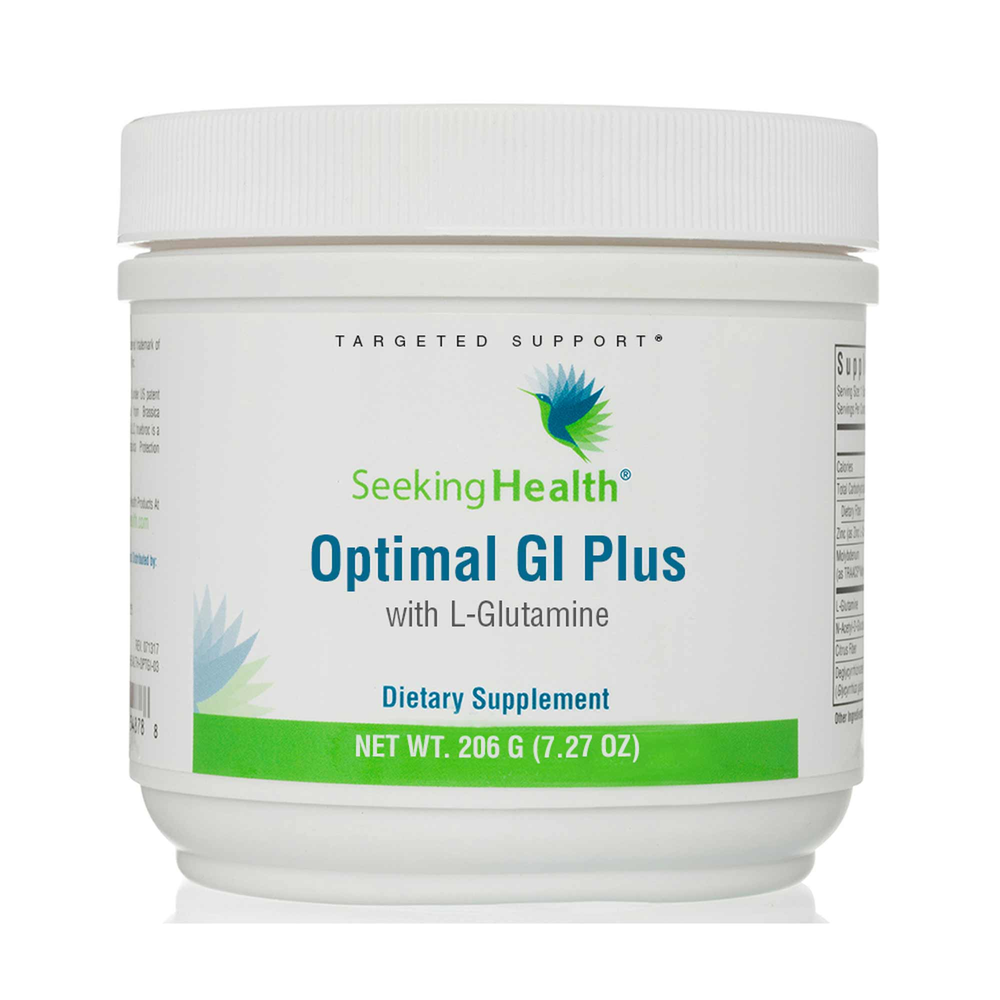 SKU: SKH-GI30SPOW
Optimal GI Plus
Optimal GI Plus by Seeking Health provides a powerful blend of pure nutrients to support digestive and gastrointestinal health. Nutrients and herbs act in synergy to support optimal gastrointestinal function, a vital part of maintaining a healthy immune system and overall wellness.

The gastrointestinal (GI) tract requires more than a healthy probiotic population to support a balanced and effective digestive process. The intestines are a mucous-lined organ that performs two vital functions: absorbing nutrients and water and separating unneeded substances for waste elimination. Optimal GI Powder includes a targeted blend of nutrients that support healthy mucous membranes and connective tissues in the GI tract to help support healthy bowel motility, an effective gut barrier and digestive comfort. Key components include herbs known for their natural soothing and strengthening effects, specialized amino acids and compounds such as superoxide dismutase to support normal detoxification pathways.

Methylsulfonylmethane (MSM) is a highly beneficial sulfur compound that may help support healthy detoxification processes and connective tissue, including tissues in the digestive tract. Waste processing in the kidneys is an important step in the digestive process to isolate the nutrients needed for the body from the waste products of normal metabolism. Molybdenum, an essential trace mineral found in the bones, liver and kidneys, was added to this formula for its biochemical role in the waste production process. Molybdenum may also help to minimize the potential side effects of MSM®. Silymarin, an active compound from milk thistle, may help support normal functions of the liver, an organ involved in filtering blood from the digestive tract.

In order for the body to rid itself of waste, fiber is needed in the diet to provide bulk for bowel movements. Each serving of Optimal GI Powder provides 1 gram of citrus pectin, a natural fruit fiber that may help to support normal waste elimination. Aloe vera, slippery elm bark and marshmallow root are traditional herbs used to support healthy mucous membranes, which contain compounds that may be soothing to tissues in the GI tract. Optimal GI Powder contains a full spectrum of ingredients to support tissue strength, normal bowel movement and waste elimination and healthy detoxification pathways in a pure powder format that can be added to smoothies or juice for a delicious way to optimize digestive health.
Suggested Use
:
Add 2 scoops to 8 ounces of filtered water, your liquid of choice, or a small amount of food such as organic applesauce. For best results, take first thing in the morning on an empty stomach, or away from food, and sip slowly over 30 minutes. As this is a potent formula, you may consider starting with an initial serving of 1 scoop per day. Do not take within 3 hours of bedtime, as L-Glutamine may interfere with sleep. Use as directed by your healthcare professional.
Serving Size:
1 Scoop
Amount Per Serving
Calories
10
Total Carbohydrates
1 g
<1%†
Dietary Fiber
< 1 g
2%†
Zinc (as Zinc L-Carnosine)
21 mg
191%
Molybdenum (asMolybdenum Glycinate Chelate§)
50 mcg
111%
L-Glutamine
1.5 g
**
N-Acetyl D-Glucosamine
1 g
**
Citrus Fiber (from grapefruit) (Citrus paradisi)(whole fruit pectin)
1 g
**
Deglycyrrhizinated Licorice Extract (Glycyrhiza glabra)(root)(3% glycyrrhiznic acid 15 mg)
500 mg
**
Aloe Vera 200:1 Aqueous Extract (Aloe barbadensis)(leaf gel)
350 mg
**
Cats Claw Extract (Uncaria tomentosa)(bark)
350 mg
**
Turmeric Extract (Curcuma longa)(rhizome)(95% curcuminoids 250mg)
263.2 mg
**
Slippery Elm (Ulmus rubra)(bark)
250 mg
**
Quercetin (as quercetin dihydrate from Dimorphandra molis)(pod)
250 mg
**
Methylsulfonylmethane (MSM)
250 mg
**
Stinging Nettle Extract (Urtica dioica)(leaves)(1% silica 2.5 mg)
250 mg
**
Marshmallow (Althaea officinalis)(root)
200 mg
**
Milk Thistle Extract (Silybum marianum)(seeds)(80% silymarin)
50 mg
**
L-Carnosine (from Zinc L-Carnosine)
76 mg
**
Glucoraphanin (from broccoli seed extract)(Brassica oleracea)(seed)(TrueBroc®)
18 mg
**
Superoxide Dismutase (SOD)(from Extramel® M Melon Extract)(Cucumis melo)(pulp)
7 mg (100 IU)
**
†Percent Daily Values are based on a 2,000 calorie diet.
**Daily Value (DV) not established.
Other Ingredients: None.
§TRACCS™ is a trademark of Albion Laboratories, Inc.
True Broc® is protected by trademarks and patents of Brassica Protection Products LLC: www.brassica/ip
Extramel® is a trademark of BIONOV.
This product can expose you to lead, which is known to the State of California to cause birth defects or other reproductive harm.