Optimal Prenatal
Seeking Health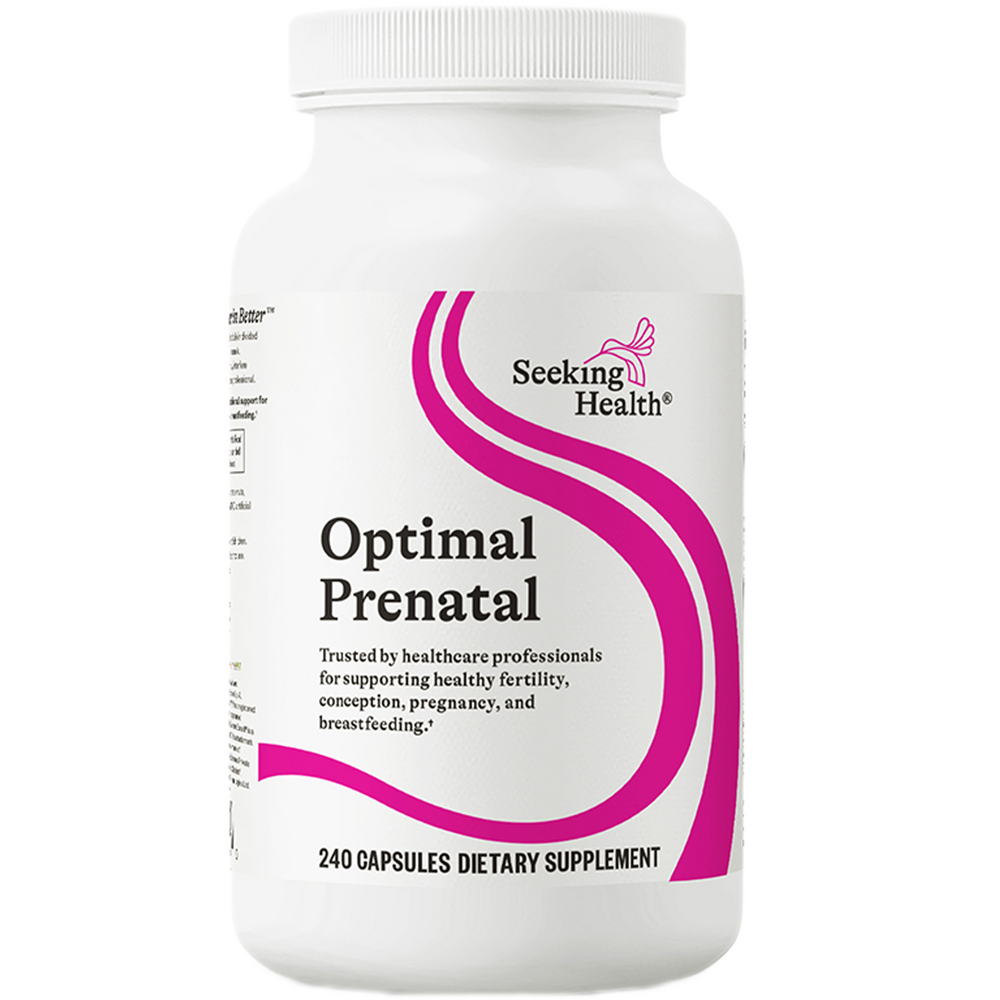 SKU: SKH-OP240CAPS
Optimal Prenatal capsules by Seeking Health provide a comprehensive prenatal formula with a unique blend of amino acids, chelated minerals, and vitamins designed to meet the high nutritional needs of women who are pregnant or preparing for pregnancy. While this nutrient blend is specifically formulated to support healthy fetal development and prenatal nutrition, Optimal Prenatal capsules may also be taken whenever the supplemental need for a potent and pure multivitamin exists.*

This complex formula is made with careful consideration for not only the increased demand for certain nutrients, but also for digestive sensitivity that can occur during pregnancy. This product contains L-5-MTHF, the most biologically available form of folate, which is essential to support healthy cognitive development. Optimal Prenatal also provides folinic acid, a non-methylated form of folate that can be easily converted to coenzyme forms within the body. This optimal blend of folates may work in conjunction with amino acids, chelated minerals, and other B vitamins to support normal cell growth and cardiovascular, neurologic and immune health.*

Optimal Prenatal capsules also contain two active coenzyme forms of vitamin B12: methylcobalamin and adenosylcobalamin, which may help support healthy fetal development, energy metabolism and methylation. The well-balanced vitamin B complex is complete with active forms of riboflavin and B6, plus additional biotin to support healthy growth and development. Biotin may also help support healthy skin, hair and nails. Both vitamin B6 and ginger extract are special features of this formula, supporting digestive comfort.*

Vitamin A is included in two forms: beta-carotene and retinyl palmitate, to help support those who have trouble converting "provitamin A" compounds (such as beta-carotene) into the active retinyl/retinol forms. Vitamin C and coenzyme Q10 provide antioxidant support, supporting a healthy immune system and cellular integrity. Trace minerals are included in their chelated forms, as amino acid-chelated minerals are typically well-absorbed and may be more easily tolerated than alternative supplemental forms. Betaine HCL is also added to support healthy digestion and optimize absorption of nutrients.*

Optimal Prenatal does NOT include iron as some women do not process iron well or do not need iron supplementation. If iron supplementation is needed, consider Optimal Iron Plus Cofactors; for a gentle, well-absorbed chelated iron.*

Suggested Use:
Take 8 capsules daily, with a meal, in divided doses, or as directed by your healthcare professional. Do not take within 5 hours of bedtime.
Serving Size: 8 Capsules
Amount Per Serving
Vitamin A … 1,500 mcg RAE
(beta-carotene and retinyl palmitate)
Vitamin C … 350 mg
(ascorbic acid)
Vitamin D3 … 100 mcg (4,000 IU)
(cholecalciferol)
Vitamin E … 130 mg
(as Novatol® d-alpha tocopheryl succinate)
Thiamin … 5 mg
(as thiamine hydrochloride)
Riboflavin … 10 mg
(as riboflavin 5'-phosphate sodium)
Niacin … 25 mg NE
(as niacinamide)
Vitamin B6 … 20 mg
(as pyridoxal 5'-phosphate and pyridoxine hydrochloride)
Folate … 1,360 mcg DFE (800 mcg)
[as Quatrefolic® (6S)-5-methyltetrahydrofolate, glucosamine salt and calcium folinate]
Vitamin B12 … 150 mcg
(as MECOBALACTIVE® methylcobalamin and adenosylcobalamin)
Biotin … 500 mcg
Pantothenic Acid … 150 mg
(as d-calcium pantothenate)
Choline … 250mg
(as choline bitartrate)
Calcium … 400 mg
(as DiCalcium Malate)
Iodine … 250 mcg
(as potassium iodide)
Magnesium … 250 mg
(as DiMagnesium Malate§)
Zinc … 20 mg
(as Zinc Bisglycinate Chelate§)
Selenium … 200 mcg
(as SelenoExcell® High Selenium Yeast)
Copper … 0.75 mg
(as Copper Bisglycinate Chelate)
Manganese … 5 mg
(as Manganese Bisglycinate Chelate§)
Chromium … 120 mcg
(as Chromium Nicotinate Glycinate Chelate§)
Molybdenum … 100 mcg
(as Molybdenum Glycinate Chelate§)
Potassium … 99 mg
(as Potassium Glycinate Complex§)
Betaine hydrochloride … 250 mg *
Inositol … 150 mg*
Ginger Extract … 100 mg *
(Zingiber officinale) (rhizome)
Milk Thistle Extract … 75 mg*
(Silybum marianum)(seeds)(80% silymarin)

Coenzyme Q10 … 50 mg*
(ubidecarenone)
Taurine … 50 mg*
Mixed Tocopherols ... 45 mg*
LifePQQ™ ...10mg
(pyrroloquinoline quinone disodium salt)
Lutein … 5 mg*
(from marigold extract)(Tagetes erecta)(flower)
Zeaxanthin … 5 mg*
(from marigold extract)(Tagetes erecta)(flower)
Boron … 1 mg*
(as Bororganic Glycine§)
Vitamin K2 … 100 mcg
(as menaquinone-7)

*Daily Value (DV) not established.
Other Ingredients: Vegetarian capsule (hypromellose and water), ascrobyl palmitate, microcrystalline cellulose, and silica.
Free of: Milk, Egg, Fish, Shellfish, Tree Nuts, Peanuts, Wheat, Soy, Gluten, GMO, Artificial Colors, Artificial Flavors

Suitable for Vegetarians
§DimaCal®, Albion®, and TRAACS® are registered trademarks of Albion Laboratories, Inc.
Quatrefolic® is a registered trademark of Gnosis S.p.A. Produced under US patent 7,947,662.
SelenoExcell® is a registered trademark of Cypress Systems, Inc.
Warnings: Children and pregnant or lactating women should consult their healthcare practitioner prior to use. Do not use if tamper seal is damaged. Avoid if allergic to any ingredient. Do not exceed 1,500 mcg RAE intake per day of preformed vitamin A (retinol or retinyl forms). Evaluate total vitamin K intake from food and supplements if you are taking blood-thinning medications. Do not use if tamper seal is damaged.