Optimal Protein
Seeking Health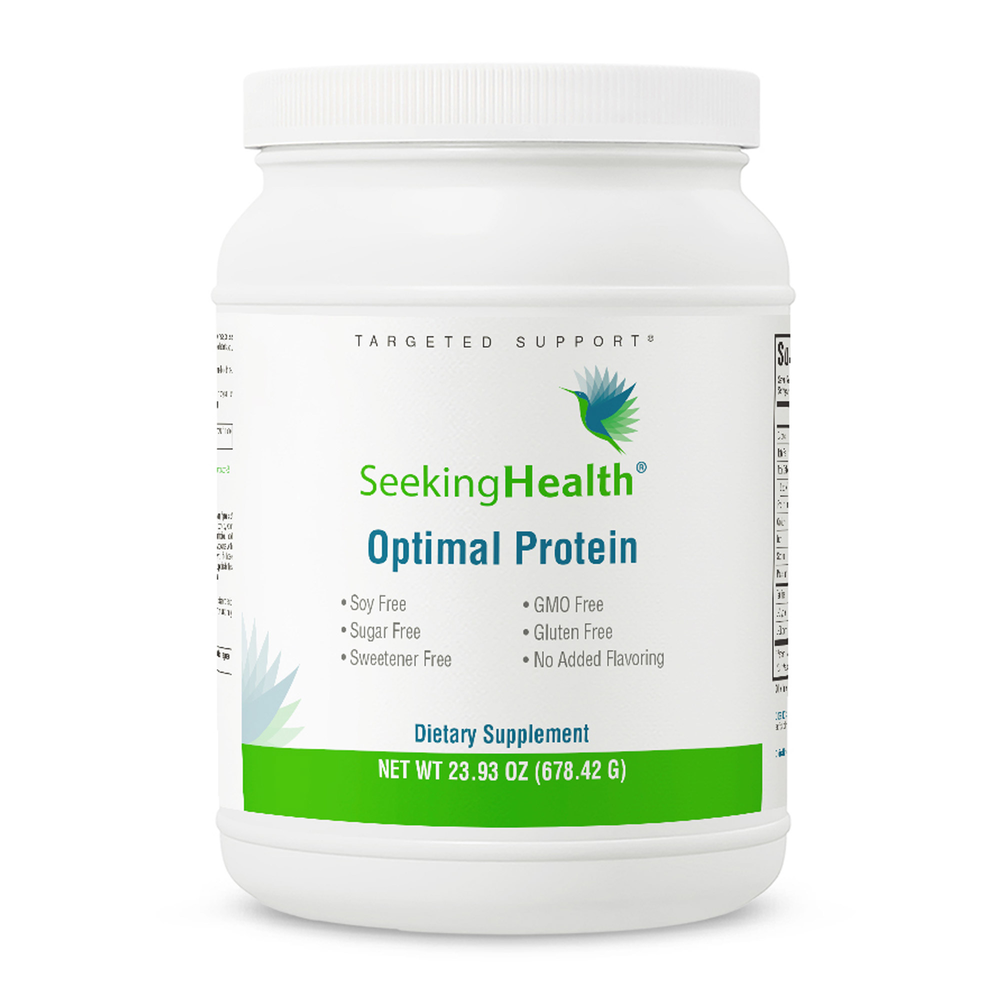 SKU: SKH-OP30SPOW
Key Benefits and Actions
May help support proper protein intake along with a healthy, balanced diet
May help support healthy amino acid levels
Vegan protein source
Free of flavorings, colors and sweeteners
Optimal Protein Powder by Seeking Health is a sugar-free, sweetener-free, gluten-free, soy-free source of unadulterated vegetable protein from pea protein isolate and rice protein concentrate, delivering 17 grams of high-quality protein in every scoop. Pea protein isolate provides a high protein content (90%), excellent digestibility and a well-balanced amino acid profile—including a particularly high content of lysine, arginine, and branched-chain amino acids. This proprietary complex of pea and rice proteins contains all essential amino acids. The simple formula is an excellent choice for those who are sensitive to sugar, sweeteners, flavorings, gluten, dairy, egg, or soy!*
Maintaining adequate daily protein intake is important for supporting healthy muscles, normal cell repair and production mechanisms, and normal growth and development. Amino acids that make up dietary proteins are necessary for overall health and wellness because they act as building blocks for tissues, enzymes, and important molecules throughout the body – from hormones to hemoglobin. This pure protein supplement can be used to support daily protein intake, or as part of an elimination diet protocol and may support feelings of hunger satisfaction.*
With no added flavors, Optimal Protein is a versatile formula that can be customized with organic vanilla extract, cocoa powder, fruit juices, greens, frozen berries, or stevia as desired. Try mixing with your favorite functional food formula or multivitamin powder.
For a protein supplement with additional nutrients to support a prenatal supplement protocol, consider Seeking Health's Optimal Prenatal with Plant-Based Protein in delicious vanilla or chocolate.*


Suggested Use:
Blend, shake or briskly stir one level scoop (21.5 g) into 8 to 12 oz of your favorite beverage, such as coconut, almond, or rice milk, juice or water; or use as directed by your healthcare professional. Blend with organic fruits, vegetables, or sweetener of your choice for better flavor.
Serving Size: 1 Scoop (About 21.5 g)
Amount Per Serving
Calories … 85
Total Fat … 1.5 g‡
Total Carbohydrate … 1 g‡
Dietary Fiber … 1 g‡
Protein … 17 g*
(from pea protein isolate)
Calcium … 87 mg
Iron … 4 mg
Sodium … 211 mg
Potassium … 108 mg
Taurine … 450 mg*
L-Glycine … 60 mg*
L-Glutamine … 60 mg*
*Daily Value not established.
Other Ingredients: Xanthan gum.
Free of: Milk, Egg, Fish, Shellfish, Tree Nuts, Peanuts, Soy, Wheat, Gluten, GMO, Artificial Colors, Artificial Flavors.
Suitable for Vegans and Vegetarians.



Warnings
Children and pregnant or lactating women should consult their healthcare practitioner prior to use. Do not use if tamper seal is damaged. Individual needs for protein intake may vary. We recommend consulting with a healthcare professional for help determining the appropriate daily protein intake for your individual needs. in delicious vanilla or chocolate.*