Multivitamin Sensitive
Seeking Health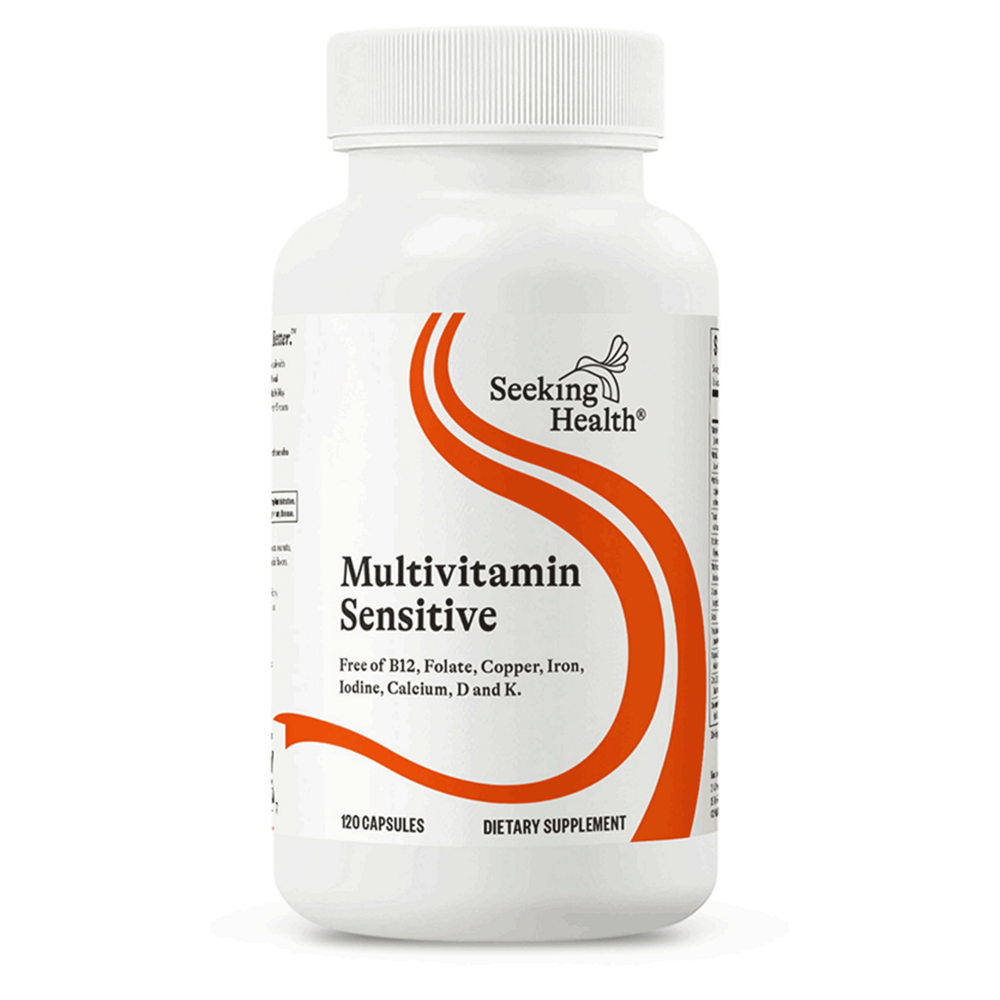 SKU: SKH-OPS120CAPS
Multivitamin Sensitive by Seeking Health is a unique multivitamin free of copper, iron, calcium, B12 and folate with additional supportive adaptogenic herbs. Dr. Lynch designed the Multivitamin Sensitive multivitamin for those sensitive to methylated nutrients, certain minerals, and stress. This unique formulation contains a well-rounded blend of vitamins, minerals including trace elements, plus herbal extracts for stress support, immune system health and antioxidant support. A complex of active B vitamins is included to help support healthy energy metabolism, nervous system health, and normal metabolism of proteins, fats and carbohydrates. Vitamin B12 and methylfolate are excluded from this complex to provide a specialized formula for those who are not able to tolerate supplemental methylation support or who are just starting out on a methylation support protocol, or for those who wish to add these important B vitamins into their regimen at their own pace. The gentle, chelated minerals are provided in well-absorbed forms without iron, copper, iodine and calcium, which may require more precise dosage control for individuals with thyroid or adrenal concerns.*

Herbal extracts provide additional support for this multivitamin and mineral blend. A unique blend of adaptogenic herbs, including ashwagandha and eleuthero, may bolster the body's healthy response to stress while helping to support healthy adrenal glands. Fat-soluble vitamins A and E, a potent dose of vitamin C, and 50 mg of CoQ10 may help provide support for the body's antioxidant and immune defense systems.*



Suggested Use:
Take 4 capsules daily with food or use as directed by your healthcare professional. May be taken in divided doses if desired. Do not take within 5 hours of bedtime as it may interfere with sleep.
Serving Size: 4 Capsules
Amount Per Serving
Vitamin A … 450 mcg RAE
(as retinyl palmitate)
Vitamin C … 250 mg
(ascorbic acid)
Vitamin E … 100mg
(as Novatol® d-alpha tocopheryl succinate and mixed tocopherols)
Thiamin … 50 mg
(as thiamine hydrochloride)
Riboflavin … 25 mg
(as riboflavin 5'-phosphate sodium)
Niacin … 100 mg NE
(as inositol hexanicotinate and nicotinic acid)
Vitamin B6 … 25 mg
(as pyridoxal 5'-phosphate)
Biotin … 500 mcg
Pantothenic Acid … 150 mg
(as d-calcium pantothenate)
Magnesium … 200 mg
(as DiMagnesium Malate®)
Zinc … 15 mg
(as Zinc Bisglycinate Chelate§)
Selenium … 150 mcg
(as SelenoExcell® High Selenium Yeast)
Manganese … 4 mg
(as Manganese Bisglycinate Chelate§)
Chromium … 150 mcg
(as Chromium Nicotinate Glycinate Chelate§)
Molybdenum … 75 mcg
(as Molybdenum Glycinate Chelate§)
Potassium … 99 mg
(as Potassium Glycinate Complex§)
KSM-66® Ashwagandha Extract … 150 mg**
(Withania somnifera)(root)(5% withanolides)
Eleuthero Root … 150 mg**
(Eleutherococcus senticosus)
American Ginseng … 150 mg**
(Panax quiquefolium)(root)
Coenzyme Q10 … 50 mg**
(as ubidecarenone)
Coenzyme Q10 … 50 mg**
(as ubiquinol)
Boron … 750 mcg**
(as Bororganic Glycine§)
**Daily Value (DV) not established.
Other Ingredients: Vegetarian capsule (hypromellose and water), ascobyl palmitate, L-leucine, and silica.
Free of: Milk, Egg, Fish, Shellfish, Tree Nuts, Peanuts, Wheat, Artificial Colors, Artificial Flavors
Suitable for Vegans and Vegetarians.
§Albion® and TRAACS® are registered trademarks of Albion Laboratories, Inc.


Warnings
Children and pregnant or lactating women should consult their healthcare practitioner prior to use. Do not use if tamper seal is damaged. Avoid if allergic to any ingredient. Consult a healthcare professional prior to use if you are taking any medications or if you are undergoing treatment for any medical condition. California residents should not exceed 2 capsules daily.