OptiMega-3
Bioclinic Naturals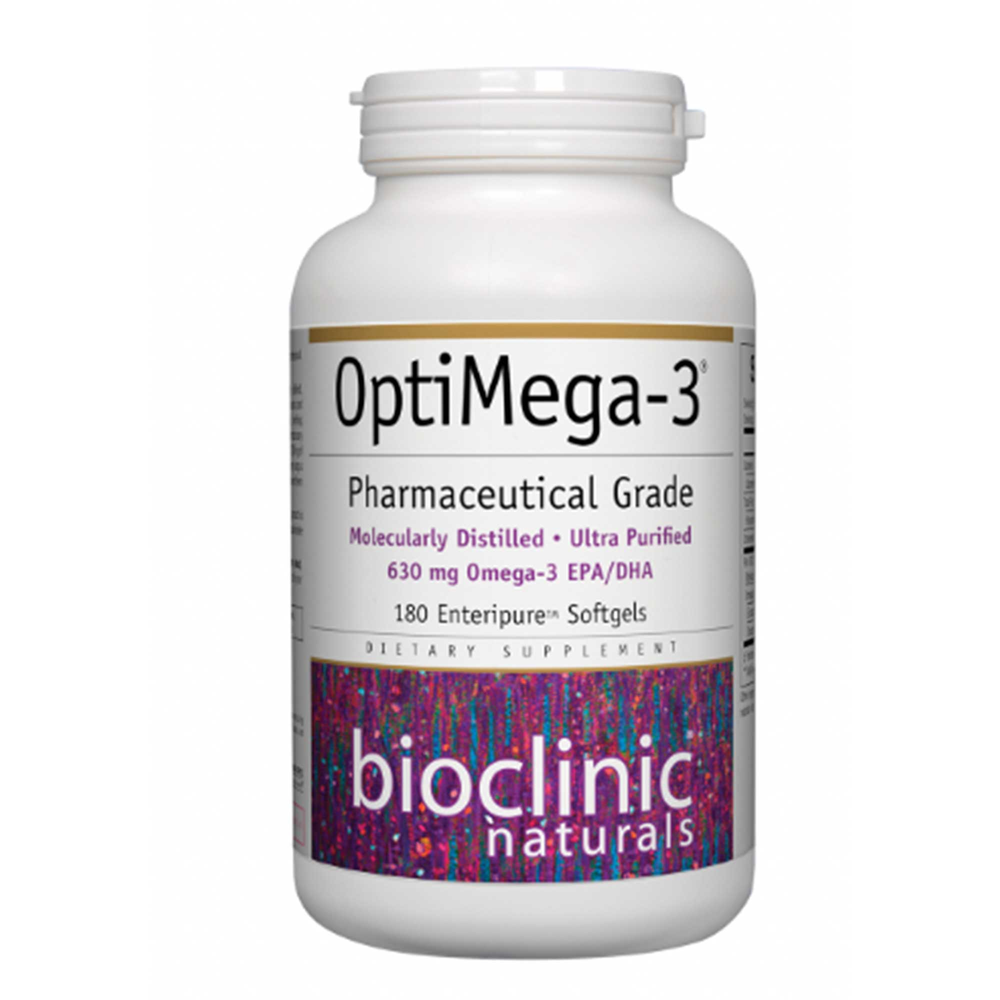 SKU: BCN-9351
Omega-3 fatty acids from fish oil support a number of cardiovascular health factors, including supporting artery health, maintaining triglyceride levels already within the normal range, supporting blood pressure already within the normal range, and maintaining platelet counts already within the normal range.*1–4 These fatty acids comprehensively support the maintenance of overall cardiovascular health.*5,6
EPA and DHA also support cognitive function through multiple mechanisms, as they are necessary for neuronal membranes and thus normal neuronal function.*7,8 EPA and DHA are essential to organizing the body's response to cellular damage and the clearance of cellular debris, providing the substrates for prostaglandins, resolvins and protectins.*9–11
Omega-3 fatty acids help support cardiovascular health, maintain healthy immunity, and support healthy neurological function.*12–17 EPA/DHA helps maintain normal neurocognitive function and support a healthy mood.*18–20 Meta-analyses of randomized trials found supplementation helped maintain healthy lipid levels, support healthy metabolism, and maintain HbA1c already within the normal range.*21–23
Benefits
Optimal 2:1 ratio EPA to DHA
Pharmaceutical-grade omega-3 fish oil blend, standardized to meet and exceed USP standards for quality and consistency
Targeted delivery using a technology that embeds pure and natural ingredients into the softgel casing to prevent them from breaking down in the stomach, ensuring no fishy aftertaste
Safe from lipid peroxides and environmental pollutants, including heavy metals, pesticides, dioxins, PCBs, and other harmful compounds
Sourced from wild anchovies, sardines, and/or mackerel, one of the best natural sources of EPA and DHA
Harvested through sustainable fishing practices


Suggested Use:
Take 1 softgel 1–3 times per day or as directed by a health care professional.
Serving Size:
1 Softgel
Amount Per Serving
Calories
... 10
Total Fat
... 1g
Polyunsaturated Fat
... 1g
Cholesterol
... 5mg
Fish Oil Concentrate
... 1170mg
(Molecularly Distilled, Ultra Purified) (Anchovy, Sardine and/or Mackerel)
Omega-3 Fatty Acids
... 630mg
Eicosapentaenoic Acid (EPA)+
... 400mg
Docosahexaenoic Acid (DHA)+
... 200mg
Other Ingredients:
Enteripure™ softgel (gelatin, glycerin, purified water, pectin), natural vitamin E.
Contains no
artificial colors, preservatives, or sweeteners; no dairy, sugar, wheat, gluten, yeast, soy, corn, egg, shellfish, salt, tree nuts, or GMOs.
Contraindications
Individuals with an allergy to fish or seafood should use caution, though fish oil is rarely allergenic. Both benefit and risk have been documented for those at risk of or being treated for cardiac arrhythmias, with close supervision indicated.24 Pregnant and nursing women are often advised to consume a minimum of 300 mg of DHA per day. Although DHA is recognized as essential to neurological development, no suggested daily intakes have been made for children.
Drug Interactions
Fish oil may potentially reduce the need or dosage for blood pressure medications in some individuals, and patients should be closely monitored. Because fish oil may have an antithrombotic effect, caution has traditionally been advised for those on anticlotting, antiplatelet or anticoagulant medications, or those at high risk of bleeding. However, a multinational randomized and controlled trial found that fish oil did not increase perioperative bleeding.25,26 In amounts greater than 3 g per day, hyperglycemia has been observed in diabetics and those with hypertriglyceridemia and close monitoring of patients on antidiabetic medication is recommended.27
References
Pischon, T., Hankinson, S.E., Hotamisligil, G.S., et al. (2003). Circulation, 108(2), 155-60.
Swanson, D., Block, R., Mousa, S.A. (2012). Adv Nutr, 3(1) , 1-7.
Wang, C., Harris, W.S., Chung, M., et al. (2006). Am J Clin Nutr, 84(1), 5-17.
Saito, Y., Yokoyama, M., Origasa, H., et al. (2008). Atherosclerosis, 200(1), 135-40.
Delgado-Lista, J., Perez-Martinez, P., Lopez-Miranda, J., et al. (2012). Br J Nutr, 107(S2), S201-13.
Chareonrungrueangchai, K., Wongkawinwoot, K., Anothaisintawee, T., et al. (2020). Nutrient, 12(4), 1088.
Lin, P.Y., Chiu, C.C., Huang, S.Y., et al. (2012). J Clin Psychiatry, 73(9), 1245-54.
Dyall, S.C. (2015). Front Aging Neurosci, 7, 52.
Yedgar, S., Krimsky, M., Cohen, Y., et al. (2007). Trends Pharmacol Sci, 28(9), 459-64.
Schmitz, G., & Ecker, J. (2008). Prog Lipid Res, 47(2), 147-55.
Molfino, A., Amabile, M.I., Monti, M., et al. (2017). Oxid Med Cell Longev, 2017, 5987082.
Löfvenborg, J.E., Andersson, T., Carlsson, P.O., et al. (2014). Nutr Diabetes, 4(10), e139.
Olsen, S.F., Østerdal, M.L., Salvig, J.D., et al. (2008). Am J Clin Nutr. 88(1), 167-75.
Proudman, S.M., James, M.J., Spargo, L.D., et al. (2015). Ann Rheum Dis, 74(1), 89-95.
Romano, C., Cucchiara, S., Barabino, A., et al. (2005). World J Gastroenterol, 11(45), 7118-21.
Di Giuseppe, D., Wallin, A., Bottai, M., et al. (2014). Ann Rheum Dis, 73(11), 1949-53.
Lorente-Cebrián, S., Costa, A.G., Navas-Carretero, S., et al. (2015). J Physiol Biochem, 71(2), 341-9.
Chang, J.P., Su, K.P., Mondelli, V., et al. (2018). Neuropsychopharmacology, 43(3), 534-45.
Zhang, X.W., Hou, W.S., Li, M., et al. (2016). Aging Clin Exp Res, 28(1), 165-6.
Bae, J.H., & Kim, G. (2018). Nutr Res, 50, 1-9.
Chewcharat, A., Chewcharat, P., Rutirapong, A., et al. (2020). PLoS One, 15(2), e0228315.
O'Mahoney, L.L., Matu, J., Price, O.J., et al. (2018). Cardiovasc Diabetol, 17(1), 98.
Gao, H., Geng, T., Huang, T., et al. (2017). Lipids Health Dis, 16(1), 131.
Kromhout, D., & de Goede, J. (2014). Am J Cardiol, 99(6A), 44C-46C.
Akintoye, E., Sethi, P., Harris, W.S., et al. (2018). Circ Cardiovasc Qual Outcomes, 11(11), e004584.
Gao, H., Geng, T., Huang, T., et al. (2017). Lipids Health Dis, 16(1), 131. https://doi.org/10.1186/s12944-017-0528-0