Optimized Resveratrol
Life Extension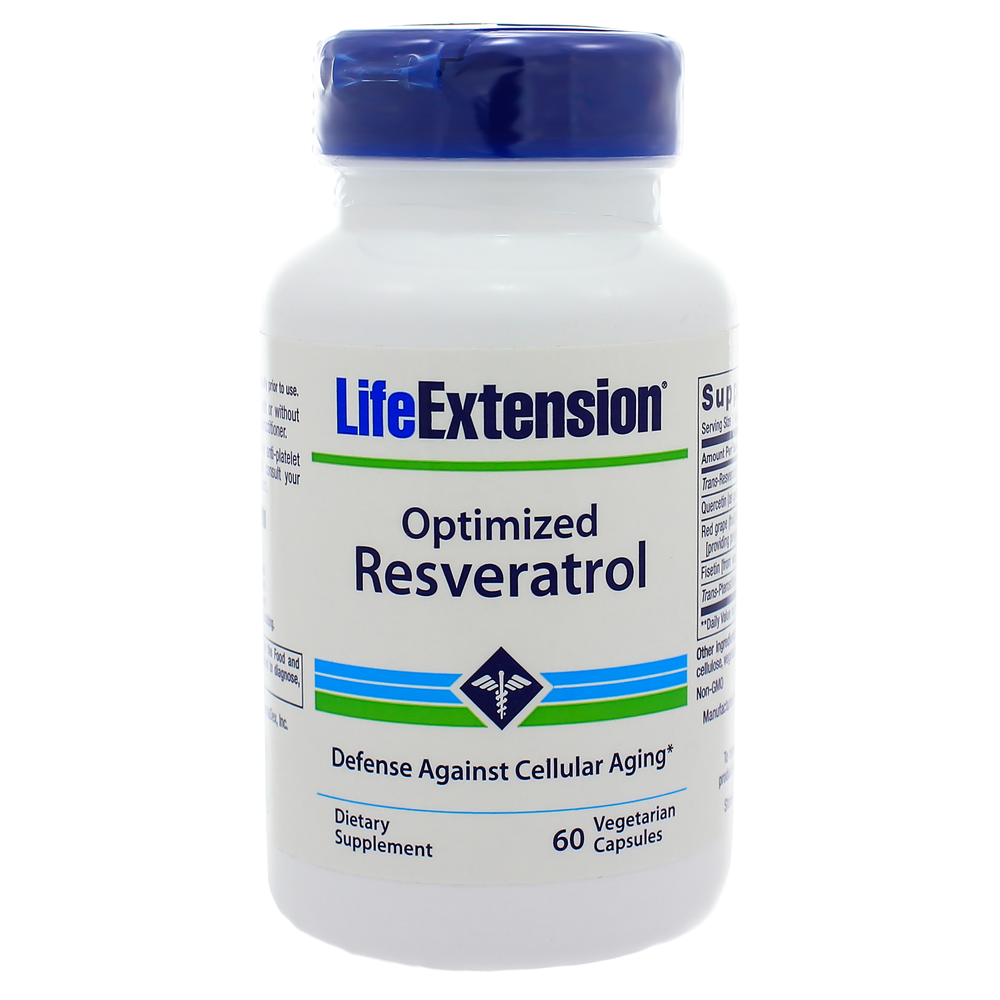 SKU: L43062
Life Extension has identified certain compounds that mimic calorie restriction's ability to trigger youthful gene expression, the process by which genes transmit signals that slow certain aspects of aging. These compounds include trans-resveratrol (which researchers contend is the most active constituent), whole grape extract, quercetin, plus certain compounds found in berries, including trans-pterostilbene and now fisetin.
Findings from published scientific literature indicate that resveratrol may be the most effective compound for maintaining optimal health and promoting longevity.144 Resveratrol is a phytoalexin, a polyphenolic compound which is produced by Vitis vinifera as a response to attack by molds. Because of the widespread use of pesticides in modern wine making, including the practice of copper sulfation, the level of resveratrol in modern wines has plummeted. Red wine contains resveratrol, but the quantity varies depending on where the grapes are grown, the time of harvest and other factors. In fact, usually only one to three mg of resveratrol per liter of red wine is currently found, even in the most robust red wines. After years of relentless research, a standardized resveratrol extract is now available as a dietary supplement.
Research funded by the Life Extension Foundation showed that a combination of low-dose (20 mg) resveratrol plus grapeseed extract mimicked many of the favorable gene expression changes seen in calorie-restricted animals. Other studies, however, indicate that higher doses may be needed to obtain all of resveratrol's positive benefits including promoting healthy insulin sensitivity, enhanced mitochondrial function, reduced expression of inflammatory factors, and protection against the effects of a high-fat diet.145-159
Life Extension has evaluated published studies on resveratrol to establish the doses humans might need to take to duplicate the remarkable laboratory findings. The results of Life Extension's analysis yield a wide range of potentially effective doses: from 20 to 250 mg a day and higher. The resveratrol potency you choose may be based on your current state of health and/or your desire to reach the upper limits of a healthy human life span.
Pterostilbene, a stilbene compound from the same family as resveratrol, has been shown to work synergistically with resveratrol, to unlock one's longevity genes … thus conferring even greater anti-aging benefits. In laboratory tests, pterostilbene has shown promise for supporting cardiovascular health, glucose levels that are already within normal range, anti-aging and cognitive function.178-185 It helps improve mitochondrial function and supports healthy metabolic function by activating SIRT1 and mimicking calorie restriction.186, 187 It has also shown potential to ease inflammation and support antioxidant activity.181, 185
Fisetin, found in strawberries, has the power to "switch on" cell signaling molecules that support youthful gene expression, DNA protection, and healthy cellular function.160 Fisetin also supports aging neurons in the presence of oxidative stress.161-165 And, most importantly, it works in synergy with resveratrol. Researchers have uncovered compelling evidence of fisetin's ability to stabilize resveratrol by shielding it from metabolic breakdown, 166 thus extending its beneficial effects! So naturally we added it, along with these other four calorie restriction mimics, to this most advanced resveratrol formulation.
References available upon request.
Take one (1) capsule daily with or without food, or as recommended by a healthcare practitioner.
Serving Size: 1 vegetarian capsule
Amount Per Serving
Trans-Resveratrol ... 250mg
[from Japanese knotweed (root)]
Quercetin ... 150mg
(as quercetin dihydrate)
Red grape (fruit) and wild blueberry (fruit) blend ... 85mg
[providing polyphenols, anthocyanins, OPCs]
Fisetin ... 10mg
[from (Rhus succedanea) extract (stem)]
Trans-Pterostilbene ... 0.5mg
(from pTeroPure®)
Other ingredients: vegetable cellulose (capsule), microcrystalline cellulose, vegetable stearate, silica, maltodextrin..
Non-GMO
Warnings
KEEP OUT OF REACH OF CHILDREN
DO NOT EXCEED RECOMMENDED DOSE
Do not purchase if outer seal is broken or damaged.
When using nutritional supplements, please consult with your physician if you are undergoing treatment for a medical condition or if you are pregnant or lactating.
pTeroPure® is a registered trademark of ChromaDex, Inc.
These statements have not been evaluated by the Food and Drug Administration. These products are not intended to diagnose, treat, cure, or prevent any disease.
It looks like there are no similar
products available