Organic Life Vitamins
Natural Vitality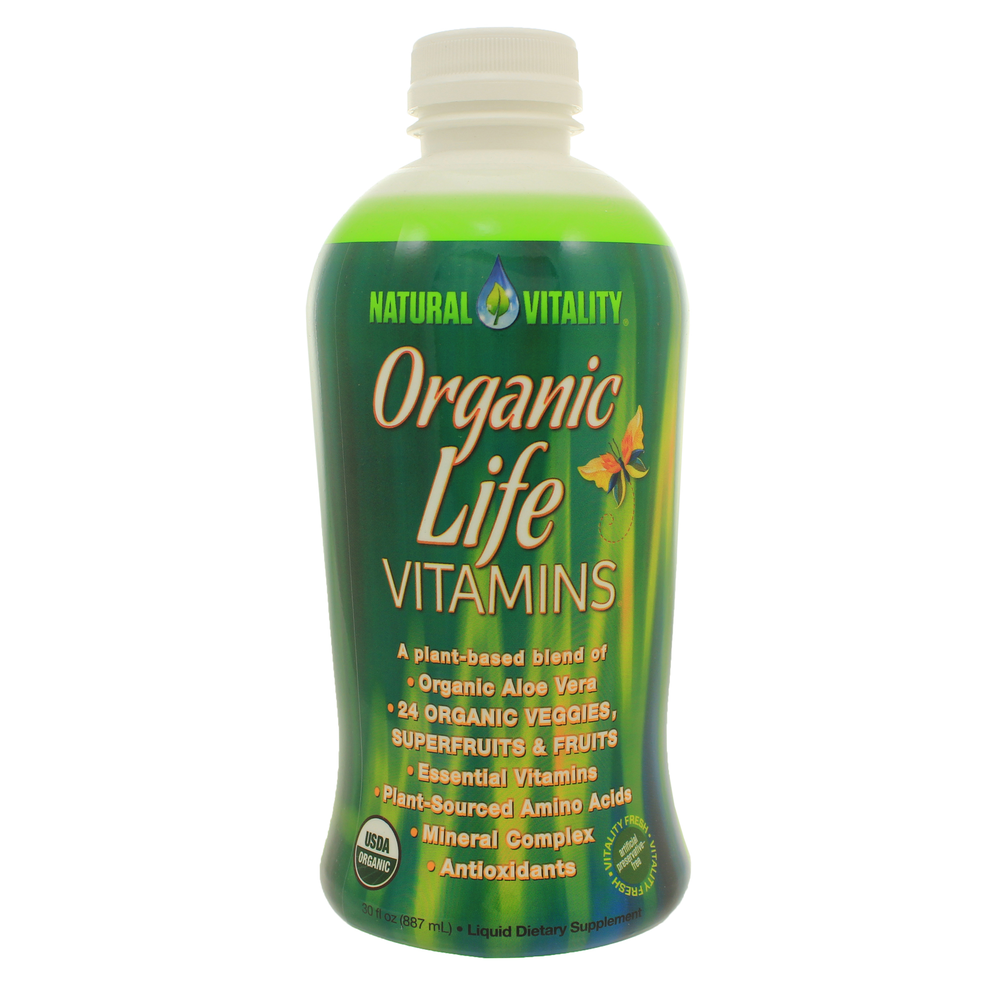 SKU: NVT-2872
Organic Life Vitamins is one of the top-selling multi vitamins and the top liquid multi in the natural products marketplace. It has won numerous awards and prestigious recommendations. OLV is packed with organic plant-sourced energy along with other important nutrients to give your body a daily foundation of premium nutrition.
Shake vigorously before taking (natural separation may occur). Enjoy OLV's fresh fruity taste by itself, or mix 2 tbsp (1 fl oz ) or more in juice or a morning protein shake. May be taken more than once per day when you need a boost! Take with a meal. Great formula for kids as well! CHILDREN:1/2 adult dose.
Serving Size: 2 tbsp (1 fl oz / 30 mL)
Amount Per Serving
Calories ... 25
Total Carbohydrates ... 7g
Sugars ... 0g
Vitamin A ... 5, 000IU
(as beta-carotene)
Vitamin C ... 180mg
(as ascorbic acid)
Vitamin D3 ... 800IU
(as cholecalciferol)
Vitamin E ... 100IU
(as D-alpha tocopheryl acetate)
Thiamin ... 6.5mg
(as Thiamin HCl)
Riboflavin ... 7mg
Vitamin B6 ... 8.4mg
(as pyridoxine HCl)
Folic acid ... 400mcg
Vitamin B12 ... 100mcg
(as methylcobalamin)
Biotin ... 300mcg
Pantothenic acid ... 20mg
(as D-calcium pantothenate)
Magnesium ... 22mg
(from ConcenTrace® trace mineral complex)
Zinc ... 15mg
(as zinc picolinate)
Sodium ... 30mg
Aloe Vera Juice, organic ... 23g
(ACTIValoe®)
Mineral Complex ... 322mg
(ConcenTrace® trace mineral complex)
Natural Vitality Superfruit, Veggie & Fruit Antioxidant Proprietary Blend ... 315mg
Organic superfruits: Açaí*, noni*, goji*, pomegranate extract* Organic veggies: Broccoli*, pumpkin*, collard greens*, spinach*, tomato*, beets*, broccoli sprouts*, kale*, carrot* Organic fruits: Banana*, orange*, pineapple*, blackberry*, tart cherry*, raspberry*, mango*, cranberry*, strawberry*, apple*, blueberry*
Organic Quinoa seed, containing ... 200mg
the following amino acids: L-glutamic acid, L-arginine, L-aspartic acid, L-leucine, L-glycine, L-alanine, L-valine, L-serine, L-phenylalanine, L-lysine, L-proline, L-threonine, L-isoleucine, L-tyrosine, L-histidine, L-methionine, L-cystine, L-tryptophan
Other Ingredients: purified water, organic vegetable-source glycerin, organic raspberry flavor, organic stevia extract, citric acid, organic flavors, natural flavors, organic acacia powder, xanthan gum, organic cranberry flavor.
*organic
Keep tightly closed and out of reach of children.Do not use if tamper-evident ring or seal is broken or missing. If you're pregnant, nursing or taking medication, consult your healthcare provider before taking this product.
It looks like there are no similar
products available