Wheat Grass Tablets
Amazing Grass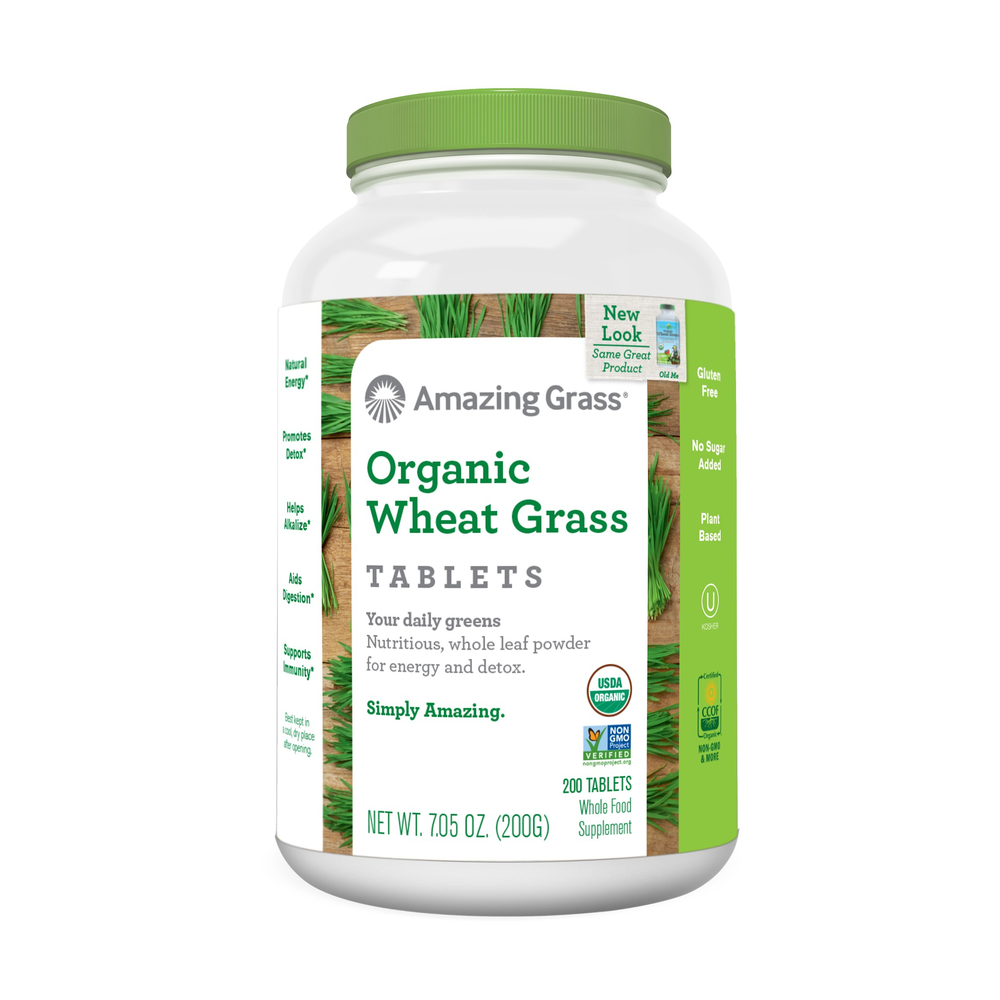 SKU: AZG-200CTOWGT
Organic Wheat Grass tablets are 100% USDA certified organic, gluten free, raw, supports body alkalinity, and boosts your energy and immune system. Tablets are convenient for individuals who find consuming green vegetable nutrition difficult.
For those who want all the benefits of our organic wheat grass, but prefer to swallow their greens in tablet form, these are the way to go. Our tablets are convenient and break down fast so nutrients are absorbed quickly into your bloodstream.
Amazing Grass Wheat Grass tablets contain 100% organic, whole leaf wheat grass, one of the most potent leafy greens available. Our Wheat Grass gives you an antioxidant packed boost that alkalizes and energizes with every serving.

Product Highlights:
• Increases & sustains energy naturally
• Detoxifies and cleanses your body
• High alkalinity helps balance acidic pH levels
• Strengthens immune system
• Complete food with enzymes & all essential amino acids
• Natural source of antioxidants to help repair damaged cells
• Field grown outdoors through winter
• Vegan, Gluten Free and Raw

Per 8 gram serving, Amazing Grass Wheat Grass offers:
• A naturally balanced source of Phytonutrients & Carotenoids
• 2x more dietary fiber than an 8 gram serving of oat bran
• 2x more iron than a 30 gram serving of fresh spinach
• Excellent source of folic acid, beta carotene & vitamin C
One bottle has 200 tablets, 40 servings per bottle. Serving size: 5 tablets, 1000 mg each. Recommend 1-2 servings daily.
Serving Size: Five Tablets (5 grams)

Amount Per Serving
Calories ... 20
Calories from Fat ... 0
Total Fat ... 0g
Cholesterol ... 0mg
Total Carbohydrate ... 2g
Dietary Fiber ... 1g
Sugars ... 0g
Protein ... 1g
Vitamin A ... 2, 375IU
(as beta carotene)
Vitamin C ... 10mg
Vitamin K ... 50mcg
Riboflavin ... 370mcg
Niacin ... 380mcg
Vitamin B6 ... 60mcg
Folic Acid ... 50mcg
Vitamin B12 ... 0.06mcg
Calcium ... 21mg
Iron ... 1mg
Iodine ... 11mcg
Selenium ... 5mcg
Manganese ... 342mcg
Sodium ... 0mg
Potassium ... 140mg
Chlorophyll ... 26mg
Ingredients: Organic whole leaf wheat grass powder (Triticum aestivum), Organic inulin, calcium phosphate, silica, natural food glaze (coating)
It looks like there are no similar
products available