Ortho Liquid Multi
Protocol for Life Balance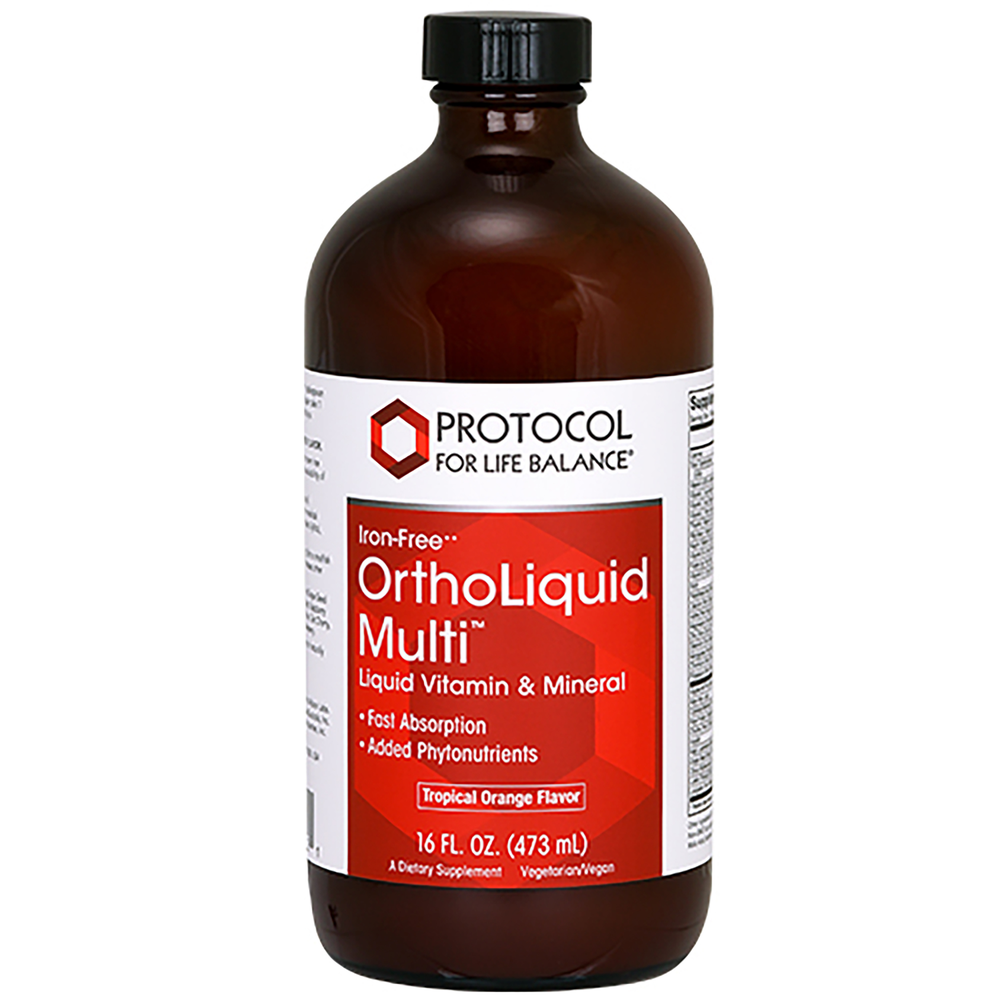 SKU: PROT-P3772
Iron-Free**
Fast Absorption
Added Phytonutrients
This unique formula utilizes brown rice protein as a stabilizing agent for maximum bioavailability of the vitamins, minerals and phytonutrients.
Shake well.
Adults: Take 1 tablespoon (15ml) daily with a meal.
Children 4 years and older: Take 1 teaspoon (5ml) daily with a meal, or as directed by a healthcare practitioner.
Serving Size: One Tablespoon (15ml)
Amount Per Serving
Calories ... 25
Total Carbohydrate ... 6g
Xylitol ... 3g
Vitamin A ... 5, 000IU
(60% as Retinyl Palmitate and 40% as Beta-Carotene)
Vitamin C ... 250mg
(as Ascorbic Acid)
Vitamin D ... 400IU
(as Ergocalciferol)
Vitamin E ... 100IU
(from d-alpha Tocopheryl Acetate)
Thiamin ... 10mg
(Vitamin B-1)(from Thiamin Hydrochloride)
Riboflavin ... 10mg
(Vitamin B-2)
Niacin ... 25mg
(Vitamin B-3)(as Niacinamide)
Vitamin B-6 ... 10mg
(from Pyridoxine Hydrochloride)
Folate ... 400mcg
(as Folic Acid)
Vitamin B-12 ... 100mcg
(as Cyanocobalamin)
Biotin ... 100mcg
Pantothenic Acid ... 25mg
(Vitamin B-5)(from Calcium Pantothenate)
Calcium ... 25mg
(from Calcium Carbonate)
Iodine ... 75mcg
[from Kelp (Laminaria digitata)]
Magnesium ... 10mg
(from Magnesium Oxide)
Zinc ... 3mg
(from Zinc AAC***)
Selenium ... 15mcg
(from Selenopure™ L-Selenomethionine)
Manganese ... 2mg
(from Manganese AAC***)
Chromium ... 10mcg
(from Chromium Chelavite® AAC***)
Potassium ... 25mg
(from Potassium Chloride)
VitaBerry® Fruit Blend††† ... 50mg
Aloe Vera Juice ... 50mg
Colloidal Minerals ... 50mg
(Fulvic Acid)
Rice Protein Concentrate ... 30mg
(from Non-GMO Brown Rice)
Choline ... 25mg
(from Choline Bitartrate)
Inositol ... 25mg
Kelp ... 15mg
(Laminaria digitata)(Whole Plant)
Grape Seed Extract ... 10mg
(Vitis vinifera)(Standardized for Polyphenols)
Citrus Bioflavonoid Complex ... 10mg
Lutein ... 100mcg
(FloraGLO®)(from Marigold Extract)
Lycopene ... 100mcg
(from Natural Tomato Extract)
Other Ingredients: De-ionized Water, Vegetable Glycerin, Natural Flavors, Non-GMO Soy Lecithin, Citric Acid, Natural Orange Fruit Juice Powder, Malic Acid, Xanthan Gum and Potassium Sorbate (as preservative).
Contains Xylitol, do not feed to pets.
This product does not contain
wheat
gluten
milk
egg
fish
shellfish
Produced in a GMP facility that processes other ingredients containing these allergens.
†††VitaBerry® Fruit Blend consists of Grape and Grape Seed Extract, Wild Blueberry and Wild Blueberry Extract, Raspberry and Raspberry Seed Concentrate, Cranberry, Prune, Tart Cherry, Wild Bilberry and Wild Bilberry Extract, and Strawberry.
**This product may contain insignificant amounts of naturally occurring iron present in colloidal minerals.
***AAC = Amino Acid Chelate
SelenoPure™ is a trademark of Nutrition 21.
C


Refrigerate after opening to preserve flavor.

Caution: Consult physician if pregnant/nursing, taking medication, or have a medical condition. Keep out of reach of children.