Ortho Multi for Women
Protocol for Life Balance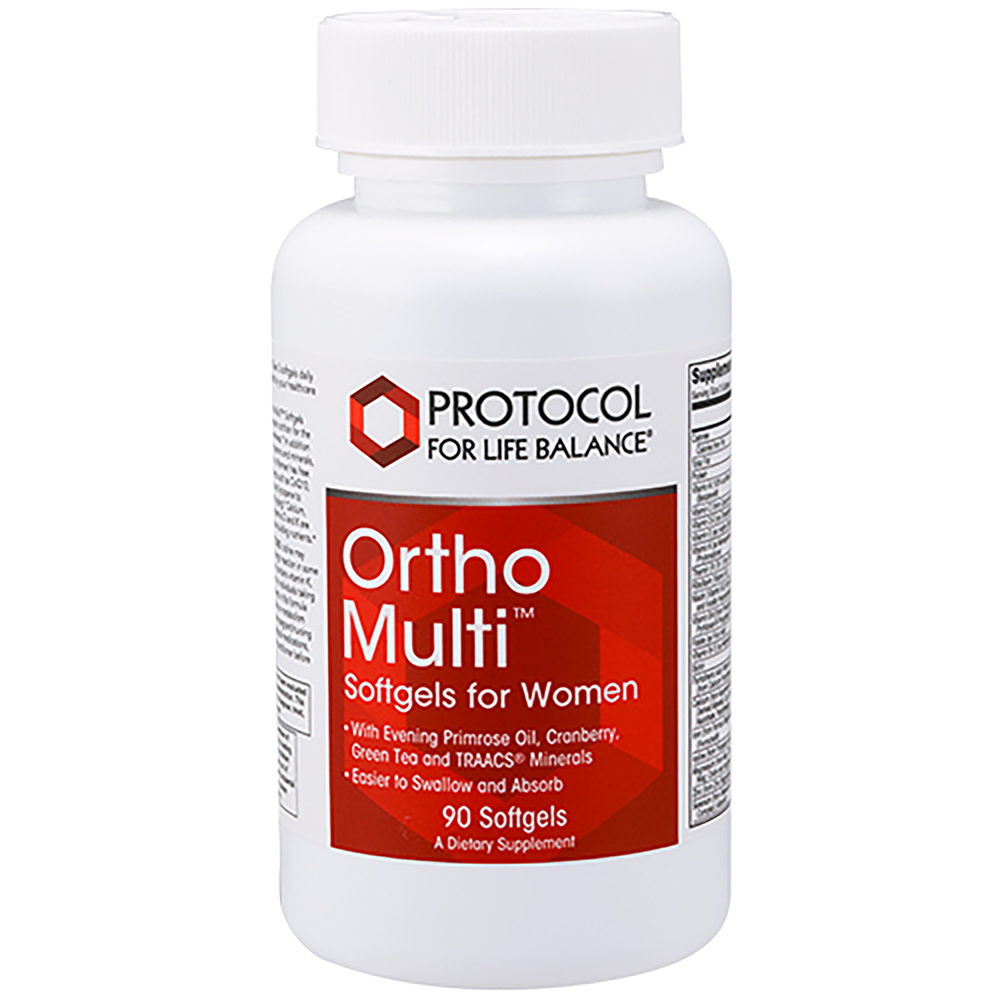 SKU: PROT-P3802
Ortho Multi™ Softgels for Women offers balanced nutrition for the support of total body wellness.* In addition to a full range of daily vitamins and minerals, Ortho Multi™ Softgels for Women has free radical-fighting ingredients such as CoQ10, alpha lipoic acid, lutein and lycopene to help fight the ravages of aging.* Calcium, magnesium, zinc, and vitamins D and K are also included as key bone-building nutrients.*
Take 3 softgels daily with food, or as directed by your healthcare practitioner.
Serving Size: 3 Softgels
Amount Per Serving
Calories ... 25
Calories from Fat ... 20
Total Fat ... 2g
Protein ... 1g
Vitamin A ... 5, 000IU
(100% as Beta-Carotene)(Betatene®)
Vitamin C ... 200mg
(from Calcium Ascorbate)
Vitamin D-3 ... 1, 000IU
(as Cholecalciferol)
Vitamin E ... 150IU
(as d-alpha Tocopherol)
Vitamin K ... 80mcg
(as Menaquinone and 100% Phytonadione)
Thiamin ... 25mg
(Vit. B-1)(from Thiamin HCl)
Riboflavin ... 25mg
(Vitamin B-2)
Niacin ... 25mg
(Vitamin B-3)(from Niacinamide and Inositol Hexanicotinate)
Vitamin B-6 ... 25mg
[from Pyridoxine HCl and Pyridoxal-5-Phosphate (P-5-P)]
Folate ... 800mcg
(as Folic Acid)
Vitamin B-12 ... 120mcg
(as Methylcobalamin)
Biotin ... 300mcg
Pantothenic Acid ... 50mg
(Vitamin B-5)(from Calcium Pantothenate)
Calcium ... 140mg
(from Aquamin® Seaweed Derived Minerals, Cal. Carbonate, Ascorbate, Pantothenate)
Iron ... 6mg
(from Ferrous Bisglycinate)
(Ferrochel®)
Iodine ... 225mcg
(from Potassium Iodide)
Magnesium ... 100mg
(from Mag. Citrate, Mag. Oxide and Aquamin® Seaweed Derived Minerals)
Zinc ... 15mg
(from Zinc Bisglycinate)(TRAACS®)
Selenium ... 200mcg
(from Selenium Glycinate Complex)(Albion®)
Copper ... 1mg
(from Copper Bisglycinate)(TRAACS®)
Manganese ... 2mg
(from Manganese Bisglycinate)(TRAACS®)
Chromium ... 120mcg
(from Chromium Nicotinate Glycinate)(TRAACS®)
Molybdenum ... 75mcg
(from Molybdenum Glycinate)(TRAACS®)
Potassium ... 25mg
(from Potassium Chloride)
Evening Primrose Oil ... 500mg†
(Oenothera biennis)(Seed)
Cranberry Concentrate ... 100mg†
(Vaccinium macrocarpon)(Fruit)
Horsetail Extract ... 50mg†
(Equisetum arvense)(Aerial Parts)(min. 8% Silica)
Alpha Lipoic Acid ... 25mg†
Choline ... 25mg†
(from Choline Bitartrate)
Grape Seed Extract ... 25mg†
(Vitis vinifera)
Green Tea Extract ... 25mg†
(Camellia sinensis)(Leaf)
Inositol ... 25mg†
CoQ10 ... 10mg†
(as Ubiquinone)
Lycopene ... 500mcg†
(from Natural Tomato Extract)(LYC-O-MATO®)
Lutein ... 500mcg†
(from Marigold Flowers Extract)
Other Ingredients: Softgel Capsule (bovine gelatin, glycerin, water, carob), Flax Seed Oil, Soy Lecithin and Beeswax.
This product does not contain
wheat
gluten
milk
egg
fish
shellfish
Albion®, Ferrochel® and TRAACS® are registered trademarks of Albion

Cautions/Interactions: Iodine may occasionally cause an allergic reaction in some individuals. This product contains vitamin K, which is contraindicated in individuals taking warfarin. Some ingredients in this formula may affect the absorption or metabolism of medications. If you are pregnant/nursing or taking any pharmaceutical medications, consult your healthcare practitioner before taking this product.
Warning: Accidental overdose of iron-containing products is a leading cause of fatal poisoning in children under 6. Keep this product out of reach of children. In case of accidental overdose, call a doctor or poison control center immediately.