Ortho Detox
Protocol for Life Balance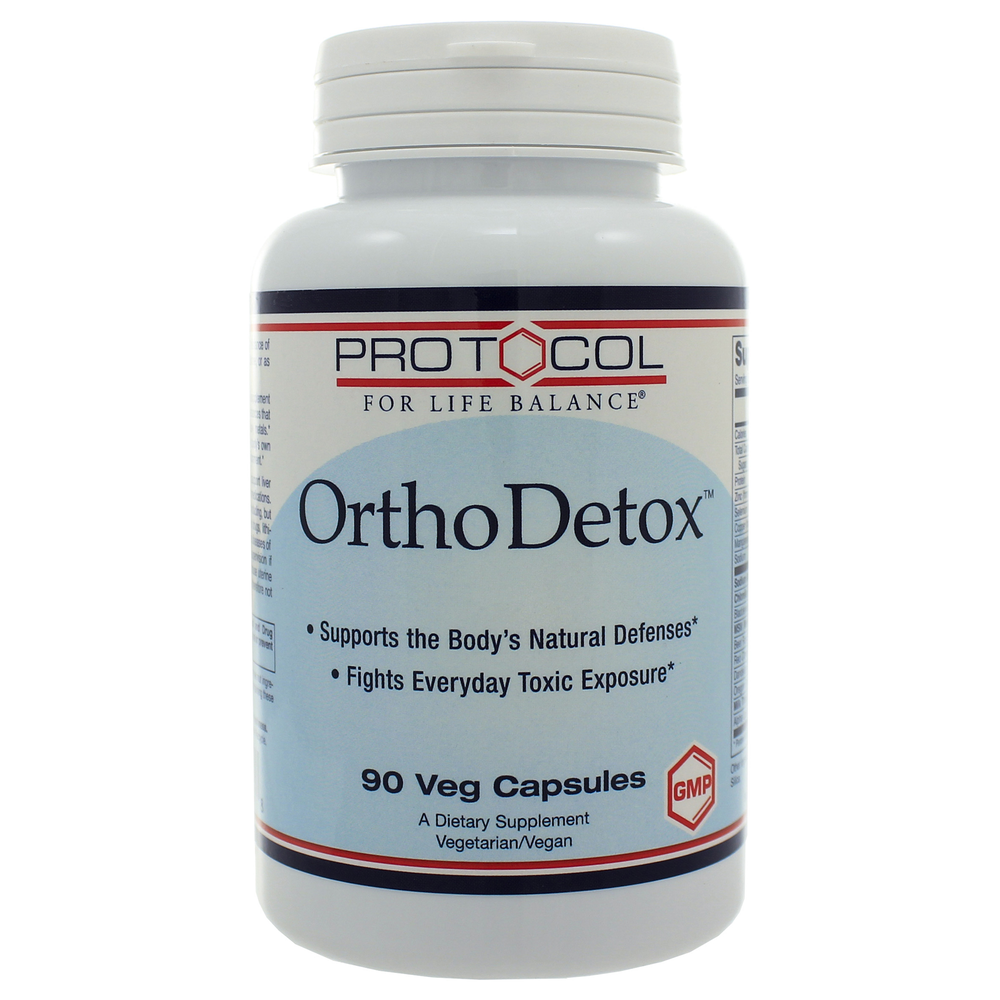 SKU: PROT-P3281
-Supports The Body's Natural Defenses*
-Fights Everyday Toxic Exposure*
-A Dietary Supplement
-Vegetarian Formula
Ortho Detox™ is a cutting-edge nutritional supplement formulated to support our body's natural defenses against toxic substances that we are exposed to in everyday life,such as pollution or heavy metals. The nutrients and herbs in this product work synergistically to support detoxification mechanisms,promoting a healthy internal environment.*
As a dietary supplement,take 3 Vcaps® daily with water before meals or at bedtime,or as directed by your healthcare practitioner.
Serving Size: 3 Vcaps®
Amount Per Serving
Calories ... 10
Total Carbohydrates ... 1.5g
Sugars ... 0.5g
Protein ... 0.5g
Sodium ... 80mg
Zinc ... 5mg
(from Amino Acid Chelate)
Selenium ... 100mcg
(from L-Selenomethionine)
Copper ... 510mcg
(from Amino Acid Chelate)
Manganese ... 6mg
(from Manganese Carbonate)
Sodium Alginate ... 500mg
Chlorella ... 500mg
(Broken Cell Wall)
Bladderwrack ... 300mg
(Fucus vesiculosus)(Thallus)
MSM ... 250mg
(Methylsulfonylmethane)
Beet Root Powder ... 150mg
Dandelion Root Extract ... 200mg
(4:1)(Taraxacum officinale)
Oregon Grape Root ... 150mg
(Mahonia aquifolium)
Milk Thistle Extract ... 150mg
(Silybum marianum)(Fruit and Seed)
Red Clover Extract ... 75mg
(15:1)(Trifolium pratense)(Flower and Leaf)
Alpha Lipoic Acid ... 50mg
Other Ingredients: Cellulose (capsule),Magnesium Stearate (vegetable source) and Silica.
Contains no sugar,salt,starch,yeast,wheat,gluten,corn,soy,milk,egg,shellfish or preservatives.
This bottle contains an Ageless® oxygen absorbing packet to ensure freshness. Do not eat Packet.
Store in a cool,dry place. Please Recycle.
Vegetarian/Vegan Product.
CAUTIONS AND INTERACTIONS:Based on their constituents,red clover extracts may interfere with hormone treatments,tamoxifen,and anticoagulant drugs. Animal studies suggest that dandelion may worsen the side effects associated with lithium,a medication used to treat bipolar disorder. Based on dandelion roots effect on bile secretion,Germanys Commission E has recommended that it not be used by individuals with obstruction of the bile ducts or other serious diseases of the gallbladder,and only under physician supervision by those with gallstones. Because Oregon grape contains berberine,which has been reported to cause uterine contractions and to increase levels of bilirubin,oral consumption of Oregon grape should be avoided by pregnant women.
*These statements have not been evaluated by the Food and Drug Administration. This product is not intended to diagnose,treat,cure or prevent any disease.