OrthoFlora Yeast Support
Protocol for Life Balance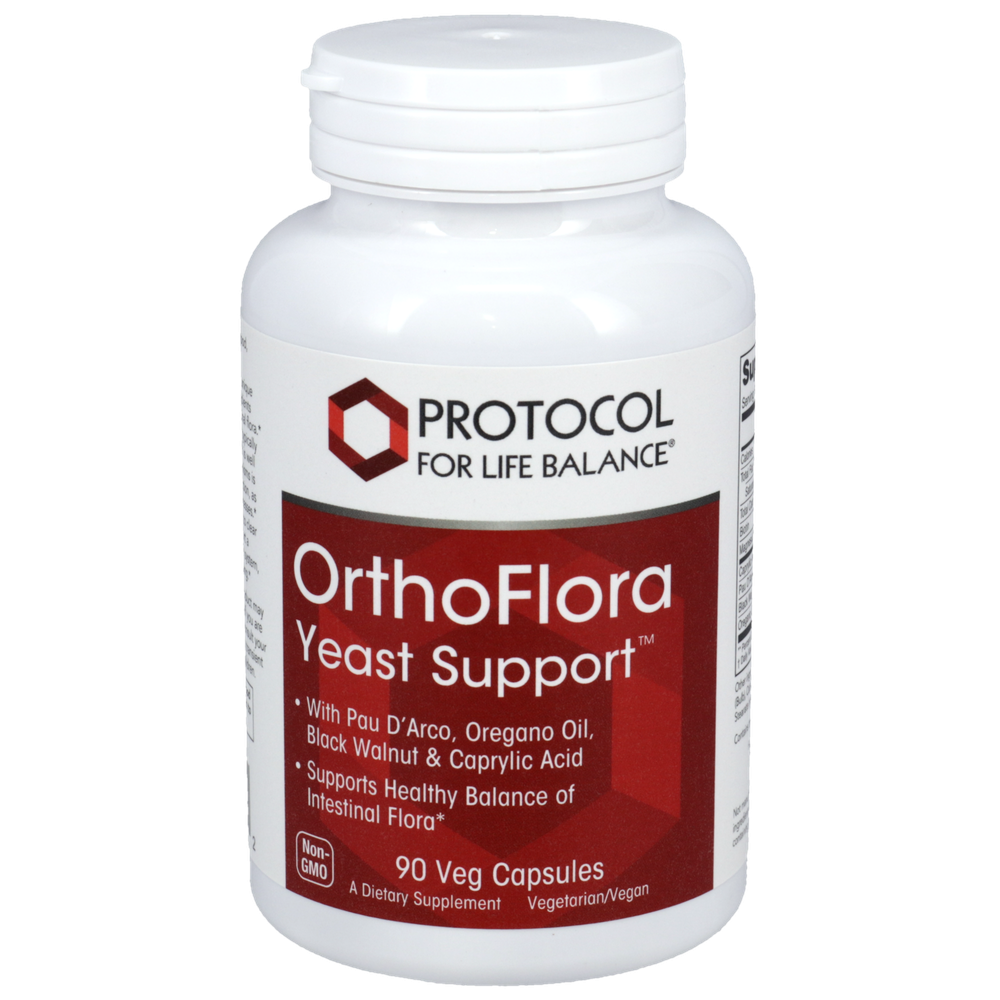 SKU: PROT-P3308
With Pau D'Arco, Oregano Oil, Black Walnut & Caprylic Acid
Supports Healthy Balance of Intestinal Flora*
OrthoFlora Yeast Support™ is a unique formula with nutritional and traditional herbal ingredients that may help to support a healthy balance of intestinal flora.* Candida albicans is a naturally occurring yeast that typically resides in the gut as part of the normal gut flora.* It is well known that a proper composition of intestinal organisms is critical to healthy digestive and immune system function, as well as for the support of proper detoxification processes.* Although OrthoFlora Yeast Support™ is not meant to clear Candida albicans from the gut, it can help to support a healthy balance of intestinal flora, a healthy immune system, proper detoxification, and overall digestive well-being.*
Take 2 capsules daily with food, or as directed by your healthcare practitioner.
Serving Size: Two Veg Capsules
Amount Per Serving
Calories ... 10
Calories from Fat ... 5
Total Fat ... 0.5g
Saturated Fat ... 0.5g
Trans Fat ... 0g
Total Carbohydrate ... 1g
Biotin ... 2, 000mcg
Magnesium ... 45mg
(from Magnesium Caprylate)
Caprylic Acid ... 500mg
(from Magnesium Caprylate)
Pau DArco ... 300mg
(Tabebuia heptaphylla)(Bark)
Black Walnut ... 300mg
(Juglans nigra)(Hull)
Oregano Oil Powder ... 200mg
(Origanum vulgare)
Other Ingredients: Cellulose (capsule), Garlic (Allium sativum)(Bulb), Olive Leaf Extract (Olea europaea), Cats Claw (Uncaria tomentosa)(Bark), Wormwood (Artemisia absinthium)(Aerial Parts), Silica, Magnesium Stearate (vegetable source) and Cellulose Powder.
Contains tree nut (walnut hulls).
This product does not contain
wheat
gluten
soy
milk
egg
fish
shellfish
Produced in a GMP facility that processes other ingredients containing these allergens.
Caution
Ingredients in this product may interact with hormonal medications such as insulin. If you are taking medications or if you are pregnant/nursing, consult your healthcare practitioner prior to use. May cause mild transient gastrointestinal discomfort. Keep out of reach of children.
This bottle contains an AGELESS® Oxygen Absorber to ensure freshness. Do not eat freshness packets.