Osteo-B II™
Biotics Research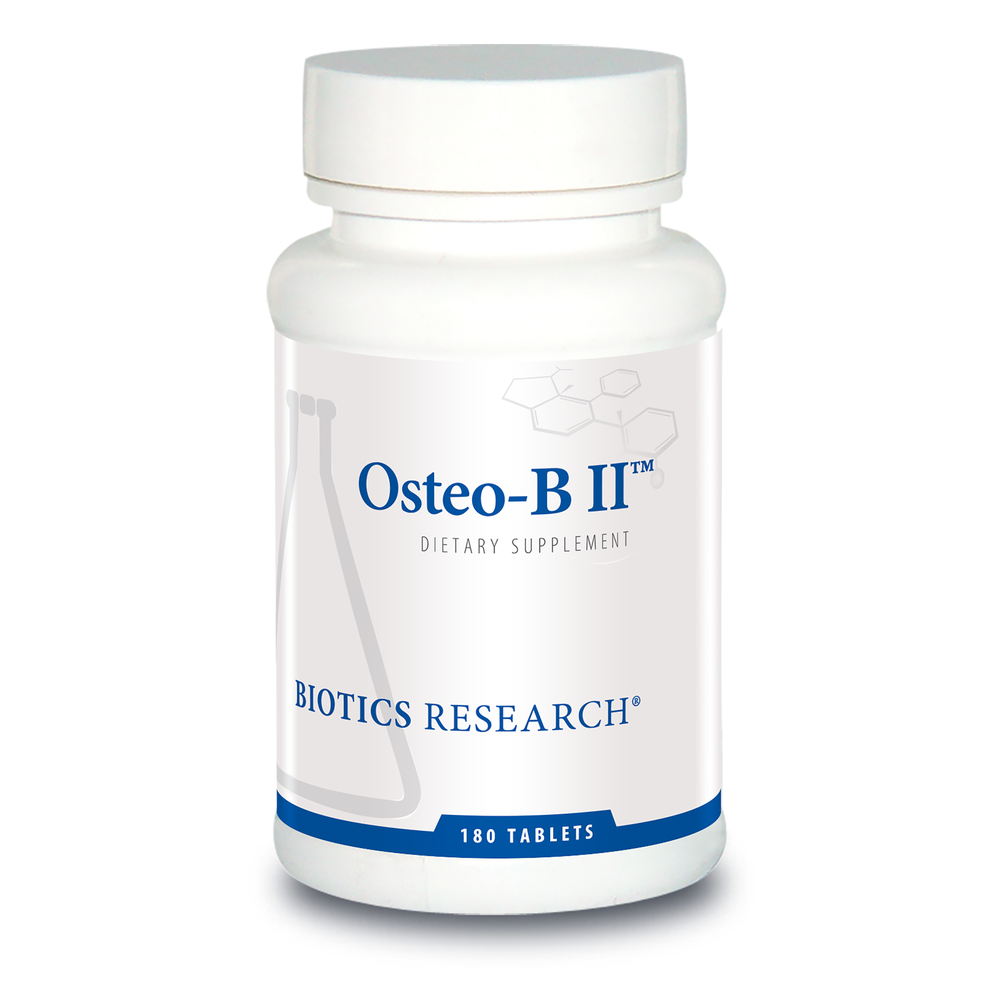 SKU: BRC-1502
Osteo-B II™, like Osteo-B Plus® is a comprehensive bone support formula.* Bone is a dynamic tissue that requires adequate nutrition for maintenance and growth. Adequate calcium and vitamin D intake throughout life is linked to reduced risk of osteoporosis through the mechanism of optimizing peak bone mass during adolescence and early adulthood, or slowing the rate of bone loss for persons with a family history of the disease, post menopausal women, and elderly men and women. Although calcium is an important component to support bone health, other nutritional synergists are equally important, to support and nurture the skeletal system. Osteo-B II supplies key nutritional synergists, including Calcium and Magnesium in a 1:1 ratio. Osteo-B II™ is similar to the product Osteo-B Plus, however, Osteo-B II is a smaller tablet that does not contain copper, utilizes phosphorylated forms of B vitamins, and as noted above supplies calcium and magnesium in a 1:1 ratio.
Six (6) tablets each day as a dietary supplement or as otherwise directed by a healthcare professional.



Serving Size: 6 Tablets

Amount Per Serving
Vitamin C ... 120mg
(as ascorbic acid)
Vitamin D3 ... 400IU
(as cholecalciferol)
Vitamin K ... 320mcg
(K1 as phytonadione)
Thiamin ... 3mg
(B1)(as cocarboxylase chloride)
Riboflavin ... 3.4mg
(B2)(as riboflavin-5-phosphate)
Niacin ... 20mg
(as niacinamide)
Vitamin B6 ... 6mg
(as pyridoxal-5-phosphate)
Folate ... 400mcg
(as calcium folinate)
Vitamin B12 ... 12mcg
(as methylcobalamin)
Biotin ... 300mcg
Pantothenic Acid ... 20mg
(as calcium pantothenate)
Calcium ... 300mg
(as calcium citrate)
Magnesium ... 300mg
(as magnesium malate and magnesium glycinate)
Zinc ... 15mg
(as zinc gluconate)
Manganese ... 5mg
(as manganese gluconate)
Purified Chondroitin Sulfates ... 200mg
(bovine)
Boron ... 3mg
(as calcium borogluconate)
Sugarcane ... 30mg
(Saccharum officinarum)(shoot)(extract)
Superoxide Dismutase ... 30mcg
(raw organic vegetable culture †)
Catalase ... 30mcg
(raw organic vegetable culture †)

Other Ingredients: Stearic acid (vegetable source), cellulose, modified cellulose gum, magnesium stearate (vegetable source) and food glaze

Does not contain gluten or dairy.

† Specially grown, biologically active vegetable culture containing naturally associated phytochemicals including polyphenolic compounds with SOD and catalase, dehydrated at low temperature to preserve associated enzyme factors
Caution: Not recommended for pregnant women.

Keep out of reach of children.

Store in a cool, dry area.

Sealed with an imprinted safety

seal for your protection.