Osteo Calm
Natural Vitality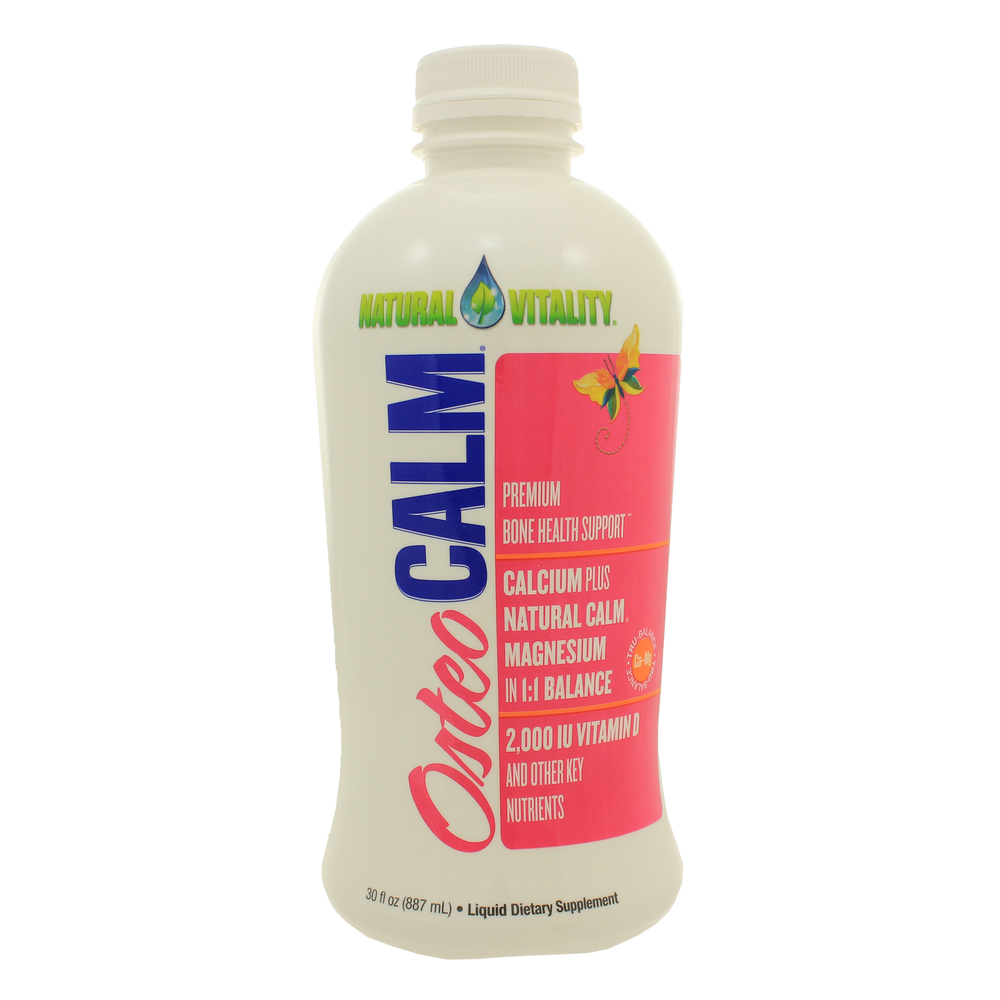 SKU: NVT-3177
Osteo Calm is designed with premium ingredients. We use a calcium with bioavailability superior to many other forms of calcium, such as calcium carbonate. This magnesium is Natural Calm®, the best-selling magnesium in the natural products market for nine years running. It also is super soluble (both Natural Calm will go clear when mixed in water) and has excellent bioavailability.
Shake vigorously before taking (naturalseparation may occur). Mix with an equal amount of water or add to your favorite juice or smoothie. Start with 2 teaspoons of OsteoCalm and gradually increase to 3 teaspoons twice daily. When bowels are comfortably loose, this is the optimal amount.
Serving Size: 1 fl oz (30ml)
Amount Per Serving
Calories ... 45
Total Carbohydrates ... 11g
Sugars ... 2g
Vitamin A ... 5, 000IU
(as retinyl palmitate, beta carotene [50%])
Vitamin C ... 240mg
(as ascorbic acid)
Vitamin D3 ... 2, 000IU
(as cholecalciferol)
Vitamin K2 ... 90mcg
(as menaquinone)
Vitamin B6 ... 50mg
(as pyridoxine HCl)
Folic acid ... 200mcg
Calcium ... 500mg
(as calcium lactate gluconate)
Magnesium ... 500mg
(as magnesium citrate)
Zinc ... 10mg
(as zinc lactate gluconate)
Manganese ... 2.5mg
(as manganese gluconate)
Sodium ... 10mg
Potassium ... 179mg
(as potassium citrate and sorbate)
Boron ... 3mg
(as boron citrate)
Other Ingredients: purified water, vegetable source glycerin, organic agave nectar, citric acid, organic orange and vanilla flavors, potassium sorbate and sodium benzoate (to preserve freshness), organic stevia extract, xanthan gum.
Cautions: Do not use if tamper-evident ring or seal is broken or missing. If you're pregnant, nursing, if you take prescription blood thinners or have kidney disease, consult your heathcare provider before taking this product. Osteo Calm is not intended for children. We suggest Natural Vitalitys award-winning Kids Natural Calm Multi.