Osteo-Vi-Min Chewable
Allergy Research Group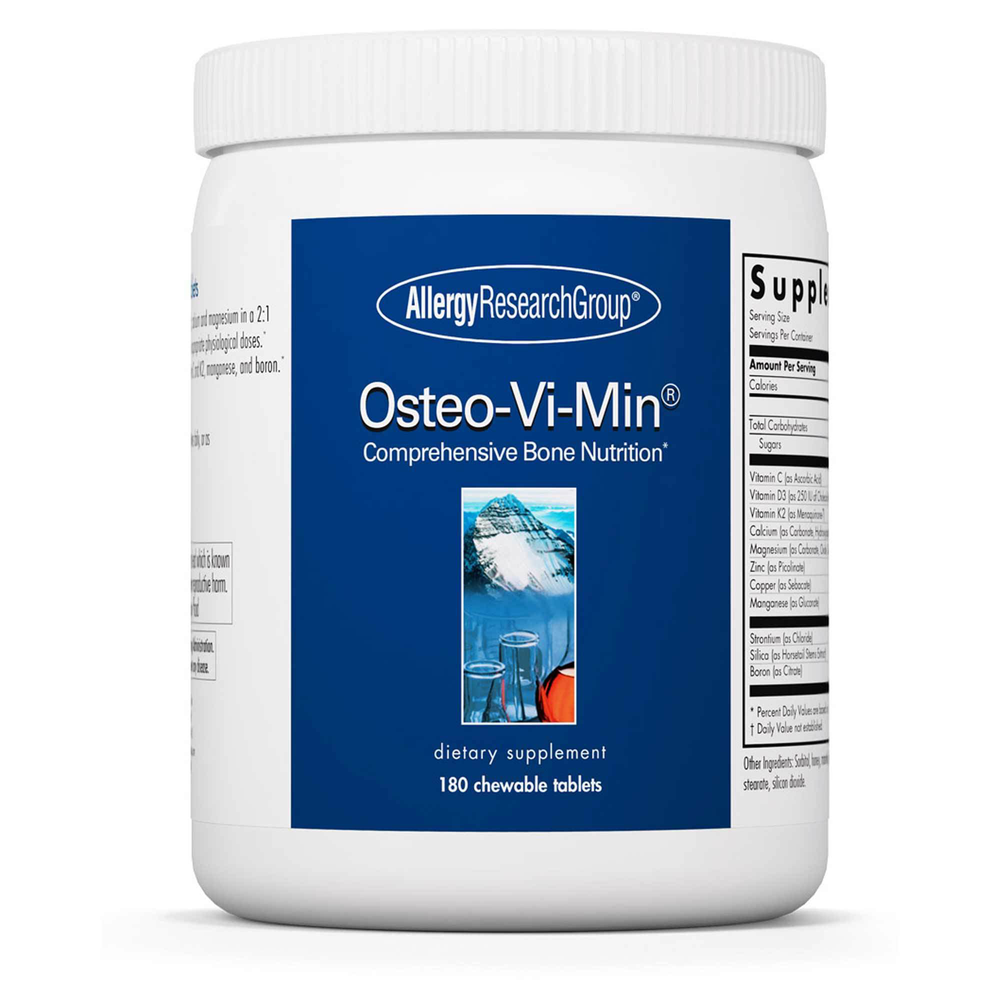 SKU: ARG-75310
Osteo-Vi-Min Chewable 180t is available by Allergy Research Group.
-This formula contains a broad spectrum of minerals and vitamins including calcium, strontium, and vitamin K2 to support healthy bones.
Osteo-Vi-Min® offers complete and synergistic nutritional support for mineral absorption and skeletal health. It includes calcium, magnesium, strontium, silica, vitamin D, vitamin K and other key nutrients, which together enhance bone mineralization, flexibility and integrity. The trace mineral strontium is now 300 mg per day because, when utilized as part of a complex nutritional formula like this, it is not required in high doses.
Allergy Research Group®
Dietary Supplement
180 chewable tablets
Supplemental Facts:
Formulated exclusively for
Allergy Research Group®
Alameda, CA 94502
Taking with fat-containing meals may further enhance absorption of fat-soluble vitamins.
As a dietary supplement, 2 tablets three (3) times daily, or as directed by a healthcare practitioner.
Serving Size: 2 Chewable Tablets

Amount Per Serving
Calories ...10
Total Carbohydrates ...2.6g
Sugars ...0.28g
Vitamin C (as Ascorbic Acid) ...167mg
Vitamin D3 (as Cholecalciferol) ...200 IU
Vitamin K2 (as Menaquinone-7) ...33mcg
Calcium ...367mg
(as Carbonate, Hydroxyapatite, Citrate, Malate)
Magnesium ...133mg
(as Carbonate, Glycinate)
Zinc ...3.3mg
(as Monomethionine Sulfate)
Copper (as Sebacate) ...0.5mg
Manganese (as Gluconate) ...1.7mg
Strontium (as Carbonate) ...100mg*
Silica (as Horsetail Stems Extract) ...2mg*
Boron (as Citrate) ...1mg*
Lycopene ...1.7mg*
* Daily Value not established
** Percent Daily Values are based on a 2, 000 calorie diet
Contains:
Sorbitol, Honey, Mannitol, Soy Lecithin, Xylitol, Natural Cherry Flavor, Magnesium Stearate, Silicon Dioxide
Keep in a cool, dry place, tightly capped.
This item may contain a chemical known to the State of California to cause cancer, birth defects, or other reproductive harm. Under CA Prop 65, it is required to include an additional labeled warning for the CA public.