Osteo-Vi-Min Powder
Allergy Research Group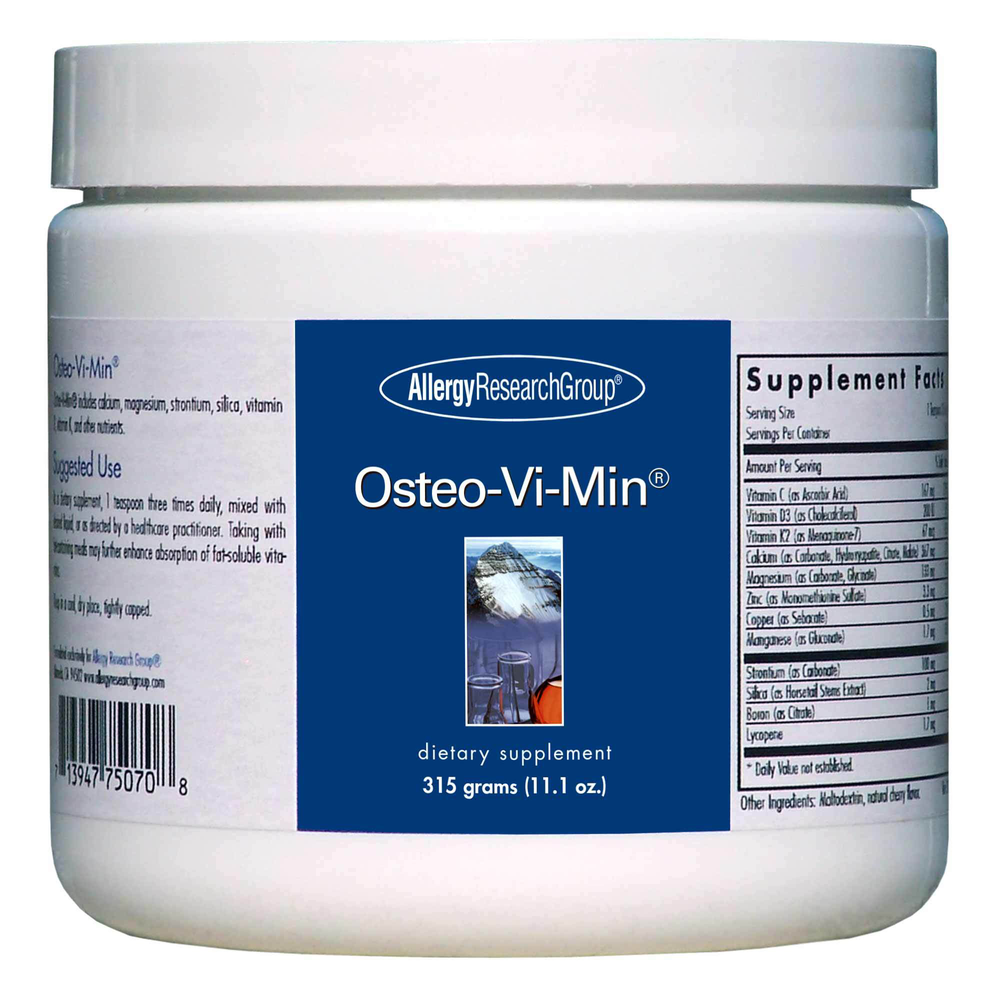 SKU: ARG-75070
Comprehensive Bone Nutrition*
Osteo-Vi-Min® with strontium now updated with increased amounts of vitamins D3 and K2, calcium, magnesium, zinc, copper, manganese, and boron, which play key roles in bone metabolism.*
As a dietary supplement, 1 teaspoon three (3) times daily, mixed with desired liquid, or as directed by a healthcare practitioner.
Serving Size: 1 Teaspoon (3.5 g)
Amount Per Serving
Vitamin C ... 50mg
(as Ascorbic Acid)
Vitamin D3 ... 12.5 μg
(as 500 IU of Cholecalciferol)
Vitamin K2 ... 90 μg
(as Menaquinone-7)
Calcium ... 500 mg
(as Carbonate, Tricalcium Phosphate, Hydroxyapatite, Citrate, Malate)
Magnesium ... 250mg
(as Carbonate, Oxide, Glycinate)
Zinc ... 10 mg
(as Picolinate)
Copper ... 500 μg
(as Sebacate)
Manganese ... 2mg
(as Gluconate)
Strontium ... 5mg
(as Chloride)
Horsetail Extract ... 36 mg
(standardized to 7% Silica)
Boron ... 2 mg
(as Citrate)

Other Ingredients: Xylitol, sunflower lecithin, gum blend, stevia leaf extract.
Keep in a cool, dry place, tightly capped.