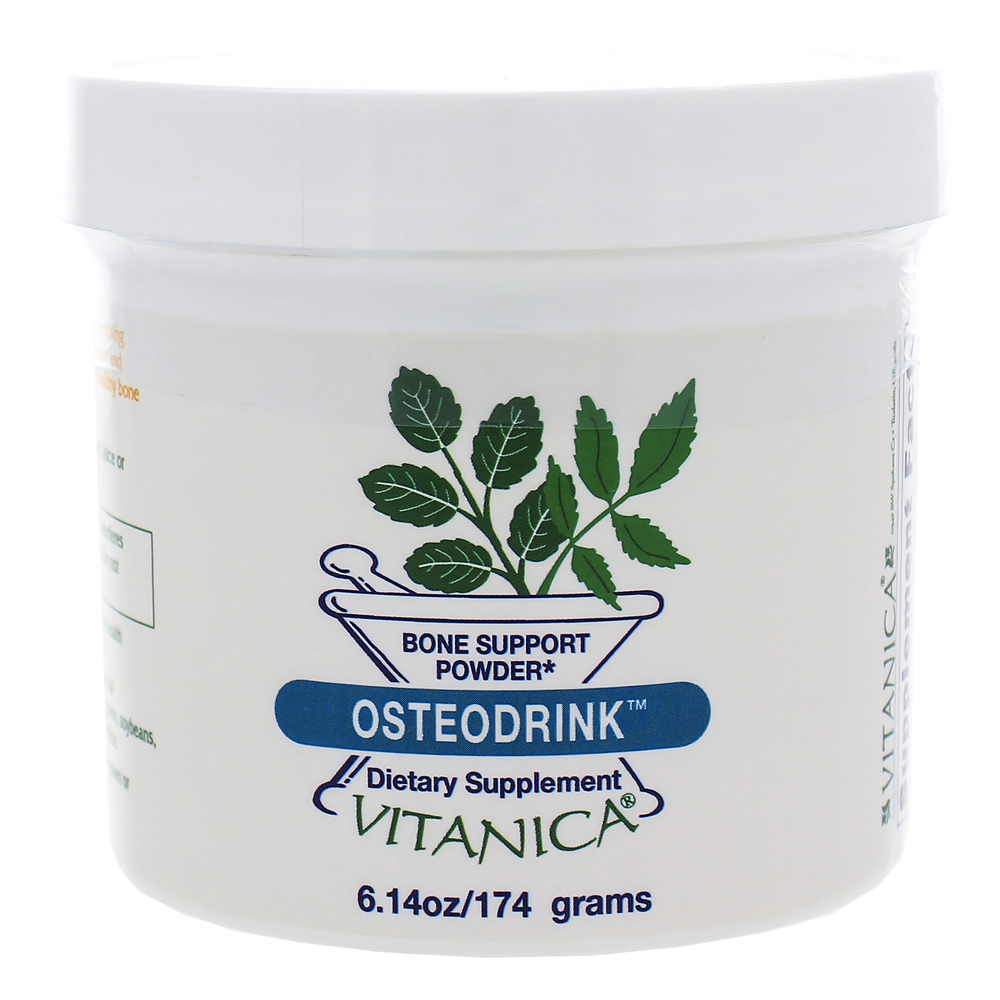 SKU: VTC-01067
Osteodrink 6.14oz is available by Vitanica.

A totally unique and progressive powdered drink formulation that mixes great in water, juice, or other drinks. Just one scoop yields 500 mg of calcium and 250 mg of magnesium plus trace mineral and co-factors. OsteoDrink support powder is for individuals who either have preferences for powders vs. capsules or perhaps have a digestive system that is more suited to absorbing their supplements in liquid.
Suitable for Vegetarians
Add one (1) level scoop to water, juice or other drinks. Stirl well until dissolved.
Serving Size: 1 scoop (5.8 grams)
30 servings
Calories ...1
Total Carbohydrates ... .2 g
Vitamin D2 (as ergocalciferol) ...400 IU
Vitamin K (as phylloquinone) ...200mcg
Riboflavin ...200mcg
(as Vitamin B2, riboflavin-5-phosphate)
Vitamin B6 (as pyridoxine HCL) ...25mg
Folate (as folic acid) ...400mcg
Calcium ...500mg
(as lactate, lactic acid derived from from beets)
Magnesium (as citrate) ...250mg
Zinc (as sulfate) ...5mg
Selenium (as L-Selenomethionine) ...50mcg
Copper (as gluconate) ...1.50mg
Manganese (as citrate) ...8mg
Chromium (as picolinate) ...100mcg
Boron (as citrate) ...3.0mg
Silica (as citrate) ...100mcg
Honey powder ...260mg
Stevia (90% steviosides) ...15mg
Does Not Contain - Preservatives, binders, artificial colorings or flavorings, sucrose, glucose, starch, lactose, salt, corn, wheat, milk derivatives
Keep in a cool, dry place out of reach of children.
OsteoDrink contains Vitamin K, which interferes with the prescription drugs Coumadin and Warfarin. Do not take Osteodrink if taking either of these drugs.
It looks like there are no similar
products available