OsteoPrime Forte Tablets
Integrative Therapeutics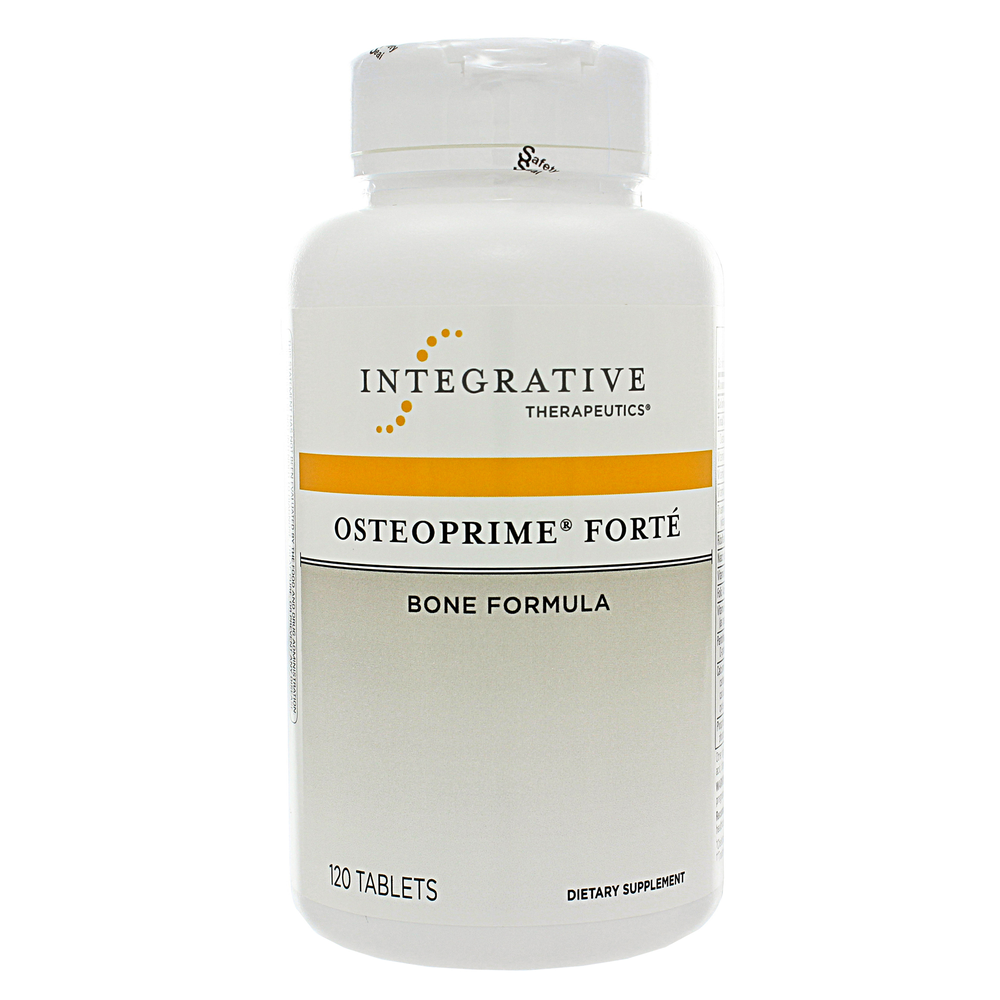 SKU: ITI-77702
Healthy bones need a variety of nutrients to preserve adequate mineral mass, maintain strong supporting structures, and promote repair functions.
Formulated with complexed calcium and magnesium for optimal absorption.* Vitamin D is included for the body to utilize calcium and phosphorus.* Manganese is needed for healthy bone mineralization and connective tissue synthesis.* Zinc, strontium, vitamin B6, vitamin C, silicon, copper, and boron also supports connective structures in bone.*
Take 4 tablets daily, during or after meals, or recommended by your healthcare professional.
Serving Size: 4 Tablets
Amount Per Serving
Calories ... 5
Total Carbohydrate ... 2g
Dietary Fiber ... <1g
Vitamin C ... 100mg
(ascorbic acid)
Vitamin D ... 600IU
(as cholecalciferol)
Vitamin K ... 300mcg
(as phytonadione)
Thiamin ... 20mg
(as thiamin HCl) (vitamin B1)
Riboflavin ... 20mg
(vitamin B2)
Niacin ... 50mg
(as niacinamide)
Vitamin B6 ... 25mg
(as pyridoxine HCl)
Folic Acid ... 800mcg
Vitamin B12 ... 20mcg
(as cyanocobalamin)
Pantothenic Acid ... 20mg
(as calcium d-pantothenate)
Calcium ... 600mg
(from calcium carbonate, tricalcium phosphate, calcium Krebs cycle complex‡, calcium lactate, and calcium citrate)
Phosphorus ... 96mg
(from tricalcium phosphate)
Magnesium ... 250mg
(as magnesium oxide and magnesium aspartate)
Zinc ... 20mg
(as zinc picolinate)
Selenium ... 100mcg
(as sodium selenite)
Copper ... 2mg
(as copper gluconate)
Manganese ... 7mg
(as manganese aspartate)
Molybdenum ... 50mcg
(as sodium molybdate)
Betaine HCl ... 20mg
Boron ... 2mg
(as boric acid/Krebs cycle intermediate blend‡‡)
Silicon ... 1mg
(as silicon dioxide)
Other Ingredients: cellulose, modified cellulose, modified cellulose gum, magnesium stearate, stearic acid, titanium dioxide color, soy lecithin, vegetable glycerin, carnauba wax
Contains soy.
Does not contain artificial flavoring, dairy products, gluten, preservatives, salt ,sugar, wheat, or yeast
‡Complexed as citrate, fumarate, malate, succinate, and alpha ketoglutarate.
‡‡Krebs cycle intermediates in this blend include citric acid, fumaric acid, malic acid, succinic acid and alpha-ketoglutaric acid.

Caution: If you are taking Coumadin®‡‡‡ (warfarin) or other prescription drugs, or if pregnant or nursing, consult your healthcare professional before using this product.
‡‡‡Trademark of its respective company.