OsteoPrime® Plus
Nature's Way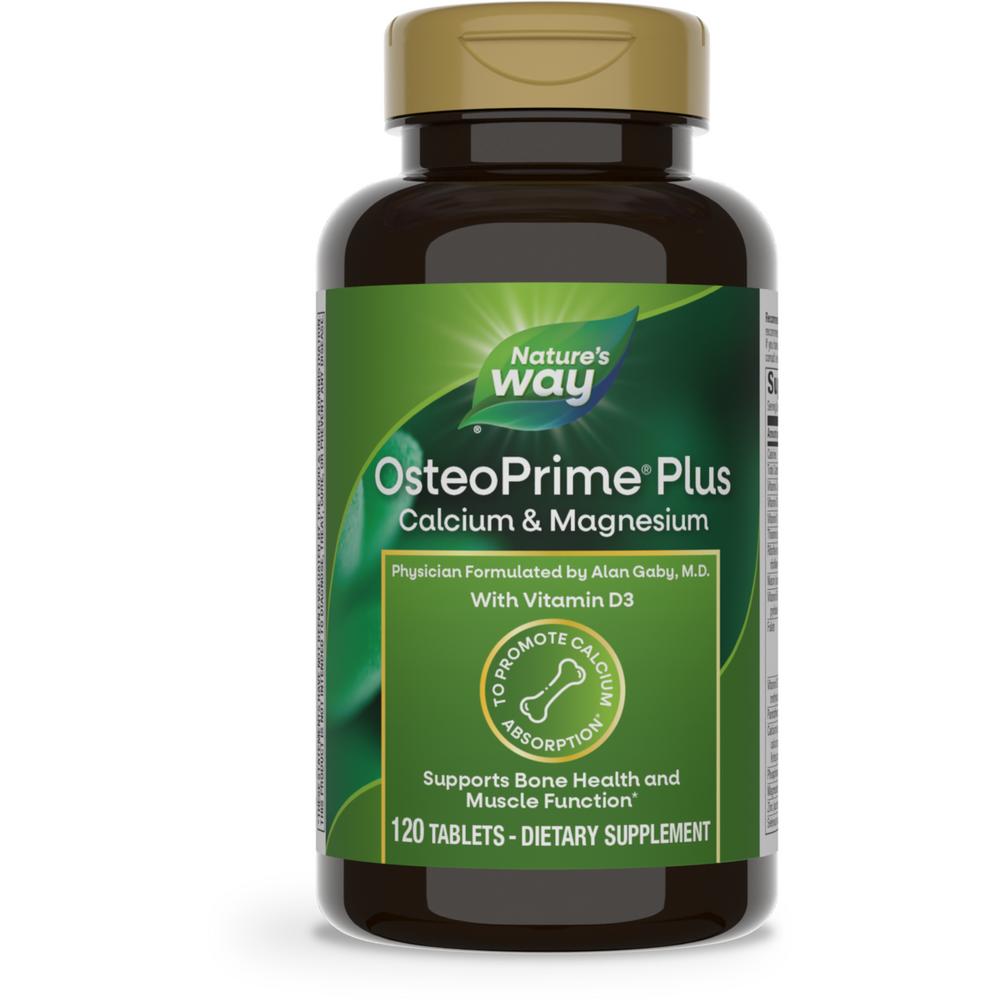 SKU: EN2-07712
OsteoPrime Plus
bone formula delivers balanced nutrients to support and maintain healthy bones; including calcium for strong bones and teeth.
OsteoPrime Plus uses a combination of ingredients to support healthy bones and maintain bone density.
Suggested Use:
Adults take 4 tablets daily with food, or as recommended by a healthcare professional.
Serving Size: 4 Tablets
Amount Per Serving
Calories … 5
Total Carbohydrate … 2 g†
Vitamin C … 120 mg
(ascorbic acid)
Vitamin D … 20 mcg
(as cholecalciferol)
Vitamin K1 … 300 mcg
(as phytonadione)
Thiamin … 20 mg
(vitamin B1)
Riboflavin … 20 mg
(as vitamin B2, riboflavin-5'-phosphate)
Niacin … 50 mg
(as niacinamide)
Vitamin B6 … 25 mg
(as pyridoxine HCl, pyridoxal-5'-phosphate)
Folate … 800 mcg
(420 mcg folic acid) (104 mg Quatrefolic® brand (6S)-5-Methyltetrahydrofolate glucosamine salt)
Vitamin B12 … 50 mcg
(as cyanocobalamin, methylcobalamin)
Pantothenic Acid … 20 mg
(as calcium D-pantothenate)
Calcium … 800 mg
(as calcium carbonate, tricalcium phosphate, calcium lactate, calcium Krebs cycle complex‡, and calcium citrate)
Phosphorus … 128 mg
(as tricalcium phosphate)
Magnesium … 300 mg
(as magnesium oxide, magnesium aspartate)
Zinc … 20 mg
(as zinc picolinate)
Selenium … 100 mcg
(as sodium selenite)
Copper … 2 mg
(as copper gluconate)
Manganese … 7 mg
(as manganese aspartate)
Molybdenum … 50 mcg
(as sodium molybdate)
Sodium … 5 mg
Betaine HCl … 20 mg**
Silicon … 5 mg**
(as silicon dioxide)
Boron … 3 mg**
(as boric acid/Krebs cycle intermediate blend‡‡)
Vitamin K2 … 45 mcg**
(menaquinone-7) from Natto (fermented soybean extract)
Other Ingredients: Cellulose, sodium croscarmellose, stearic acid, magnesium stearate, hypromellose, glycerin.
Contains soy.
Gluten free. No yeast-derived ingredients, wheat, dairy products, or artificial colors, flavors or preservatives.
‡Complexed with citrate, alpha ketoglutarate intermediates, malate, fumarate, and succinate.
‡‡Krebs cycle intermediates in this blend include citric acid, fumaric acid, malic acid, succinic acid and alpha-ketoglutaric acid.
Caution: If you are pregnant, nursing, or taking Coumadin®‡‡‡ (warfarin), or any other medications, consult a healthcare professional before use.
Keep out of reach of children. Safety sealed with printed inner seal. Do not use if seal is broken or missing.