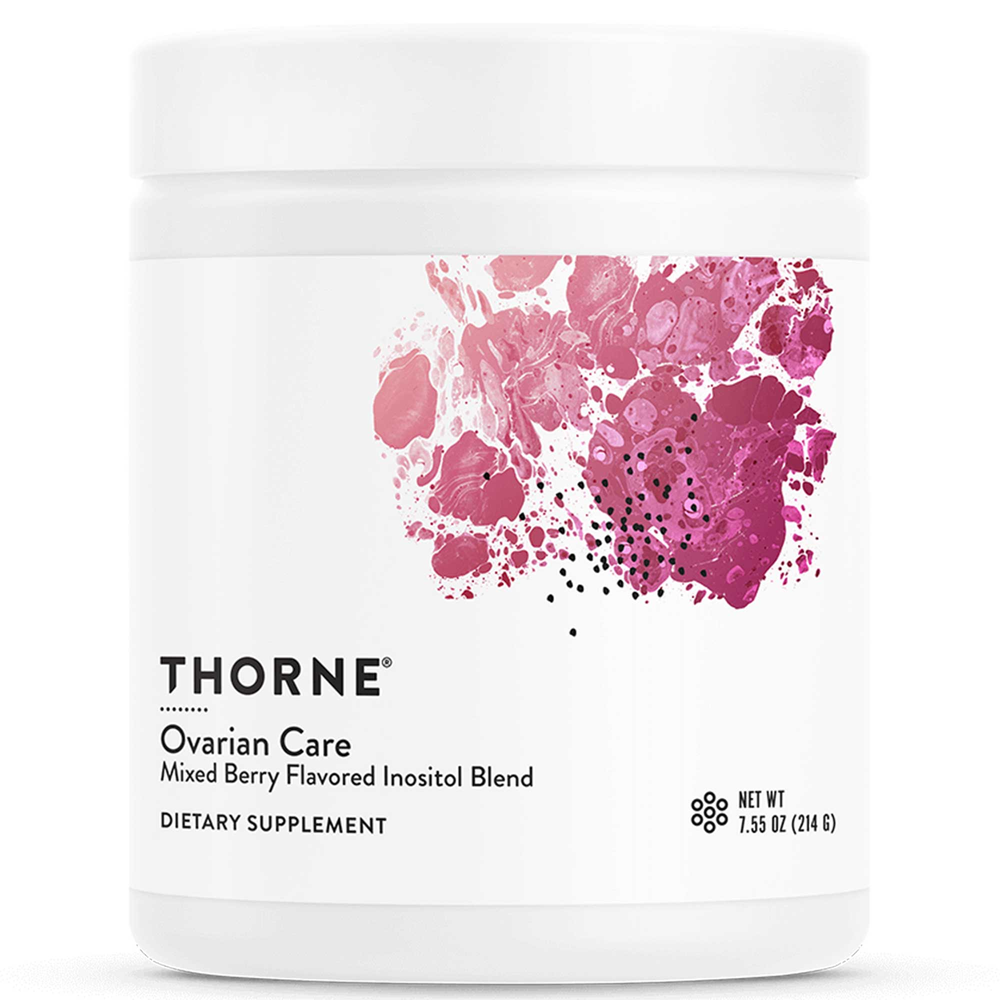 SKU: THO-SF823
Thorne's Ovarian Care offers a unique blend of nutrients and botanical extracts for a woman seeking support for menstrual regularity and various aspects of reproductive health by helping to balance hormones, supporting a healthy insulin response, and providing antioxidant support.*
To make sure you get what you need, without needing a handful of capsules, Ovarian Care is a mixed-berry flavored powder, providing a sufficient amount of each nutrient needed to achieve the benefits shown in clinical studies.*
Benefits of the ingredients in Thorne's Ovarian Care:
Supports balanced hormones and menstrual cycle regularity*
Provides nutritional support for women with PCOS*
Benefits reproductive health and supports natural fertility*
Promotes a healthy response to assisted reproduction efforts*
Enhances ovarian response and function*
Provides antioxidant support to help maintain healthy oocytes and reduce the natural age-related decline in egg quality*
Helps maintain androgen (including testosterone) balance in women*
Promotes healthy, clear skin*
Benefits hair health by maintaining hair where it belongs, and not where it doesn't*
Helps support weight management and metabolic health by promoting insulin sensitivity*
Supports balanced blood glucose and lipid levels*
Suggested Use:
Mix 1 scoop with at least 8 ounces of water two times daily or as recommended by your health-care practitioner.


Serving Size: 1 Scoop (3.57g)

Amount Per Serving
Calories ... 11
Total Carbohydrate ... 2g
Total Sugars ... <1g
Includes 0 Added Sugars
Folate … 667mcg DFE
(400mcg of L-5-Methyltetrahydrofolate from L-5-Methyltetrahydrofolic Acid, Glucosamine Salt)
40:1 Inositol Blend … 2050mg
Myo-Inositol ... 2000mg
D-Chiro-Inositol ... 50mg
Coenzyme Q10 Phytosome … 150mg
(Coenzyme Q10/ Phospholipid complex from Sunflower)
Wild Blueberry Complex … 50mg
(fruit, leaf, and stem) (Vaccinium spp.)
Green Tea extract … 50mg
(Leaf) (Camellia sinensis) (decaffeinated)
Pomegranate extract … 25mg
(whole fruit) (Punica granatum)

Other Ingredients: Flavors, Medium Chain Triglyceride Oil, Citric Acid, Stevia extract (leaf).

Made in the USA using US and imported ingredients.


Warning
: If pregnant, consult your health professional before using this product.